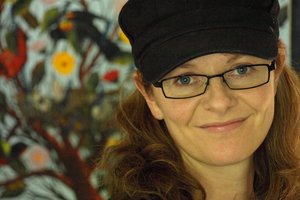 "Grimburgers," said a friend when told them I was going to a revival of two-thirds of Miranda Harcourt's trilogy about violent offending. But this simply staged Last Tapes and JustSpeak production, directed by Jeff Szusterman, is anti-histrionic, and all the more gripping for it.
For any who have ever wondered what people think, feel and say when crime affects them, these two plays - informed by interviews with victims' families, as well as people heard even less often: offenders, their mothers, and their exes - show us some possibilities.
The first 45-minute play, Verbatim (1993), a solo show written by William Brandt who devised it with Harcourt, starts off with bravado and jokes, used to cover up a hard life: "Aaron" tells us about joyriding in a police car - "and that's how I learned to drive". Euphemisms also abound: "He was brought up tough," says Aaron's mother, acknowledging her young son endured violence.
A question hovers in the background: are offenders like Aaron intrinsically violent, or are their offences momentary aberrations? Sensibly, Renee Lyons plays it straight, avoiding the risk of pushing characters into caricature.
Unlike Verbatim, the second play, Portraits (2003), an arguably stronger and more coherent two-hander written by Harcourt and Stuart McKenzie, does not present composite characters melded from a range of voices, but is instead about one rape and murder case. Its force comes from the attitudes of the offender, which are shocking and chilling in their contrasts as well as their preoccupations. Fraser Brown's stillness as both offender and victim's father is compelling, while Jodie Rimmer manages to age 20 years with the fall of her mouth.
Each show this week is followed by a forum with different guests. On Tuesday night, Harcourt was there for a lively session - and yes, Roast Busters were mentioned.

When and where: The Basement, until Saturday; Mangere Arts Centre, November 25-27