Chris Schulz casts his eye over the sci-fi heavy new-look line-up from TVNZ.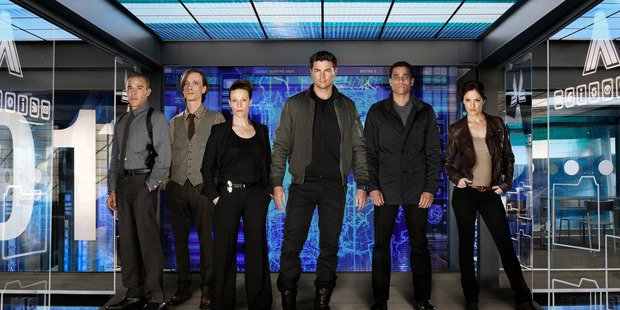 If you're a robot, and Karl Urban is nearby, well, it sucks to be you.
Within the first 10 minutes of JJ Abrams' hyped new show Almost Human, Urban's LAPD agent John Kennex has booted his android sidekick out of a patrol vehicle and watched him be decapitated by a truck.
Urban's reasoning? He didn't like his synthetic buddy pulling him up on a lie about what he ate for dinner. The moral of the story is, don't joke about noodles when Karl Urban is around - especially if you're a robo-cop.
Urban, it seems, is getting a taste for this sci-fi stuff. The Kiwi star of Judge Dredd and Star Trek is the lead in Almost Human, an Abrams production that had seriously good reviews after one episode in the US and is coming to TV2 early next year as part its new season line-up.
There's sprinklings of Robocop and smatterings of I, Robot in Almost Human, which stars Urban as a cop with a dodgy background, The Office's Mackenzie Crook as the awkwardly creepy creator of the fake cop sidekicks, and Michael Ealy as Urban's "crazy" new android who comes with real human emotions.
From the promising 10-minute preview online, it's my must-see pick from TV2's sci-fi-heavy new line-up - and The Hollywood Reporter seems to agree, calling the pilot "dark, dirty and lived-in" before comparing Almost Human to genre classic Blade Runner.
Okay, so Almost Human comes from Fox, a network that doesn't have a great track record for letting sci-fi shows - especially those involving cyborgs of some kind - run much of a distance. Joss Whedon's Firefly (RIP Mal, Wash and Kaylee) was axed after one season, his flawed follow-up Dollhouse was felled after two, and the slow-paced, much-missed Terminator spin-off The Sarah Connor Chronicles got the same treatment.
However long Almost Human lasts - and let's hope it's a good long while - there are plenty of other offerings for sci-fi junkies - yep, that's me - in TV2's 2014 schedule.
There's Agents of S.H.I.E.L.D, Marvel's TV spin-off from its multiplex-dominating superhero films produced by Whedon and starring Clark Gregg in his back-from-the-dead role of Agent Phil Coulson.
I'm hit-and-miss on Marvel films - loved Thor, hated Iron Man 3, fell asleep during Captain America - but I'm interested to see what Whedon does with S.H.I.E.L.D, which follows the antics of the Men In Black-style team in charge of protecting the planet from sci-fi shenanigans.
Coulson leads the whole shebang, and his sarcastic lines are often the best bits of the movies - until he was killed off by Loki in The Avengers.
The show promises occasional A-list superhero cameos and plenty of mystery about how Coulson was resurrected - "I was in Tahiti - it's a beautiful place" is how he describes it.
Speaking of Resurrection, that's the name of another TV2 sci-fi show scheduled for the new year. This sounds a lot like excellent French show Les Revenants that I've raved about before, in that it involves a child who comes back from the dead after 30 years and deals with the family fallout that follows.
This also comes with serious sci-fi clout, thanks to Kurtwood Smith who played the excellently evil baddie Clarence J. Boddicker in the original Robocop film, but it will all depend on how they explain the kid's reason for returning. If it's anything like Les Revenants, it will be a must-see.
All of that and we haven't got to Intelligence (Lost's Josh Holloway flaunts super-intellect thanks to a satellite-linked sci-fi brain chip); The Tomorrow People (remake of 70s Brit show about psychic teens hunted by mystery suits); and Believe (Abrams/Alfonso Cuaron production about a psychic child with links to a death-row inmate on the run).
Along with SoHo's Orphan Black, it seems that right now is the best time to be a sci-fi fan since The X-Files was on TV. Speaking of which, maybe it's time for Mulder and Scully to make a small-screen comeback.
Follow @nzherald_ent on Twitter for all the latest entertainment news.
- TimeOut