A new book by Richard Wolfe mourns the loss of 20 historic buildings in New Zealand, some to fire and quake, but most destroyed in the name of development. He talks to Linda Herrick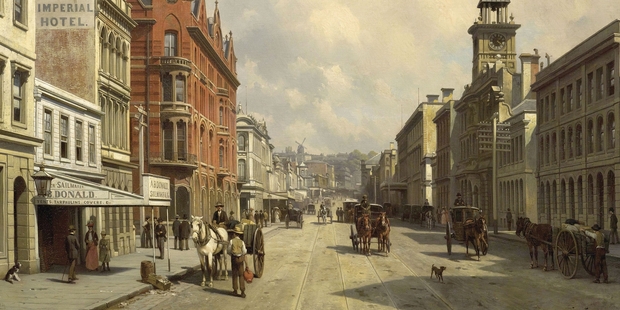 If there was any justice, says historian Richard Wolfe, the developers who tore down Auckland heritage buildings should be made to pay - forever. "If there is an afterlife, it would be comforting to imagine a purgatory where those developers and compliant demolition companies must spend eternity restoring, brick by brick, the buildings they destroyed," he says.
Auckland-based Wolfe says this with a wry twinkle in his eye but he often found the process of writing his latest book, New Zealand's Lost Heritage, a tooth-grinding affair.
"I was approached by New Holland to do it and I instantly thought what a great idea - but what a depressing idea."
As he writes in the introduction, "Fire, earthquake and, in particular, the wrecker's ball have taken a heavy toll on the buildings of New Zealand. ... the loss of a small number of these may be attributed to acts of God, but the vast majority were removed by deliberate acts of man."
Although books have been published on the demise of individual structures, such as the grand old house Coolangatta in Remuera, demolished in just 18 minutes in 2006, a comprehensive survey of lost buildings had not been done before.
"The first issue was deciding what was going to be in it. We thought maybe 20 essays," says Wolfe. "I was keen on spreading them around the country, north to south, from Ruapekapeka in the Bay of Islands [the site of a fortified pa burned down by British troops in 1846] to Invercargill [the Dee Street Hospital, demolished in 1985, now home to a McDonald's].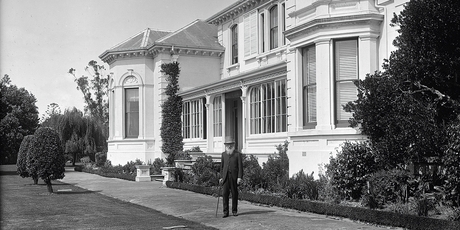 "Of course, we could have just filled the book with Auckland, or buildings we lost in the 1980s or, more specifically, buildings that one company destroyed. It's a nationwide problem but more so in Auckland because of the pressure of development. We might regret the loss of the bulk of the buildings in the book, but some of them, like Seacliff Lunatic Asylum in Dunedin, I don't think anyone would mourn that loss."
Seven Auckland buildings make a ghostly reappearance in Lost Heritage, including some which have been well-documented already: Coolangatta, His Majesty's Theatre and Arcade and St Paul's Church in Emily Place, demolished to make way for Waitemata Harbour reclamation.
Another structure that had to go because of the development of Anzac Ave and rail expansion in the Britomart area was Admiralty House, an extravagant residence built in 1901 for the commander of the British Imperial naval station. But no sooner had it been completed than the new commodore, Admiral Fanshawe, advised that when in Auckland, he would stay aboard his ship.
The huge empty building, with seven bedrooms, a ballroom, gables and turrets, eventually cost Auckland Harbour Board 10,000 and was branded a "fiasco". Below Anzac Ave, it had "sweeping views of the Waitemata, [with] the immediate foreground ... dominated by the less picturesque prospect of railway tracks, coal depots and timber yards".
When Richard Seddon's government finally gave the harbour board permission to lease it, Admiralty House became the Glenalvon boarding house, but it was badly damaged in a fire in 1906. It was partly restored but, unloved by new owners the city council, "stood in the way of progress" - the building of Anzac Ave - and it was demolished in 1915, after just 14 years of existence. Wolfe was able to track down photos of the house's exterior, but he couldn't find any interior shots. The building had boasted six lavatories, considered highly excessive for the times.
Type "Kilbryde Mansion" into YouTube's search engine for the magic of a 360-degree reconstruction of the last home of the "Father of Auckland" Sir John Logan Campbell, on the cliff-edge of Gladstone Rd, Parnell. The promontory on which it stood became known as Campbell's Point.
Inspired by the Italianate form of the Pah Homestead in Hillsborough, Kilbryde was the height of elegance, with an Ionic entrance portico, a tower, a fresco room and a minstrel's gallery.
The Campbells moved in on completion in 1881, admiring its splendid views. Ironically, the westward view included the development that would bring about the mansion's end: the infilling of the harbour. John Logan Campbell and his wife died in 1912, and the house, which was not protected in his will as a public benefaction, was bought by Auckland Harbour Board, which wanted to tear down Campbell's Point for harbour reclamation. The property was then divided between the Railway Department and Auckland City Council, which demolished the point in 1915 to make room for railway lines.
At this stage, the mansion still stood, as a hospital for victims of the 1918 flu epidemic. Despite widespread opposition, the council's parks committee demolished Kilbryde in June 1924. Part of its grounds now form part of the Parnell Rose Gardens. "At least the Pah Homestead has survived," says Wolfe. "So we have still got one of those grand houses."
If Partington's Mill, on the ridge of Symonds St, still existed, you wouldn't be able to see it from Queen St as you could when it was constructed in 1851. It lasted just under 100 years, dominating the skyline, and a favourite subject for artists, even when it fell into a state of dilapidation. When its owner, Joseph Partington, died intestate in 1941, its ownership became complicated, its fate doomed. However, its demolition in April 1950 had one positive impact. So great was the "public agitation", Partington's Mill was referred to in Parliament during the introduction of the National Historic Places Trust Bill in 1952.
Partington's lives on (sort of) in the name of the Langham Hotel restaurant, which was later built on its site.
Wolfe, who moved to Auckland in 1967, remembers another building featured in the book: the 7280sq m Gothic Victoria Arcade, which was built on the corner of Queen and Shortland Sts in 1883 and torn down in 1977.
"I didn't have much cause to go into it. Towards the end of its time it was demolition by neglect, much like the St James at the moment. All the quality tenants had moved out and there were a lot of little offices for strange organisations."
The BNZ bought the lease in 1974, on condition that the arcade would revert to Auckland City Council if a new building was not completed on the site by 1982.
So a Gothic arcade was replaced by a "particularly nasty" BNZ building which lasted 25 years before it, too, was demolished. On that site now soars the bland, monolithic Deloitte Tower, with the facade of the Jean Batten Building at its rear.
The Jean Batten Building is yet another episode when its status as a Category 1 historic place only just saved its exterior after strenuous efforts by the BNZ to bowl it. But the move to retain only the facade was heavily criticised. In 2006, Art Deco Society spokeswoman Dorothy McHattie said she was devastated by the decision but not surprised, given that the then-Auckland City Council had been "wooing this project for the past 12 months".
"It is a complete travesty and insult to the architect, the people who worked in the building, spent their lives there and knew it as a landmark in the city." Heritage campaigner Allan Matson called the decision a "bloody disgrace", which made a mockery of the council's heritage policy. As someone once said, those who do not remember the past are condemned to repeat it. This book is a good place to start remembering.
• New Zealand's Lost Heritage (New Holland $49.99) is out now. Richard Wolfe is giving a free talk about the buildings featured in the book at Level 2, Auckland Central City Library on Tuesday at 6pm; ph (09) 377 0209 to book.