Benedict Cumberbatch has had a very big year, with high profile roles as a Star Trek villain, a Middle-earth dragon and as WikiLeaks founder Julian Assange. He talks to James Mottram about why he's become so ubiquitous
Even the brightest stars can have their off-days. Take Benedict Cumberbatch and his time on the set of the recent Star Trek Into Darkness, playing the villainous Khan. One scene took place at California's National Ignition Facility, a real-life laboratory practising nuclear fusion. His co-star, Simon Pegg, told him it was a dangerous location and that he would need protection - special "neutron cream".
"I was convinced that I had to put dots of this cream on my face," says Cumberbatch, smiling. With others in on the prank, every morning the cast would all "shake off" the potentially poisonous neutrons. "There was also a disclaimer I had to sign, basically saying, 'I'm aware of the physical dangers of working in this environment'. I didn't even read it; I just put it against the wall and signed it ... God knows what else I've signed in my life that I might have got into trouble for."
It's a delicious image: the quicksilver Cumberbatch covered in cream, as he readies himself for his close-up. This, after all, is an actor who has so far traded on playing intellectually robust characters: Sherlock Holmes, physicist Stephen Hawking (in TV movie Hawking), abolitionist Prime Minister William Pitt (in Amazing Grace) and World War II Enigma code-cracker Alan Turing (The Imitation Game).
When I meet Cumberbatch at a Covent Garden hotel, he arrives with a canvas bag full of books - required reading for his roles - notably an account of World War I, there to inspire further thinking about Christopher Tietjens, in the BBC's Ford Madox Ford adaptation Parade's End.
Also in the bag were Cultivation and Culture and We Lived in a Little Cabin in the Yard, two very different books on slavery.
Both were preparation for playing a "very paternal slave owner" in Steve McQueen's 12 Years a Slave, one of four major movies Cumberbatch has on the way in the coming months. Even he can't keep count. He has to be reminded that the second part of Peter Jackson's The Hobbit will be in cinemas in December, two weeks before the arrival of familial drama August: Osage County with Meryl Streep and Julia Roberts. "I had a really busy year last year and the beginning of this year, and all of them are coming home to roost in the same year, which is quite extraordinary," he says.
Such is the variety of his work to date, there's something restless about his mind. At one point, he stops to listen to an almost inaudible noise in the room. "Is that getting louder or is it just me? It's a bulb that's going to blow." Then he sees me scribble a note. Peering towards my notebook, he asks, "What did you write down?" I have to confess that I've managed the less-than-stellar description "white T-shirt" - to go with the baggy shorts and flip-flops he's currently sporting. "White T-shirt! Oh, right! Is that the impression I've made so far? It's like your readers are in the room with you."
He is, of course, joking, but that's not to say he can't be dismissive when he wants to be. Take the sex-symbol status that's grown around him, with many entranced by his high-cut cheekbones, brown curls and watchful blue eyes. A recent poll for the movie magazine Empire voted him the world's sexiest film star, ahead of Ryan Gosling and Bradley Cooper, a result he declared "hysterically funny" ("I've punched well above my weight this year ...") How does he feel about being lusted after? "Oh, read the press cuttings. Various responses to that one." Look in those cuttings and you can find what he thinks about his female fanbase - the so-called Cumberbitches.
"I was a little disturbed," he said. "I think they set feminism back a few years."
He is single, after ending a relationship with fashion designer Anna Jones in 2012.
A year before that, he and actress Olivia Poulet (The Thick of It) called time on their 12-year relationship, one that began when they both studied drama at Manchester University.
So all this fuss must be a little discombobulating; particularly given he seems rather ill at ease with his own looks. "I think I've got a long face," he says. "I look a bit weird."
This is true of his next and arguably most intriguing big-screen outing - playing WikiLeaks founder Julian Assange in Bill Condon's The Fifth Estate. "I'm thrilled with it," he admits, quite unreservedly. "I'd seen it in the States and I was terrified. I cannot watch myself for the first time, especially playing someone who is so removed from me, because of everything, the appearance, the accent. Everything about him is different."
Crowned with white hair and giving a decent rendition of Assange's soft Australian drawl, 37-year-old Cumberbatch is certainly far removed from his comfort zone (Variety praised him for capturing "Assange's slightly other-worldly air as well as numerous creepier qualities"). And although he nails the messiah complex of a man who begins to believe his own press, Cumberbatch is swift to point out the film is not a character assassination of Assange.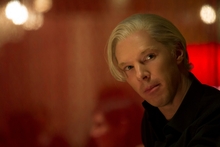 "I think Bill has made a beautiful film; it's incredibly balanced. It's entertaining as well as intriguing. And what it should do is ignite a debate - that's exactly what should happen. And hopefully it will do that." The film skirts over the issues that have led Assange to be holed up in the Ecuadorian embassy in London, after he fled there to avoid extradition to Sweden, where he faces allegations of sex offences against two women. Yet even amid his self-inflicted exile, Assange secured an early draft of the script, criticising it when he gave an address via video-link to the Oxford Union, calling it "a mass propaganda against WikiLeaks, the organisation and the character of my staff and our activities".
He and Cumberbatch also exchanged emails, briefly, after he pleaded with the actor to withdraw from the project. Cumberbatch wrote back, telling Assange that it wouldn't be a negative portrayal.
Talk to Cumberbatch's fellow cast members and it sounds as if the actor did soften the script's more hard-line approach. "I think he's turned the film around," says David Thewlis, who plays Nick Davies, one of the journalists central to the publication of Manning's leaked cables. "I think he became more sympathetic towards Julian as the film went on, as opposed to the script [which] changed." For Cumberbatch, he simply wanted to portray a three-dimensional character "and not get into a slagging match about whether Assange was good or bad".
While The Fifth Estate has drew mixed responses at its premiere at the Toronto Film Festival, there was more love for his other two films there. August: Osage County is an adaptation of Tracy Letts's Broadway hit about a dysfunctional Oklahoma family. As part of the sprawling Weston clan with Sam Shepard, Streep and Roberts, Cumberbatch makes an impression as the clumsy, unemployed "Little" Charles.
It was his third film premiere at Toronto, 12 Years a Slave, that really generated rave reviews. Directed by Steve McQueen, and co-starring Michael Fassbender and Brad Pitt, Cumberbatch calls it an "extraordinary" story. "It's all based on the truth of this guy called Solomon Northup, played by Chiwetel Ejiofor. It's his film and there's several of us principals supporting him through this terrible journey he goes on, living as a free man, being drugged and waking up in bondage and being taken to the plantations in Virginia," he says.
With a third season of Sherlock due, he will also be seen in The Hobbit - hopefully in full this time, after we glimpsed just his digitally enhanced eye at the end of the first instalment of Jackson's three-part Tolkien adaptation.
"You'll get the rest of me in the second [part]," he smiles. He plays Smaug, the fearsome dragon that Bilbo Baggins (played by Cumberbatch's Sherlock co-star, Martin Freeman) is journeying to confront.
Using the same motion-capture procedure that Andy Serkis made famous when he played Gollum - sensors cover the body, capturing the performance - it meant Cumberbatch did all of his work in LA, away from the New Zealand set. It wasn't easy to get his head around. "A serpent with cold blood and a backbone, who is twice the size of the Empire State Building, breathes fire, is 400 years old and lives on a pile of gold in the middle of a mountain, is a little bit difficult to bring any reality to," he says.
He has just signed to play 1920s Amazon explorer Percy Fawcett, a role once mooted for Brad Pitt. There's chatter, too, that he'll reunite with Star Trek director J.J. Abrams for the new Star Wars movie. The need for more neutron cream aside, is he worried this hot streak might fizzle? He says not. "I've always had an eye on longevity; I've got loads more goals to achieve. It's not like I've completely conquered the whole thing. That's a lifetime's objective, not an overnight thing."
Who: Benedict Cumberbatch
What and when: The Fifth Estate opens Thursday; The Hobbit: The Desolation of Smaug opens December 12; August: Osage County opens January 1.
Follow @nzherald_ent on Twitter for all the latest entertainment news.
- TimeOut / Independent