Australian superstar Chris Hemsworth tells Michele Manelis why exposing himself on the big screen was more unsettling than speeding on the race track and how he's a family man at heart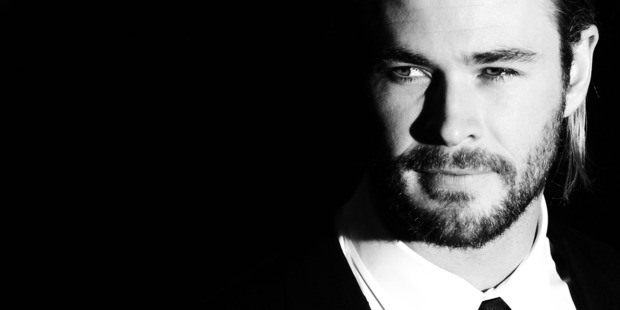 It's impossible to describe Chris Hemsworth without resorting to tired cliches, but the unmitigated facts remain: he really is that handsome, he is 1.91m tall and is endowed with a self-effacing and effortless charm. Despite these attributes, the likes of which many an actor has built a successful career upon, Hemsworth has taken the time to develop a personality and a sense of humour. Perhaps it's the Australian in him that wouldn't allow for his good looks, however blatant, to do the heavy lifting.
Primarily known in Hollywood for playing the hammer-wielding Norse god, Thor, in the titular superhero movie (with a sequel in New Zealand cinemas now), he revisited the same character in last year's box-office hit, The Avengers, which grossed an astounding US$1.5 billion ($1.8 billion). But, in a welcome change of pace, he took on his most challenging role as the larger-than-life Formula 1 driver, James Hunt, in the high-octane drama, Rush.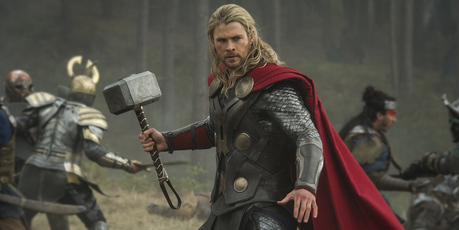 The former Home And Away star regales me with some of the more memorable hair-raising scenes, but they weren't the expected tales of lightning-speed manoeuvres and near-misses on the track.
"Well, standing butt-naked was much scarier than any of the driving," he laughs. "That was pretty uncomfortable."
Though probably no less uncomfortable than watching the result on the big screen with an audience? "What went through my mind?" he smiles, repeating the question. "So, that's what it looks like back there."
He leans back in his chair, taking a sip of bottled water. "Those scenes were probably more uncomfortable for my wife, Elsa, because of why I was naked," he says, and shrugs.
"But yeah. I don't know that I could do those scenes a whole lot. You feel incredibly exposed."
We discuss the precarious and unique situations that actors find themselves in, whether in bed (or up against a wall) with equally attractive partners. This kind of peril-on-the-job is unavoidable in his line of work.
He leans forward. "Listen, even if you're married to an actress and even though those scenes are 'just acting', it doesn't make it any easier or less uncomfortable for your wife to watch. I mean, come on; no one wants to see their partner in those situations. At certain points watching Rush, she said, 'I am not watching that'."
Delicately meandering around the notion that filming scenes of that nature in London's cold weather might present an extra challenge in regards to his physicality, he laughs: "Oh, we had the heating turned up."
This afternoon he looks casual but stylish in dark denim jeans, a light grey T-shirt with a pair of Ray Bans that hang in the centre. To complete the look, a Mont Blanc watch is on his left wrist, and he's wearing dark grey Vans sneakers.
His hair is cropped shorter and a little darker than usual but the most surprising aspect of his appearance is his flawless skin - not what you'd expect of an Australian who has enjoyed the great outdoors.
It's rare in Hollywood that a singular performance can alter the perception of an actor, especially one who's celebrated as a one-dimensional action hero in which acting chops can be easily overlooked. But watching Hemsworth inhabit the wild and unpredictable Hunt, carrying himself with the appropriate rock-star swagger of a womanising, reckless alcoholic mess, any doubts about his acting limitations are as good as dissipated.
Arguably, his performance was assisted by Ron Howard's skilled directorial experience, and Hemsworth was grateful for the opportunity to play such an irresistible, colourful character.
"It was so much fun to play James Hunt, so full of extremes without consequences. He didn't conform to anyone's standards or opinions and he did his own thing."
The movie documents Hunt's combative relationship, on and off the track, with Austrian driver Niki Lauda during the 1976 Formula 1 season. The Briton was a kind of fearless provocateur who challenged death on a daily basis, which could bring an addictive rush.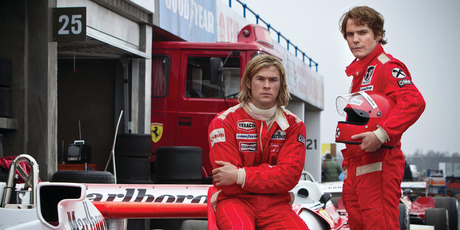 "Why would you do that when the potential for dying was huge?" Hemsworth says. "I thought about that a lot; I believe that it's the immediacy of what an activity like that gives you. It forces you to be absolutely focused on that moment and to be present.
"In this world we live in, where we're distracted by a million and one things, we're never really in the moment. But racing cars snaps you into that reality and that place we all crave. It's why I think people bungy jump, skydive or, on a small scale, do any sport that gives that feeling of immediacy."
And there's nothing like parenthood to force oneself into the present. Thirty-year-old Hemsworth met the Madrid-born model and actress Elsa Pataky (Fast Five, Fast and the Furious 6), 37, through their mutual representatives in early 2010. In less a year they were married. Their daughter, India, was born in May last year.
One could say this romance also happened with racing car speed.
"Yeah," he nods in acknowledgment. "My parents got together when they were 19 and 20, so it didn't feel unusual that it was going to happen early for me. I have a kid and a wife and it's a reality instead of just an idea. I couldn't be happier."
Mid-juncture in his career, not straight out of the gate and not yet world-weary of fame and success, there's an unmistakeable ease and casualness about him.
He's philosophical about the timing of events. While his personal life was blossoming, his career was on an even bigger trajectory. Perhaps subconsciously he was attracted to the kind of stability a family brings to help navigate through such a heady time in his professional life?
"Yes. I think looking back it was the best time for all of it to happen, because when things got hectic or when I had the potential to lose perspective, I had this strong base with me," he says.
Born in Melbourne, he is the middle Hemsworth child, between Luke, 32, and Liam, 23. The brothers share muscular build, various shades of blond hair and dark blue eyes.
Their parents, Leonie, an English teacher, and Craig, a social services counsellor, moved the family from Melbourne to an Aboriginal community in Bulman, Northern Territory, and finally settled on Phillip Island.
Luke was the first to enter the unpredictable world of entertainment. He made his debut on Neighbours at age 20, followed by various TV show appearances in Blue Heelers and Bike Wars: Brothers in Arms. Married since 2007 to Samantha Hemsworth, with whom he has three children, he will soon appear in his first feature film, The 34th Battalion.
As for Liam, he will next star in the second instalment of The Hunger Games (out here on November 21), as well as the thriller, Paranoia. Like many Aussie actors, he also served his apprenticeship on Neighbours and Home And Away. Against the odds (the studio was looking for a "name" actor), he landed his first major role in the romantic weepie, The Last Song, opposite Miley Cyrus. The photogenic couple began a high-profile, on-again off-again relationship. The latest news is that their engagement has been broken off.
Reportedly, his two older siblings are of the view that Liam's hasty decision to wed might not have been in his best interests. Although this is not a subject open for discussion, we talk in general terms about the family dynamics. It's not unusual for the youngest sibling to veer towards the side of rebellion and the wise words of advice from an older brother can often fall on deaf ears.
"Yeah, it probably is like that," Hemsworth nods, laughing. "I think, as the older brother, you want to give your opinion and you may feel like you're giving worthy advice, but it probably isn't true at all." He smiles. "Liam's pretty strong-minded; he's the quiet achiever. With Liam, you won't know what he's thinking and then all of a sudden, bam, he's off doing something. He's always been like that. He knows what he wants and he doesn't feel the need to talk about it a lot."
Close as they may be, there's bound to be some rivalry between them, especially given they are in the same profession.
"We're not really competitive in our work, but growing up without many neighbours to play with living in the Northern Territory, out in the suburbs of Melbourne, or in the bush, we were pretty isolated.
"So, it was just the three of us and we became highly competitive, probably out of boredom. We'd be like, 'what do you want to do - jump off that cliff in the river?' And one of us would say, 'okay, I'll do it first'."
He pauses. "I think there's a genetic role that absolutely plays into why we are that way but I think growing up, that competitiveness drove me into this profession because this business is unusually competitive."
As he talks about his own childhood, Hemsworth moves on to his own family and says he would like his daughter to grow up with siblings.
"I want more kids, definitely, and the same goes for Elsa. She has a brother but there's a 15-year age difference between them, so she didn't grow up with siblings and she certainly wants our kid to have a brother or sister. I feel the same way. The best part of my life is my relationship with my brothers and how important they are to me," he says.
"We're very close."
Living in Los Angeles, is it important for him that India and her future siblings obtain a sense of their Australian heritage?
"Yeah, it's tricky because Los Angeles is our base at the moment, but I think the best thing for me was that I grew up in Australia, and Elsa, I'm sure, will argue the same thing for Spain," he says. "It's something we're going to have to cross when we come to it but right now LA is midway between Spain and Australia."
What does he miss about home? "There used to be a place called Dr Food on Phillip Island, next to where we'd surf. They had these meat pies with cheese and macaroni on top. The greatest thing you'll ever eat."
Certainly, India will not find that on the menu in Los Angeles, and instead will grow up in a life of privilege far from her father's rough-and-ready rural background.
"I said to my mum, 'I worry. We grew up as kids without a lot of money and I think that shaped us into who we became. Is it going to be different for India having money and the trappings of fame?' And Mum said, 'I think there's no single recipe for a good childhood whether you come from a rich family or poor family. It's about the love you give your kids'."
He admits he's changed his driving habits since becoming a father. "Even when India is not in the car, I see the car seat in the rear-view mirror and I take my foot off the accelerator."
And he's not afraid to reveal who wears the biker pants in the family. In fact, he's clearly amused. "I grew up riding dirt bikes but was never really into cars. Actually, my wife has a motorbike. She's much more into that world than I am."
What kind of driver is Elsa?
"When we're in the car alone, I'll say to her, 'Hey, slow down, what's the rush?' And she'll say, 'Oh, shut up. Since when did you become a driving instructor?"'
On the fast-track to fame, Hemsworth doesn't appear to have changed since his Home And Away days. "By the time I got to Hollywood, I had felt the novelty of fame. For me, the party had worn off and it was more about the work. I was happy that I had that period in Australia where nobody was really watching too closely. It allowed me to make the mistakes and the do's and don'ts with no real consequence," he smiles. "Now I'm ready for the next phase."
Rush and Thor are at cinemas now.