Tributes pour in from musicians inspired by rock `n' roll star.
Lou Reed, the punk poet of rock 'n' roll who profoundly influenced generations of musicians, has died of an ailment related to his recent liver transplant. He was 71.
His literary agent, Andrew Wylie, said the US singer, songwriter and guitarist whose hits included Walk on the Wild Side and Perfect Day, had been in frail health for months.
Reed shared a home with his wife and fellow musician, Laurie Anderson, whom he married in 2008.
The Brooklyn native, who embarked on a long solo career after initially finding fame with the Velvet Underground, was widely regarded as one of the most influential rock musicians of the last half-century.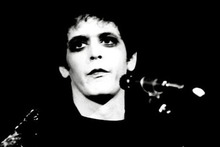 Reed had been in poor health since a liver transplant in May.
Reed expressed his hope for his recovery after the operation. "I am a triumph of modern medicine, physics and chemistry," he wrote. "I am bigger and stronger than ever."
Tributes poured in on Twitter from friends, fans and fellow musicians praising his influence on their work. "Without Lou there is no Bowie as we know him. Me? I'd probably be a maths teacher," wrote Lloyd Cole, a chart-topper in the 1980s.
"My friend Lou Reed came to the end of his song," said the author Salman Rushdie. "So very sad. But hey, Lou, you'll always take a walk on the wild side. Always a perfect day."
Several quoted his most famous descriptions of his music. "One chord is fine," he said. "Two chords are pushing it. Three chords and you're into jazz."
Reed quit the Velvet Underground in 1970. His 1972 album Transformer, co-produced by David Bowie, introduced him to a worldwide audience.
- additional reporting AP