As she briefly returns to the television show that made her a star, Clara van Wel talks to Lydia Jenkin about recording her debut album — and what's next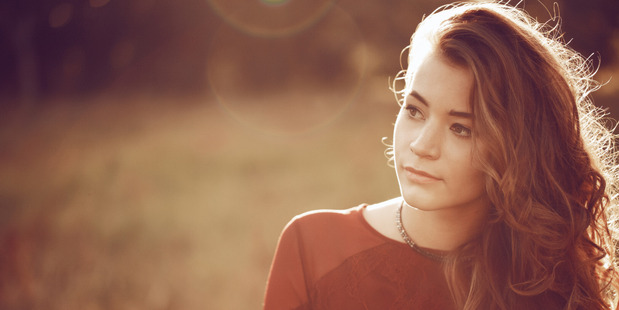 Clara van Wel has just finished her school day when she jumps on the phone to talk to TimeOut from her home in Blenheim.
It may seem there's been quite a gap since the she won the first series of NZ's Got Talent as a 15-year-old in December last year - she has been balancing her newfound pop star status with Year 12 assignments and exams, and she wanted to give herself time to develop and put out a record she could be proud of. But you can definitely hear the anticipation in her voice as she contemplates the release of her self-titled debut this week.
"It's really exciting! For it to finally be happening, and for everyone to finally be able to hear it, it's very exciting."
The 10 songs on the album are a mixture of old and new - some written before she went on New Zealand's Got Talent, some written over last summer and some finished just a couple of months ago. The most recent tracks were completed while she was working with Don McGlashan, who co-wrote Wait For Me and Who Am I To Say with her, and who co-produced the album with Joel Little (the man responsible for producing Lorde's EP and album) and Mark Dennison (sax player, arranger and musical director who's been working in New Zealand since the 80s).
Don't be mistaken though - the songs and sound are all very much the creation of van Wel.
"I tend to have quite a clear idea of what I want and I have quite a clear idea about what I want my songs to sound like, because when I write them I have that in mind. But Don and Joel and Mark are all really good at helping me develop those ideas and put them properly into a song."
Van Wel worked with her producers over two batches of recording - one at the beginning of the year and another one in August - and was very grateful for the opportunity to learn from McGlashan. "He helped me develop my ideas. Kind of in the way a book editor would work, you know - I'd have a song and he would tweak a line here or a word there, and I got some really valuable advice from him about how to write lyrics, truthful lyrics.
"He taught me that songs can evolve, that the first time you write it or sing it might not be the final version of the song. The idea to leave them and think about them for a while, and write down your ideas in a book, and how something might pop out and work in a new song."
She's one of those lucky songwriters who finds inspiration strikes often, which means she's writing new songs all the time ("I don't see it as a job or a chore"), but she doesn't have a set process.
"I think my writing process changes and my music changes, because I'm young and I'm changing a lot. But over the last year I've been really focusing on getting my lyrics really good. In the past I haven't thought much about what the songs are about in relation to me, but I've been really trying to tell the truth a lot more. Not explicitly about what's going on in my life, but to talk about things that I think are relevant and that I have experience with.
"Often with songs, I just sing it all in one go and then it's just there, but now sometimes I'll go back, write down the lyrics and change them round, and focus more on what I'm actually trying to say. But generally, the really good ones, they just come out all at once."
Her two favourites from the album are Abby Rae and Alone By Heart - they're the ones she's most excited for people to hear.
"Abby Rae is about one of my best friends and Alone By Heart, it's probably the most different one on the album. It starts out quite acoustic, but it gets quite alternative in the middle. It's quite moody and big."
It could be a while before audiences hear these songs live - van Wel was in Auckland for promotional duties (and perhaps a little celebration) yesterday, but now the album is done, she has something else to be putting her energy into for the next month or so.
"I have exams, so that's what I will be focusing on. I've really put everything on hold until after they're done and I don't know if there are any concrete plans for after that, but I'm sure something will come up."

Lowdown
Who: Clara van Wel, last year's winner of New Zealand's Got Talent
What: Releasing her debut self-titled album and making a guest appearance on tomorrow night's show