Alt-folk duo the Handsome Family sing macabre and whimssical stories about unusual characters, writes Lydia Jenkin.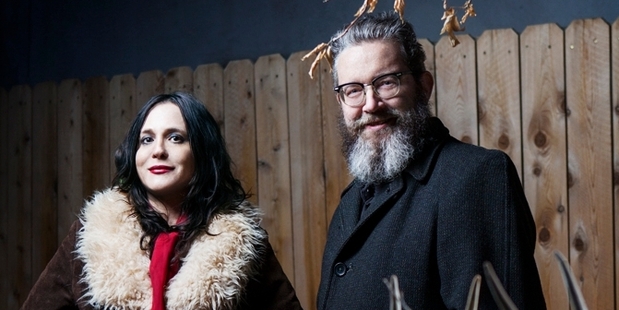 Immortal jellyfish, the secret language of crows, mysterious ant spirals - these are all topics covered in the Handsome Family's ninth studio album, Wilderness.
Rennie and Brett Sparks, the alt-folk husband and wife duo from Albuquerque, find inspiration for their esoteric, macabre songs in all sorts of places, but with Wilderness, the key theme is, well, the wilderness. Animals have always featured in their songs in some form, but this time, each song is named after a creature, and the lyrics tip any usual songwriting tropes on their head.
"Rennie sends out these newsletters to people," Brett explains down the line from their home in New Mexico.
"And they have the standard stuff of news about what we're doing, but over the last couple of years she's also been including these little essays about animals that are funny and kind of cheeky. Some of them are made up, or have some half-truths, but they're good fun, and they have something to say."
In the process of writing these little essays, Rennie (who writes all the lyrics) had been doing a lot of reading about the natural world (she's an avid non-fiction reader), filled a lot of notebooks, and eventually decided she wanted to write a whole record about animals, with an accompanying set of essays to be included.
"They're kind of like the ones in the newsletters, but more factual and fleshed out. And although they're ostensibly about animals, they're really about all sorts of things. The earth, and humankind. So it turned into a big conceptual album. Next time, I think it's going to be about historical figures."
Figures from American history such as General George Custer and 19th-century songwriter Stephen Foster feature on Wilderness too, with Rennie drawn to their stories as flawed anti-hero types, and finding they worked well with her essays. There's even a story about Mary Sweeney, a little-known compulsive window-smasher from the 1900s.
"The only reason you would ever know of her, would be if you lived in Wisconsin," Brett explains, "unless you read the book Wisconsin Death Trip, which is where you can find her story. There was a big diptheria outbreak in Wisconsin at the turn of the century, and all these people went a bit crazy, and [started] doing this weird stuff, and that's where you can find those stories. You could make a whole record about the people in Wisconsin Death Trip."
It's a sort of reference to the tradition of newspaper songs.
"Dylan used to write them, and there are songs about the Titanic - people taking current events, and using music to tell the story."
They're the kind of songs that the duo most enjoy creating.
"The modern paradigm is to write about yourself really, you know, 'I love you, yeah yeah yeah', or 'me, me, me'. So to get outside of yourself and write about other subjects, when you hear a song like that, it's weird for a lot of people.
"But to me, the stuff that really inspired me, like American folk music pre-1920s, that stuff is all about stories. Those songs aren't about the singer. The singer is almost unimportant, or superficial, he's a conveyance for the song."
While Rennie is the key to the lyrics, Brett is in charge of the music - when Rennie presents him with her finished words, he has free rein to take the song wherever he chooses. With a veritable zoo of animals to evoke, it might've been tempting for him to devote different instruments to different creatures, but he kept his technique a little more fluid than that.
"Certain instruments are evocative of certain archetypes, like how a french horn sounds like a hunt, trumpets are associated with royalty, or in Peter and the Wolf, the grandfather is the bassoon, and the flute is a duck or something. But rather than specific characters for Wilderness, I thought of music more as like a frame for the song to live in.
"So when I looked at Owls for example, the lyrics [about this guy in a house full of owls] reminded me of this song by George Jones called The Grand Tour. It's a really slow, sad, country song and that made me think the pedal steel would be right for Owls because it would be kind of country, but it would sound a bit dissonant and messed up, too, just like the guy in the story, a sort of reflection of his mental state, you know, he's a little bit twisted, and not resolving in the right place."
That sums up much of the Handsome Family canon - a little bit twisted and unresolved is often their best territory, and hearing these whimsical stories of zany animals and offbeat historical characters come to life in their live shows will be a treat for those with curious ears.
Who: The Handsome Family, husband and wife duo Rennie and Brett Sparks, from New Mexico.
What: Latest album Wilderness.
Where and when: Playing tonight at Leigh Sawmill, and tomorrow night at Galatos in Auckland.