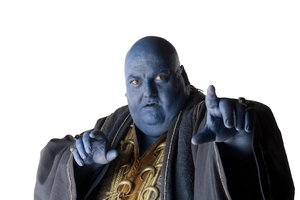 The Armageddon Expo rolls back into Auckland this weekend, bringing with it dozens of actors who have had their moment as supporting stars in sci-fi and fantasy shows and movies.
Many of the guests are veterans of the international fan convention circuit, so we asked what it's like being involved in the events.
Here's Simon Fisher-Becker who played the big blue black marketeer Dorium Maldovar in the 2010 and 2011 series of Doctor Who and ghost the Fat Friar in Harry Potter and the Philosopher's Stone.
Before you were in the business would you have come to an event like this?
As a child the idea of going to events with large crowds terrified me. I was and still am to some degree very shy and lacked confidence.
There is a vague memory of going to a Doctor Who Exhibition during the Pertwee Years with my brother and grandfather. I was torn between the excitement of seeing the Tardis and the terror of getting lost in a crowd and not being able to get home. As I got older and built the courage to attend conventions and sci-fi events I found I was broke - no spare money for such adventures. Now of course as a guest it is easier to attend conventions. Everyone sees me as bouncy and jolly. What they do not realise is back stage I am often sat in a corner quietly quaking.
Are you much of an autograph hunter yourself and if so who's your most prized signature?
Again, I was too frightened to approach people for an autograph, the opportunities always past me by. When I first got into the Industry I was advised never ask for autographs; it was frowned upon - so I never do. But there have been a number of heroes who have written thank you letters to me which I treasure. Paul Scofield, Eileen Atkins and Denholm Elliott to name a few.
Any theories on why sci-fi and fantasy and horror generates such passionate fandom?
Let me see. My family was attracted to sci-fi. Mainly because my grandfather was an engineer and often discussed with us the plausibility of some fantasy stories - for example he was absolutely convinced we will get to Mars. I recall him saying "all we need is a new fuel system, which we will either discover or be given ... ." ' Being so young I did not realise the significance of his phrase "or be given". There is a degree of escapism in sci-fi but so much that was the imagination of yesterday is the reality of today.
What was your first experience of one of these events? And were you nervous or reluctant about it?
Memorabilia - NEC Birmingham in 2010 for Fantom Films. Never reluctant but very nervous, not really knowing what was expected from me. The fact I was going to meet the my heroes too was terrifying. Walter Koenig, Honor Blackman, Katy Manning etc. There was a slight concern too that no one would know who I was. But the fans were delightful and I managed to get into a comfortable way of speaking and interacting with them quickly. I am still very uncomfortable seeing fans too frightened to talk to me - I know exactly how they feel after all - so I try and put them at ease very quickly and in the main it works - after all, because most fans fall into the geek /nerd mould they actually have something very interesting to talk about.
What was your funniest/ most bizarre/most memorable thing that has happened to you while out meeting the fans?
Crikey - At Earls Court one year I noticed a chap timidly approaching my table and then stepping back - he did this several times and I thought he was nervous. So I beckoned him and he produced a photo of Matt Smith - he asked me if I could sign it as Matt Smith, 'I can't do that' I said, 'You're in Doctor Who' said he and I replied - 'yes, and I want to stay in it. I can't sign as Matt Smith - it would be a false signature, you might as well sign it yourself ...' He glared at me, snatched the photo and as he walked away he said "f*** you" - hey ho!
Young kids often ask for my signature and look very puzzled when watching me sign. They then ask to take a photo with me and ask me to do the victory sign. This explains their confusion - they often think I'm Ian McNiece who played Winston Churchill - despite there being a photo of me as Dorium Maldovar 10 feet square above my head!
The most extraordinary response I have experienced was at the Closing Ceremony Gallifrey One in LA, Feb 2012. The guests are asked to say a few words thanking the fans for coming along etc, and I often end with the final speech from The Wedding of River Song ending Doctor Who. What took me by surprise was how the fans all stood up as they realised what I was doing clapping, hooting, screaming and in some cases crying.
Do you consider it work? And if not ... .what then?
The unexpected pleasure of my whole Doctor Who experience has been the convention circuit. Yes, I knew about conventions and Matt Smith said I would take them by storm but the response by the fans has at times, been Overwhelming. In many ways the experience is better than being in the show Is it a job? Yes - the best job I've ever had. After all I'm paid to travel the World, to talk all day long - about meeeeeee.
Lowdown
What: Armageddon Expo
When and where: ASB showgrounds, Oct 26 to 28
Info: armageddonexpo.com