Jake Gyllenhaal and Hugh Jackman go head-to-head in grim crime thriller Prisoners. They talk to Helen Barlow.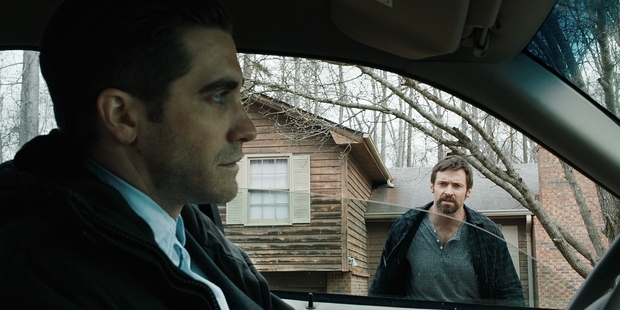 Since his spectacular misfire with 2010's Prince of Persia, Jake Gyllenhaal has gone back to the gritty dramas he does best.
There have been intriguing movies like Source Code and the beat-cop procedural End of Watch.
And he's just made two films in a row with French-Canadian director Denis Villeneuve - the complex erotic thriller Enemy and the crime thriller Prisoners.
Gyllenhaal's performance in the latter has been hailed as his best since his breakthrough as a troubled teen in 2001's Donnie Darko.
He plays Loki, an obsessive Pennsylvania detective trying to find two kidnapped girls. Yes, it's another police role but he sees Loki as a unique character.
"Initially there was a bit of hesitation because I'd done so much research to play a cop in End of Watch and I'd immersed myself for so long into that world," says Gyllenhaal "But this was a very different character. If there is anything I've learned from working with law enforcement is they may all wear the same uniform but everyone is a complete individual."
Loki is a keen observer of criminal minds, a man who bears similarities to Gyllenhaal's Robert Graysmith in Zodiac. What sets Loki apart is that he's been through a rough beginning in life - a boys' home upbringing is mentioned - and that he's became a cop to make amends.
"He's fascinated and almost infatuated with the mind of the criminal and at the same time he's having to keep an even keel as he cares so deeply about the victims," says Gyllenhaal.
Loki is however not so gifted with life skills and for once we see the usually buff, blue-eyed heartthrob looking sleep-deprived and with what look like gang tattoos poking from beneath his collar.
"Those tattoos were not to show him off; they were something to hide," he continues. "It was about hiding, it was about isolating. I think there is a physicality and a rage in Loki."
"I like to work with actors who are ready to give it all and to risk their image in order to create something interesting", notes Villeneuve, who directed the 2011 Oscar-nominated French-Canadian film Incendies.
"Jake and I almost need couple's therapy," he quips, only half-joking after having made two movies together over 18 months. "We developed a way of working that we deeply love and I cannot say to you how much I am deeply inspired by Jake. I think he is someone that in the near future will really impress us with his skills."
Hugh Jackman, Prisoners is a chance to prove he's not just an actor-who-sings or a superhero. He might have got an Oscar nomination for his Jean Valjean in Les Miserables and lit up the international box office in Wolverine during the 2013 blockbuster season, but the crime thriller might just get the 44-year-old Australian star taken seriously for his acting.
Sure, he's done mad before as the clawed, sideburned X-Man but his portrayal of anger as a dad whose daughter has been abducted is quite something else.
Prisoners isn't much like anything else Jackman's done, though he says it reminds him of his very first film.
"The first movie I did in Australia was Erskineville Kings, which is similarly dark in a way," Jackman notes of the 1999 breakthrough film which co-starred Joel Edgerton. "When I read this I thought that as long as we get the right director, it was a potentially great movie, a good thriller that can make people think after the movie finishes, which is a rare thing for this genre."
Jackman plays Keller Dover, a burly carpenter who is happily married to Maria Bello. They have a couple of kids, are great friends with neighbours the Birches (Terrence Howard and Viola Davis), and their young daughters are buddies.
When the girls disappear on Thanksgiving Day, local handicapped man Alex Jones (Paul Dano) becomes the principal suspect. Dover, a survivalist who is also religious, takes matters into his own hands after eliciting what he gleans to be a confession from Jones. Director Villeneuve had to encourage Jackman to show his character's cruel nature.
"When you're acting and dealing with these primal emotions, you can't plan them, you've got to check your mind at the door and just go for it," says Jackman.
"I first saw a fight in Australia, when I was at a pub with my friends and it spilled out on to the street. It was really violent and sickening to watch and to listen to, but I can still remember the sound of it. Real violence is unsettling and that's what Denis wanted in this film."
Jackman read about people in similar situations to his character.
"One woman, whose kid went missing for five years and returned, after two years she found herself standing on top of the bonnet of the car at an intersection and it was that moment that she realised she had gone crazy. I understand why.
"When our primal urges are touched on, when our deepest fears are touched on, all that's out the window and I am just as capable, probably, of doing what my character does. Who knows?"
Lowdown
Who: Jake Gyllenhaal and Hugh Jackman
What: Prisoners directed by Denis Villeneuve
When: Opens at cinemas today