Nick Grant likes Michael Mosley's take on health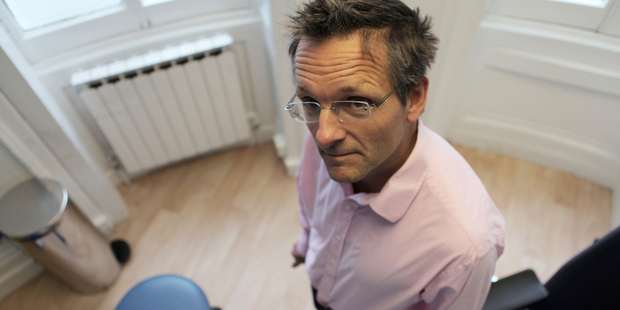 Michael Mosley brings an evangelical enthusiasm to the task of promoting the season of programmes he fronts on BBC Knowledge this month.
Called What's Your Body Hiding, the health-focused strand comprises two short series and six one-off programmes, three of which are presented by Mosley.
"All the shows tell part of the same story: that there is new and surprising science out there about health," he says. "For instance, we're too obsessed about weight, because that's the easiest thing to measure, you just stand on the scales. But actually the body-mass index is not terribly reliable. The important fat is on your gut. The size of your waist is the best predictor of health and should be less than half your height, so if you're six foot, that means less than 36 inches. And remember, you must measure yourself around your bellybutton with a tape measure and not take it from your trouser size, which will cause you to underestimate your waist by about two inches ..."
Like the season's programmes, Mosley is full of useful, fascinating facts like this, and he evidently has a natural curiosity about the human body, which led him to train as a doctor before switching to a career in TV.
However, the main reason for Mosley's passionate promotion of new health information lies literally close to his heart - and the rest of his vital organs.
Despite his medical background, Mosley admits that for much of his life he was a typical male who treated his body like a rental car he had no long-term stake in. Then a couple of years ago he got a rude shock.
"I discovered I was a 'Tofi', which means I'm relatively thin on the outside, but fat inside - loads of internal fat, actually. And then I also found out I was diabetic. That's what got me personally interested."
So now Mosley uses his body as a kind of crash test dummy in an ongoing quest to investigate and then communicate healthier ways of living. In Guts, for example, he swallows a tiny camera in order to take viewers on a Fantastic Voyage-style trip through his digestive system. "The most unpleasant thing about that was drinking four litres of laxative the night before," he laughs. "I had to beg off dinner with the director general of the BBC that evening, because it could have gotten embarrassing!"
What makes Mosley an excellent audience proxy is he doesn't possess an abundance of self-discipline and so he's always seeking science-based, sustainable shortcuts to the benefits of regimes that are too strict for him to stick to.
In Eat, Fast & Live Longer, then, he seeks to duplicate the health gains made by Calorie Restriction Society members while avoiding much of the pain involved in their strict regimen of consuming almost 30% fewer calories than the average person every day. The compromise: intermittent fasting, aka "the Fast Diet", which has allowed him to drop and keep off 12 kilos for more than a year and given him a respite from diabetic symptoms.
In The Truth About Exercise, meanwhile, he offers the attractive idea that less might indeed be more.
"There are interesting studies out of New Zealand that show just sitting for nine hours a day and then going to the gym to exercise isn't very effective. Instead, every 20 to 30 minutes you need to get up and walk for a minute - that will make a difference."
Mosley says that, aside from the related improvement in his health, "what I like most about doing these programmes is I learn a tremendous amount, and I hope viewers will enjoy discovering these things as much as I have."
What's Your Body Hiding plays throughout October on BBC Knowledge.