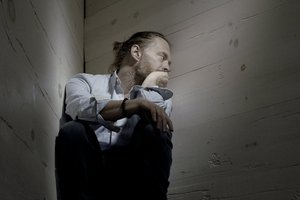 Rocker Thom Yorke has launched a furious broadside against online music retailer Spotify, insisting the music industry should band together to close the service.
The Radiohead frontman hit headlines in July when he pulled his side project Atoms For Peace's work from the streaming platform over the low royalties paid to artists.
Now he has slammed Spotify bosses, accusing them of trying to muscle in on attempts to modernise the music industry and telling them: "We don't need you. F*** off."
Yorke is adamant Radiohead's method of releasing their 2007 album In Rainbows online and inviting fans to pay only what they could afford to download is a potential model for the future.
"When we did the In Rainbows thing what was most exciting was the idea you could have a direct connection between you as a musician and your audience. You cut all of it out, it's just that and that," he told website Sopitas.com.
"And then all these f***ers get in a way, like Spotify, suddenly trying to become the gatekeepers to the whole process. We don't need you to do it. No artists need you to do it. We can build the s*** ourselves, so f*** off.
"But because they're using old music, because they're using the majors ... the majors are all over it because they see a way of re-selling all their old stuff for free, make a fortune, and not die.
"That's why to me, Spotify, the whole thing, is such a massive battle, because it's about the future of all music. It's about whether we believe there's a future in music."
- WENN