Cult sci-fi saga following adventures of warrior-race survivalist always intended as trilogy, says action star.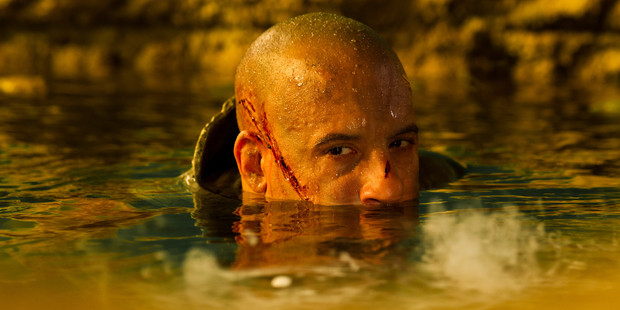 For those unversed in the sci-fi mythology of Riddick, the titular character is a highly skilled predator from the planet Furya. The Furyans were a warrior race obliterated by a military campaign and the beloved antihero, played by actor Vin Diesel, fights mercenaries and hostile aliens in order to survive on a desolate planet.
And now it's time for Riddick, the third instalment of the franchise following Pitch Black (2000) and The Chronicles of Riddick (2004), which the ever-effusive actor was happy to talk up in Los Angeles recently.
"We did Pitch Black, and then with The Chronicles of Riddick, we were lucky enough to get Dame Judi Dench. And then once she was cast every actor in the world wanted to jump in. That's how we got such great talent as Thandie Newton, Linus Roache, and Karl Urban," he says, with the latter making a welcome return as nemesis, Vaako.
Although the first two movies didn't fare exceptionally well at the box office they garnered a cult following after DVD sales.
"Yes, it was ambitious to have done this as a franchise, but in my mind it was always conceived as a trilogy. I was always dreaming big," says Diesel. He leans forward. "And you know how very shy I am about making sequels," he jokes, referring to the Fast and the Furious movies, the seventh instalment of which he is currently in pre-production for.
"What's important to remember is that Pitch Black introduced us to this antihero, Riddick. Unlike other franchises, we didn't have books that were around for 50 years penned by authors like Tolkien; we didn't have comic books or super heroes that were household names. From beginning to end, this was an original idea," Diesel explains.
Unsurprisingly, he sees himself in the protagonist. "Like Riddick, I'm a survivor, but my mother is the ultimate survivalist. There's a certain stoicism about her and it was only recently when I was asked by a journalist about where my strength comes from that I realised it was from her. She's resilient. She had to raise two little babies without much money."
Born Mark Sinclair Vincent, and now 46, he describes himself as 'a person of ambiguous ethnicity'. His European mother, an astrologer, raised him and his twin brother with his African American stepfather. Diesel has never met his biological father, who is also African American.
His background is a rags-to-riches story. Until making it in Hollywood he made a meagre living as a nightclub bouncer and break dancer in Manhattan to support his dreams of becoming a major movie star.
He was often described by casting agents as "not black enough", or "not white enough", and therefore the jobs were scarce. Taking matters into his own hands, in 1994, he wrote, directed, produced and starred in the autobiographical short, Multi-Facial, about a struggling actor enduring the audition process. He followed up in 2007 with the film Strays.
"I've been acting since I was 7 years old but I never earned the requisite $7000 to get health benefits. That didn't happen until I was 30 years old and Steven Spielberg cast me in Saving Private Ryan," he says.
Now, 15 years later, with an estimated worth of US$44 million ($55 million), the macho actor is also the latest recipient to earn a star on the Hollywood Walk of Fame.
While many actors abhor the obligatory interview process, Diesel seems to thoroughly enjoy it.
"I was always creative," he declares. "I am a nocturnal beast. I think it came from the fact that I grew up in an overcrowded place, an island called Manhattan. I was always a dreamer; drawing or writing, and when I really wanted to assist my creature side I had to wait until the city went to sleep. The city became mine when the sun went down."
Next up is the much-coveted role of Kojak, in a film based on the 70s TV drama starring Telly Savalas.
"Growing up in Manhattan, I was 7 years old when Telly Savalas would be shooting in my neighbourhood and would come to my building as a holding area. I remember being in the elevator with him. No way in the world was I thinking that one day I'd play Kojak 40 years in the future," he says, grinning.