The kids from Nothing Trivial talk to Lydia Jenkin about growing up on the hit drama as it returns for its third season.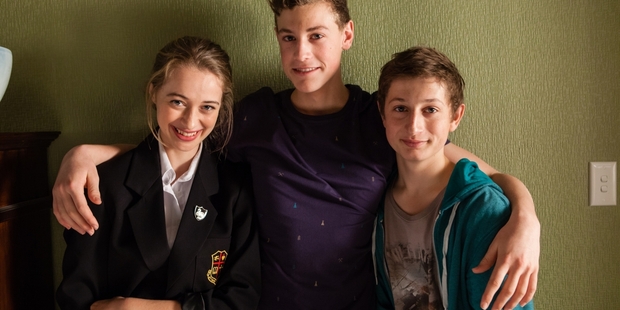 "It was the scariest, most exciting thing in my life to even get an audition, let alone the role," Manon Blackman remembers.
She has spent a lot of her childhood dancing and been involved with the National Youth Theatre Company, but trying out for the role of Celeste Duvall in Nothing Trivial was her first TV audition.
Her castmate, Simon Mead, also felt like it was a real stroke of luck to be chosen to play Noah Delany. He's long been a member of the Aspiring Young Actors theatre school, and had a few small TV opportunities, but this was a breakthrough.
"I was stoked to even get on the shortlist because my drama teacher told me that if you get on the shortlist it means you're good enough as an actor, they're just basing it on looks. So it was just about whoever looked most like Shane [Cortese, who plays Mac Delany, Noah's father] and, thankfully Shane used to have blond hair."
Mead and Blackman's characters may be slowly morphing into some rather troublesome teens in the third series of the hit local show, but in real life the pair seem to be the sort of delightful, competent, mature yet fun-loving kids that many parents would dream of.
Chatting with enthusiasm on set, in between school and shooting, they remain modest and grateful, and have plenty of compliments for their on-screen parents, too.
"Shane is very funny when we're going through rehearsals, you know, on set, during a lines run. He's always the one adding in extra funny comments," Mead laughs. "He's really encouraging though, actually, and he's amazing to work with. When I have to do something serious he supports me all the way."
"And Tandi [Wright, who plays Catherine, Celeste's mum] is lovely, she's so gorgeous as a person. She's so willing to help," Blackman says, with a smile.
They've done a remarkable job so far, though, blending naturally with the highly experienced adult cast and working easily with each other, as well as Dylan Holmes, who plays Noah's younger brother Frank.
So this time around, the writers have rewarded them with some prominent, serious storylines.
Though Noah began life on the show as a relatively innocent skateboarding dude he's now turned into a somewhat wayward 16-year-old, about to cause his parents some heavy stress, and Celeste has grown from a bubbly teen, happily watching Fame on DVD with her grandmother, to a 16-year-old going on 26, desperate to be an adult.
"I knew it would be a challenge," Mead says, referring to when he first read the scripts.
"But I sort of saw it coming with the character to be honest because, you know, in season two he'd been caught smoking dope, and he's a little bit of a troublesome child. I thought he would probably get a girlfriend, or somehow be involved with a girl in some way. I always used to think that Noah and Celeste would get together, actually. Maybe Manon didn't think that though," he says, grinning.
"Everyone thinks that!" Blackman says. "But it would be three generations, so it'd be weird. You know, our grandparents go out, and our parents go out, so if we went out, that'd make it three in a row," she adds, with a grimace.
"But seriously, when I read the script, I realised it would require a lot more work, compared to just grunting, or one line in a scene," Mead continues. "I think it was good for me in the end though. There were some parts of filming where I'd feel like 'ooh, okay, here we go, this is where I'm gonna have to kiss on screen for the first time', which was a bit awkward."
"Yeah, it's a bit scary. I was nervous, too," Blackman nods.
Beyond first kisses, these youngsters tackle some pretty heavy themes in upcoming episodes. Without giving away too much, it's safe to say Noah, in particular, has to grow up pretty quickly when some life-changing decisions have to be made, while Celeste - who lost her virginity to an older guy in the back seat of a car last season - continues to walk that tricky line between being a child and wanting to dive headlong into adulthood. "She definitely took a liking to hanging out with older people, and wants to be an adult right now," Blackman explains. "Being a teenager, as you do, she swings between wanting to be treated like a woman thinking, 'Oh my God, Mother, you don't know anything', and then there'll be another scene where she's going 'I want my mummy'. She definitely tries to be a lot older than she is, but she is still young."
It seems that despite their characters' wayward behaviour, the pair find them mostly relatable.
"I'm growing up, my character is growing up, maybe I might not make the decisions that my character makes, but there are people out there who do that. I've had big discussions with my mum, you know, 'Don't worry Mum I haven't smoked marijuana, it's just on TV'. But I can completely relate to Noah, maybe not to the extent of some of the mistakes he's made, but we all make mistakes, that's just life."
They're both keen for the show to continue of course, and they've even got a few ideas about what could be in store for Celeste and Noah in upcoming seasons.
"Maybe Noah could start playing cricket professionally!" Mead says, his eyes lighting up. "And Noah and Mac could go on a cricket tour, so we get to do some location shooting. And we pick up Miranda Kerr on the way, and she falls in love with me. And there's the scandal!"
Blackman has a slightly more possible suggestion - one that could add a whole new dimension to the show.
"I'd really like for them to have their own pub quiz team, so we can go to The Beagle, too.
"A junior quiz team. And then we can beat Sex on a Stick!"
Who: Simon Mead and Manon Blackman
What: Season three of Nothing Trivial
Where and when: TV One, Wednesday, 8.30pm
Follow @nzherald_ent on Twitter for all the latest entertainment news.
- TimeOut