William Golding's classic novel, Lord of the Flies, about a group of boys stranded on an island, has been adapted into an explosive stage play. Dionne Christian reports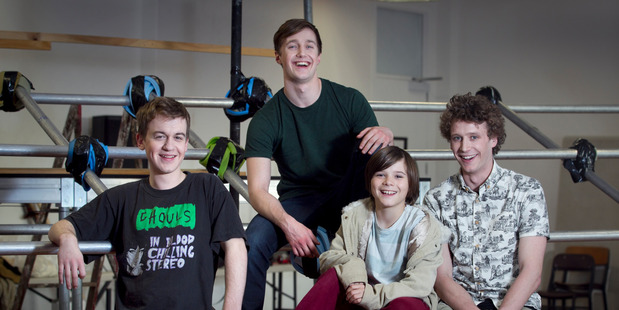 On the day of our interview, the youthful cast of Lord of the Flies has been introduced to a new player in Auckland Theatre Company's production: the set. It's an expansive but moveable steel structure weighing 500kg with a significant incline. It's fair to say that, on day one, the boys aren't clambering up it like monkeys.
"That will change. It will be second nature to you by next week," assures director Colin McColl, who says the last thing he wanted was for the set to look like something out of a holiday brochure - or the TV series Lost. "A real 'desert island' would just look naff."
It means there are no palm tree forests, no golden sands and no clear blue skies with the sun shining benevolently across the stage. After all, William Golding's novel, adapted for the stage, starts with British schoolboys flying across a nameless ocean to escape an apocalypse when their plane crashes.
ATC's version is a re-imagining which starts with a bunch of teenage boys studying the novel at school.
Interest wanes, then one of them, Ralph (Leon Wadham), starts to imagine the reality of being stranded on a remote isle and the story comes explosively to life.
The guts of the story are well known: what starts as a kind of boys' own adventure - alone on an idyllic island without pesky adults - quickly descends into an all-out battle for survival with practical matters like finding food and shelter second to surviving the chaos wrought by human fears and foes.
Wadham, best known for his role on TV's Go Girls, says that after months working on television and film sets - "where you might be sitting down all day" - it takes a lot to get used to such a tactile story, which requires high energy levels.
"But it is quite good to get to explore a darker side of human nature in a safe place."
In Golding's 1954 novel, the island dominates to such an extent it is almost another character. Its central place and difficulties in recreating it in the theatre may explain why it took nearly 40 years for Lord of the Flies to make it to the stage after earlier film versions.
When playwright-novelist Nigel Williams adapted the book, he had the benefit of working with Nobel Prize-winning author Golding on early drafts. Golding saw the premiere in 1991 at Kings' College Junior School in Wimbledon, where Williams' son was a pupil. Four years later, the Royal Shakespeare Company staged the first professional production; ATC's staging is its first professional outing in New Zealand.
The parable at its heart never gets old, say Wadham, Jordan Mooney, Caleb Wells and Flynn Allan, who are in the 14-strong cast. Wadham's "good guy" Ralph plays against Mooney's sadistic Jack Merridew. Wells plays Maurice, the "clown" who tries to use humour to diffuse tensions, while Allan is little Percival, one of the younger boys stranded on the island.
"He's scared all right, but he doesn't really know what he's scared of," says Allan, 11. "Like all of them, he's letting his imagination go wild."
They say the issues thrown up - abiding by rules, sacrificing individual freedoms for collective greater good, peer pressure, bullying and even gang rivalry - are probably more relevant than when the story was first published.
"There's always some sense of control in our lives that stops us from descending into chaos, but what happens when that goes?" asks Wells. "What happens when civilisation collapses and has to be rebuilt?"
The trickiest part of the rehearsal process has been understanding the boys' mindset. The story is still set in the 1950s, and English class divisions are razor sharp. That's something the actors acknowledge exists in New Zealand but not to the same extent.
Wadham and Wells are wearing school uniforms for the first time in their lives; both went to liberal high schools where there were no such dress codes. Allan is having fun with the English accent to the point where those who don't know him well have asked if he's recently arrived in New Zealand.
It has helped each of them to provide a back-story for their respective characters. Wadham describes Ralph as coming across like a natural leader, but he thinks closer reading reveals the young man as someone who is more hesitant than he initially appears. This inability to make quick, decisive choices proves to be his downfall.
In the novel, Jack is far more ruthless without reason but playwright Nigel Williams has fleshed out the character to make him more vulnerable. Mooney, making his third consecutive appearance for ATC, says knowing more of Jack's back-story makes him more comprehensible, but it's still fun to play the villain.
"Jack's an upper-class lad who has had it bred into him by his family and society itself that he is the type of person who should be in charge and he's used to playing that role. It's extremely sobering for him when he's not, when Ralph is chosen to lead the boys. He struggles with that and, because he hasn't got his way, other people around him are going to suffer. But ultimately, he just wants to be liked."
Performance
What: Lord of the Flies
Where and when: Maidment Theatre, September 5-28