Helen Mirren discovered she liked being a gun-toting bad-ass so much in the Red movie she was happy to reload for a second, writes Michele Manelis.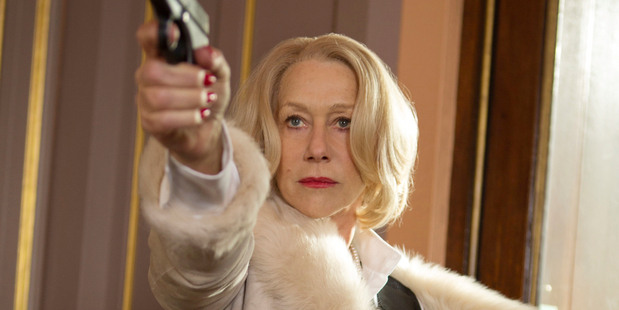 She's played Elizabeth I and Elizabeth II - the second monarch twice, on screen in The Queen and on stage in The Audience. But now that she's done double duty with Victoria - the veteran assassin of the 2010 comedy thriller Red and its sequel Red 2 - Helen Mirren knows what real power fees like. The sort of power that comes from being on the stock end of a high-powered rifle. "Playing a sniper I thought to myself, 'God, I love this'. I'm kind of an older, female James Bond. And to go from being the Queen to this character - who is this very bad-ass woman - is very cool.
"A lot of the stuff I do, particularly in theatre, is very cerebral and very involved in words and speeches, so this was just pure fun."
Presumably, her fellow cast felt the same way. They include franchise newcomers Sir Anthony Hopkins and Catherine Zeta Jones, as well as those in the previous cast, Bruce Willis, Mary-Louise Parker and John Malkovich.
In fact, the entire cast seem to be thoroughly enjoying themselves in this somewhat uneven but playful comedy.
"It was as if we had all hung out in college together. It was like the way you meet your old college friends when you haven't seen them for 30 years, the friends you have for life. It was a bit like that," Mirren says.
This second espionage romp is set in several European cities. Although it was shot primarily in Montreal, some sequences were shot in Paris and London.
"It was great. Sometimes we were shooting a few minutes from my home in London. It can't get better than that."
But the Red movies are some distance from what Mirren is best known for on stage and screen.
"I'm not a method actor, but I do enjoy the process of research," she says. "Of course this was a different preparation than playing someone like the Queen, but I'm a serious actress and there are still things to learn. These action movies are very technical and very controlled. It really requires great skill and so I watched Bruce Willis and I took my lead from him."
Mirren immersed herself in the experience, which entailed intensive weapons training. "Guns are very attractive. I haven't had much experience with them, other than in the first movie. It's strange, but you feel good with one in your hands - it's a bit like holding a cigarette.
"There's something weird about that feeling, maybe it has something to do with it being a phallic symbol," she says.
"And from having to practise using guns so much for this role I've come to realise that I'm quite a good shot."
Her character's ladylike demeanour is something Mirren felt comfortable inhabiting and she needed no training. "I love that she prefers killing in formal wear, and quite right, as long as she's got the appropriate shoes on, which is very important. "You can't do this job in high heels. You can't run if you're going to be serious about it so it was my idea to be wearing combat boots."
The audience seemed to relish watching Mirren take down her enemies, be it with a well-placed karate chop or a sarcastic quip. "Well, they think it's the Queen doing that and that's why they love that idea."
Now that Mirren's "inner bad-ass" has been aroused, what is next on her bucket list? "Oh, I'd love to play a baddie in a James Bond movie," she says. "I'm British, so of course I'd have to be the villain."
It might seem rude to point out to Dame Helen that Bond villains are very rarely Brits and the last acting dame in the series was the head of MI6, so we let it pass.
Her career certainly doesn't appear to be winding down any time soon, although she won't confirm her next project. She most recently starred in the HBO film Phil Spector, with Al Pacino, and in Hitchcock, opposite Anthony Hopkins.
Does she look forward to some sort of retirement?
"You have your dream of what it's going to be like to be retired. My husband and I have been building this house in Italy [in the village of Tiggiano, near Lecce], and that's our 'retirement dream'. But actually, in reality, whether we'll ever actually do it, I don't know.
"It's hard to let go of our business, it's hard to let go of the creativity involved. It's also hard to let go of the attention that you get. You don't think that you're addicted or in love with that attention, you think it doesn't mean anything to you until suddenly you don't get it.
"You go, 'Why isn't everyone asking me questions or taking photos of me? What's going on?' But maybe in the end it will be lovely to do that." At a good time in her life, she concurs, "Yes, I'm happy. But happiness is a bit like the weather, isn't it? You might be happy one day, but it's not going to last forever, and that's something you have to accept.
"It's very similar to success - it comes and it goes. I'm undoubtedly more successful now than I've ever been in my life but I'm also aware that inevitably it will go down again."
Who: Dame Helen Mirren
What: Red 2
When: Opens at cinemas on Thursday
Follow @nzherald_ent on Twitter for all the latest entertainment news.
- TimeOut