A change of scene from domestic bliss proved just the kick Ladi6 needed to get her creative groove back, writes Lydia Jenkin.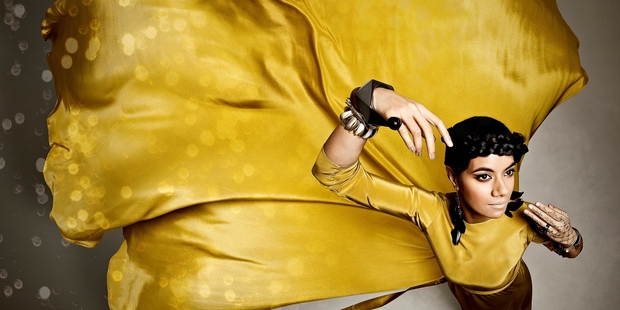 Having just finished a 15-date tour of New Zealand and Australia, Ladi6 (Karoline Tamati) and partner Parks (Brent Park) are a little jet-lagged when TimeOut meets them at their sunny Snells Beach home, north of Auckland. But despite the fatigue, Ladi is excited about the impending release of her third album Automatic and happily discusses everything from balancing roles as mum and musician to her creative doubts and struggles, all in that sultry, soulful voice of hers, peppered with laughter.
In the two years following the release of her acclaimed second album, The Liberation Of, the pair have bounced back and forth between Berlin and New Zealand, touring intensely. The album not only kicked Ladi's international fan base up a few notches, but earned her the 2011 Taite Prize, multiple New Zealand Music Awards and went gold in New Zealand, as well as spawning platinum single Like Water.
Ladi and Parks returned to New Zealand, decided to move to Snells Beach to give their 9-year-old son, Philly, some stability and thought they'd take a few months to catch their breath before writing and recording album No3 at home.
But then they struck that familiar catch 22 - being happy and stable often seems to sap creativity and inspiration from musicians.
"We were actually making money off our music, which is completely unheard of for us, so we were on a salary and we were feeling good with our domestic family situation. We'd just moved to this beautiful place on the beach and it was all really amazing. But we weren't making any music that we were happy with. Nothing that was progressive or interesting on any level to us."
Ladi also discovered writing and recording at home was a tricky balance.
"You get overrun by domestic life and it's kind of impossible. It's not impossible for Parks at home, he can go into our little studio space and make loads of beats, but I find I can't get out of the 'Mum' headspace and into the artist headspace as easy as that. I need to relocate."
They knew there was a deadline on the horizon from their European label (Eskapaden Musik) and though Parks was initially keen to produce the whole album himself, he soon suspected that wasn't going to be possible and decided they needed a co-producer.
The challenges seemed to keep piling up, blocking any progress. But then they found a solution: Waajeed, a prolific producer and beatmaker from Detroit, who is a close friend of J Dilla and the main creative force in soul band Platinum Pied Pipers, with too many other independent projects to list.
"Parks was really worried about finding a co-producer, he's really picky. We're kind of yin and yang like that, I'm super free and easy and like, 'Yeah, we'll do this, yeah, let's go with that,' and he's like the quality control dude, he knows exactly what he wants, so he was really worried. And then our manager Becs [Caughey] said, 'Why don't you write down your top five favourite producers anywhere in the world and we'll see what can be done."'
Waajeed was at the top of Parks' list. And he was keen - plus he suggested they should come to Detroit and record in his studio.
"We were like, 'Yeah! Cool, we'll sell our car and get our asses over there."'
They'd written the first two singles, Ikarus and Shine On, at home and spent some time recording at Revolver Studios in Waiuku, but most of the album was developed over two trips to Detroit, where Parks and Waajeed would bring in various beats, and Ladi would come up with the songs there and then through freestyling and improvisation.
"There was a lot of pressure and it was very intense, and I cried lots, but we talked a lot as well about just trusting your gut instinct and just letting it come out. 'Cause it's when I was overthinking that it became a contrived-sounding song.
"I trusted Waajeed and Parks to tell me if they thought something was shit though, and luckily Jeedo is really straight up like that, he'd just automatically say, 'No. Let's move on'."
So what came out of those gut instincts? Well, it's a slightly more experimental musical palette; darker, more spacious, less defined simply by soul or hip-hop, but calling on electronica, world music and even rock, too. Lyrically, Ladi's concerned with self-doubt, freedom, empathy, cycles of poverty and violence - but that's not to say it's a downer album. Shine On is actually a beautiful, almost maternal-sounding track about support and love ("it just sounds sad, it's got those sad chords") and Diamonds, with its doo wop-inspired beat, will be a definite summer jam, despite its themes.
"I feel like it's a bit of an ironic, nonsensical song in a way, because it is definitely about poverty, but it's over a pop tune, which brings out the irony. It really came out of the observation that loads of people are doing great work and working really hard, but still struggling. But I didn't want it to be really super-serious. It felt like the album had quite a few heavy-feeling songs on it already, it feels quite dark."
She does sound a little older, perhaps a little more weary of the world's troubles. And being in Detroit, seeing how downtrodden the city is - the boarded-up houses and shrinking population - and feeling similarities to her hometown of Christchurch had an impact.
"Not just because of all the abandoned houses, but actually in that it looks like Christchurch in other ways. It's quite flat, the roads are quite wide and the light is the same, too, it was really bizarre. Detroit just looked older, like it's been there forever, really overgrown, older houses, rotting wood."
But it's not all about Ladi's state of mind - Parks and Waajeed set her in that direction with their beats.
"The honest truth is that I am super-led by the beats, so it's more their record than mine in that way because whatever they give me, I'm going to respond to in that direction. We weren't going to have a whole album of happy, upbeat songs because they weren't really creating happy, upbeat tunes. But I was really happy with the way they led me," she smiles.
"We kind of had to come off the back of Like Water and go back to struggling artist mode again, and then suddenly we've got a record out and it feels like it happened really quickly.
"I do worry that this cycle is just going to carry on for the rest of my life and I'll be grey-haired before I'm 35, but I really feel like this record is probably the best record we've ever made. It feels like the beginning of something really important to us.
"Which is great, because before this I was starting to worry that I'd taken the wrong career path," she says, breaking into a wide laugh.
Let's hear it for Detroit
Ladi6 and Parks made two trips to Detroit while they were recording the album, and spent nearly all their time either in Waajeed's studio, or throwing around album ideas in their hotel room. However, on their second visit they decided they had to make time to visit the Motown Museum. The otherwise nondescript two-storey house, which was the birthplace of the Motown sound, comprises Studio A - where you can imagine Smokey Robinson or Lamont Dozier at the helm of the recording console as the Temptations, backed up by the Funk Brothers, tuned up for another jam - and the upper flat where founder Berry Gordy lived with his young family.
"It was just amazing, and totally inspiring. I never really fully understood the story of Motown before that - I'd watched the BBC Motown anniversary documentary or something, but that was pretty much my only historical knowledge of Motown, that and the music, so learning about their story was incredible.
"Berry Gordy just did it all by himself, you know, he was just a kid who got a loan from his parents, and built it all up from scratch. And he built the whole sound basically from a hole in the roof. That's how they got that reverb sound. From the desk in the studio, they'd send all the music up to this roof, and they had mics in the roof, so as the music was played, those mics would capture all the reverb. And that's the Motown sound.
"And all those claps, those millions of claps you hear on all those tracks, they'd stand under the hole in the roof and clap. The hole is still there, you can still see it.
"It was amazing to see how they had all these beautiful, simple ideas, that created a world-famous sound."
Who: Ladi6
What: New album Automatic
Where and when: Album release celebrations are taking place over the next three days, both morning and evening, with in-store sessions and club nights.
Tonight, 7-10pm at Golden Dawn, Friday morning, 8-10am at Conch Records. Then on to Christchurch; Friday, 9-11pm at Winnie Bagoes, Saturday, 12-2pm at Penny Lane Records.
Follow @nzherald_ent on Twitter for all the latest entertainment news.
- TimeOut