Scott Kara talks to the teams tackling the do-ups on a site in Takapuna ahead of The Block's on-screen debut at the end of August.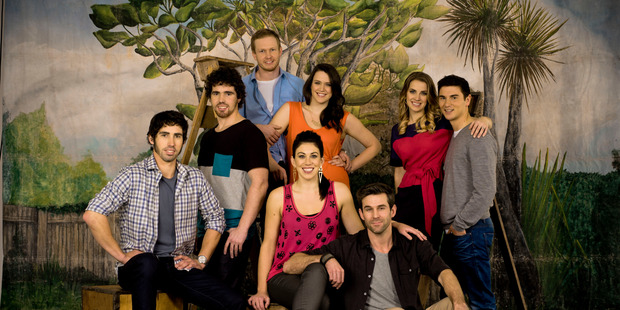 Yes, it's just another muddy building site, but it's about to become the most famous muddy building site on New Zealand telly.
And for every tradie in a hard hat and high-viz vest, there's a TV crew member treading tentatively across gantry-like walkways, nursing cameras and microphones cords, as the chaos and noise of construction goes on around them.
Although the area on Lake Rd in Takapuna that's being used for big-budget renovation show The Block NZ is vast, it's jammed packed with trucks, portaloos and building supplies.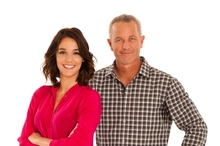 Ahead of its debut on screen on Monday week, TimeOut is visiting The Block during week four of the contestants' 10-week renovation project so it's hard to tell what the final results will look like.
However, it's clear the four do-ups - two bungalows, one villa, and a 1940s brick veneer and tile - are set out at a reasonable distance from each other, meaning these houses should have decent-sized sections.
And after further nosying around - and not to give too much away - there is one house that has a stunning view to the north that they are making the most of - and will surely be a big advantage when it comes time to sell the houses at auction.
"The best view on The Block," boasts the proud owner.
The big difference between the first series of the show, which was won by brother-and-sister team Libby and Ben, is the size of the houses. With far bigger rooms, multiple levels and more layout possibilities, they make last year's four houses look cookie-cutter conventional.
As the tradies buzz around the site, wielding everything from pipes and plasterboard to skilsaws and blow torches, the contestants are mucking in, too. Nelson locals Loz and Tom Heaphy are creating something out of an old wooden spindle used to hold wire cable.
Another competitor, who will remain nameless, has a grumble about the judges not really liking how they've gone about retaining the heritage features of their house.
And then there's Catlins-based farming brothers Pete and Andy Walker, who take a moment to explain their approach - putting their own influence in but balancing that with a good general appeal to potential buyers.
They may not be as vocal as Loz and Tom, or sweet and bubbly Alice, an Auckland youth worker with a competitive streak, who's on the show with project manager hubby, Caleb, but word around the site is that the brothers go about their business and could just be the dark horses of the competition.
Of course, all eight contestants - also made up of 25-year-old animal wrangler Koan Vette and his PR consultant partner Alisa Keall-Grant - are new to having their mugs on TV and in the last four weeks Loz has come up with a philosophy about reality TV shows.
She reckons that while you can't control how you are portrayed, "you can control who you are. If you aren't being a diva then they can't portray you as a diva."
Although, by the sounds, she's already exhibited a few diva-like qualities. She's been nicknamed "Onions" by her fellow competitors because during the first week Loz cried ... quite a lot.
You can understand why she was an emotional wreck, because when she and Tom turned up to the Block, their house didn't have a roof.
"So it was pretty horrendous because it rained. So we were sleeping in a different spot every night just to escape the rain. And we spent quite a bit of time in the tool shed," she says.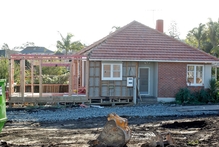 Alice agrees with Loz's reality TV philosophy. "You almost have to keep reminding yourself that you're being filmed - and that it's going to be on TV," she says.
"It becomes like tunnel vision, you only see the challenge ahead of you, or the room you've got to finish, and you almost forget the cameras are there. For us, seeing the promo [TV advertisements] was a reality check that this is actually happening."
"And that we look like the Wiggles," adds Loz with a laugh, referring to the colour-coded uniforms they wear. Compared to the 2012 teams, this lot are more savvy and prepared since they have seen last year's show and the Australian series, and know how the game is played.
Still, says Tom, nothing can prepare you for the all-night painting marathons.
"The knowledge that you are going to have one or two of those coming up in a week is a huge mental challenge you have to get over," he says.
"It's a total cliche," says Koan, "but it's an incredible roller coaster. One day you're high, high, high; another day you're low, low, low. You're running out of time, not getting stuff done, but trying to work it out in the end."
Alice: "You know you've bitten off more than you can chew when you ask your builders or your tradies that we need this done and they laugh at you."
Loz: "But we've got an amazing builder, because as well as being a great builder he's a motivational speaker and he writes signs like, 'Positive energy only', and puts them up around the house. Then at the end of the week, you look back and go, 'Oh my God, how much have I just achieved'. The amount you can achieve is amazing, and for us, never having renovated, Tom has turned into builder Tom, and he's loving it."
Tom: "Oh yeah, I wish I had my toolbelt on now. I feel a bit naked."
And after four weeks they already know each other "too well", but say they're getting along fine.
So why did they want to be on The Block?
Loz doesn't mind admitting the show offers a good profile-boost for someone like her and Tom, who are in marketing. "But we're all focused on the potential of the end result. Fingers crossed it could be good," she says of the chance of keeping the profit from the sale of their house at the end. The team whose property sells for the most over reserve also win $80,000 extra.
And they all agree it's a chance to learn new skills and to challenge themselves.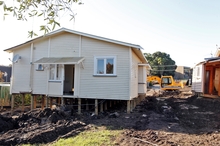 "To look back and go, 'We did that house in 10 weeks', that's a massive life accomplishment regardless if you get a cash prize at the end of it," says Alice. "And each week when you step back and look at the room there is such a sense of achievement, especially when there are so many lows when you really don't think you're going to get it done."
Executive producer Greg Heathcote, who has been dealing with everything from complaints from neighbours about noise (he says The Block causes no more disruption than any normal building site) to the safe removal of lead paint from three of the houses, says he likes to think of the reality show as "a classic Kiwi drama. Everybody at some point has renovated their house. It's just who we are.
"Kiwis love owning their own homes, they're very handy, and they want to improve them. And people sitting at home watching the show are also looking for someone who is like them. 'Loz and Tom. They're like me so I'm going to support them'. Or, 'Pete and Andy are more like me so I'm going to support them'."
Heathcote says even though they're almost halfway through the renovation he still can't pick a winner - unlike last year when Libby and Ben were frontrunners from the outset.
"But this year, I have no idea which house is going to go for the most money because it changes daily. And I have no idea who is going to win."
What: The Block NZ
When & where: Starts August 26, 7.30pm, TV3. Screens Monday, Tuesday and Wednesday nights.
Follow @nzherald_ent on Twitter for all the latest entertainment news.
- TimeOut