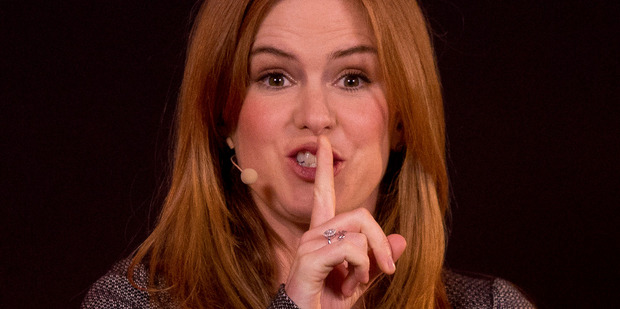 Jesse Eisenberg was grateful his magic tricks in Now You See Me weren't as dangerous as Aussie Isla Fisher's.
Playing an illusionist in the heist movie, which made nearly $4 million on its opening weekend in Australia, The Social Network star stuck to the card tricks, as opposed to Fisher's near death experience filming an underwater escape.
"She almost drowned one day,'' Eisenberg said of the scene, in which Fisher's shackled escape artist is dropped into a tank of water.
"I guess the thing actually got stuck and she realised she didn't have a safe word or something.
"`She was in trouble for a few seconds, so I'm happy I was just a card magician.
"I guess the worst thing that can happen is a paper cut."
Eisenberg and Fisher co-star with Woody Harrelson and Dave Franco (brother of James) as The Four Horseman - illusionists who pull off robberies and reward their audiences with money.
Eisenberg says unlike the majority of scripts he comes across, Now You See Me had genuinely surprising twists and turns.
"The movie's kind of designed like a magic trick, so as an audience you're trying to put the pieces together," he says.
And the ensemble cast, including heavyweights like Michael Caine and Morgan Freeman, also had the freedom to flesh out their characters - something Eisenberg says is highly unusual for a movie of this scale.
"As they cast it, they changed the script to suit what the actors wanted to do, so we were instrumental in coming up with our characters," he says.
Eisenberg was also instrumental in having Harrelson join the cast.
Since making Zombieland in 2009, the pair had been looking to work together again, when Eisenberg realised Harrelson might be great for a part in Now You See Me.
The character was originally an older Englishman, but director Louis Leterrier (The Incredible Hulk) and the producers quickly warmed to the idea.
"They rewrote it to suit him," Eisenberg says.
"It was immediately perfect, because he plays a hypnotist and mind reader and he's already like that. He's a very persuasive guy."
It was also nice for the naturally competitive friends, who often throw improvised jokes at each other before a scene starts, to play a different dynamic.
"In Zombieland, he plays like kind of an older brother figure and in this, we're like rival peers," he says.
Eisenberg's character J Daniel Atlas is the unspoken leader of The Four Horseman and the actor originally envisioned him as a David Blaine-style, casual street magician.
But Leterrier wanted something a little more flamboyant.
"More David Copperfield style, more enigmatic, so they put me in flashier clothes and I was even wearing eyeliner," he says, adding it was actually more interesting to play this way.
A four-week 'magic boot camp' taught Eisenberg the basics of sleight of hand before they began the four month shoot, which took them to New Orleans, Las Vegas, New York and Paris.
"It took a long time to film," Eisenberg said of the shoot, adding it came down to the stylised look, locations, and Leterrier choosing to use real magic over CGI as much as possible.
"He wanted a more authentic feel, so it meant it took a lot longer to do sometimes, but looks better.
"There's some amazing stuff."
* Now You See Me is out now.