A tour marks the end of a rough patch for Head Like a Hole, writes Scott Kara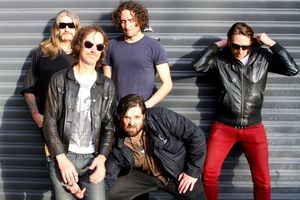 Do you think Booga Beazley of Head Like A Hole is going to let a little thing like heart disease keep him down?
Not likely, because the frontman is used to "galloping along like a horse" and, he says on the phone from his home in Otaki, just north of Wellington, even if his doctors said he should stop gigging he probably wouldn't.
However, his condition, which was diagnosed in the past year, is one of the reasons Head Like A Hole have been quiet since their return to rip-roaring and fiery form on 2011's Blood Will Out.
He's stable now and on medication.
"I've had a good turnaround," says Beazley.
Blood Will Out was the band's first album in around 13 years after band tensions brought about by drug abuse (in Beazley and guitarist Nigel Regan's case) and arguments over money meant they called it quits for a while.
"But when we decided to go to the practice room to see what it was like [back playing together] it was like we'd never been away," remembers Beazley. "It was weird, and a good weird. And going on the road again and having that buzz of people coming to a venue, queuing up, and squashing in like sardines at venues around the country, we were stoked. We couldn't have asked for more."
But then it went quiet again, until they made a live comeback in Dunedin supporting Aerosmith in April. And today they kick off their Monsta X Tour - named after three consecutive songs on the album, Monsta-X, Hardest Battle (Monsta-Y), and Blood Will Out (Monsta-Z) - at Auckland's Kings Arms.
"Ideally, we would have liked to have released a record and continue to play as many shows as possible, but ..." says Beazley trailing off.
Not that they've been idle, with the band slowly beavering away readying their 1993 debut album, 13 - with unhinged songs such as Fish Across Face and Life's A Joke on it - to reissue on vinyl.
And these days the band members are spread around the "four corners of the Earth - okay, four corners of New Zealand", with Beazley in Otaki, Regan in Wellington, drummer Mike Franklin-Browne in Wanganui, and guitarist Andrew Ashton and new bass player Simon Nicholls ("Oh, he's an ugly bugger but we didn't really go for looks. We were just looking for someone with talent really.") in Auckland.
But being in different towns hasn't stopped them writing songs which, given Beazley's descriptions, could be even more visceral and punishing than tracks like Valhalla (10,000 BC) and sing-along single Glory Glory from Blood Will Out. There's the drum-driven The Boat Song, which Beazley describes as like being on "a big Viking boat when they banged the drums" to keep in time, and Creedence, a song he can't help but rave about.
The song was shelved initially because Beazley wasn't happy with the lyrics but then it got resurrected.
"We chucked that song to one side, because I wasn't just going to chuck any old crap lyrics in there. It's not like the old days where I'd come up with Fish Across Face, where the lyrics are just a jumble of shit really. But they sounded good and everyone liked it. But these days it's got to have some meaning for me. So anyway, with Creedence, when we are at rehearsal we record everything, either on my dictaphone or on Mike's recording device, which looks like a communicator from the original Star Trek movie. So it's pretty minimal. But we were listening back to Creedence one day and we thought, 'That's really good'."
For the song they teamed up with Wellington electronic boffin Jeremiah Ross (aka Module), whom Beazley describes as "a guy who doesn't really deal with rock bands, he's ... more of an atmospheric dance music guy who works with computers".
"He took the drums from this shitty old recording and we looped them and made them sound as grunty as possible. It's like a slow, lurching beast across the land. If you can imagine a half-animal, half-machine, roaming the land, chewing up everything in its path and leaving a big dark stinky mess behind it, that's Creedence."
Who: Head Like A Hole
On tour: Kings Arms, Auckland, tonight; Altitude, Hamilton, Friday; Brewers Bar, Mt Maunganui, Saturday
Listen to: 13 (1993); Flik Y'Self Off Y'Self (1994); Double Your Strength, Improve Your Health, & Lengthen Your Life (1995); Are You Gonna Kiss It Or Shoot It? (1998); Blood Will Out (2011)
Follow @nzherald_ent on Twitter for all the latest entertainment news.
- TimeOut