Some mythical beasts hark back to times best forgotten, warns Paul Charman.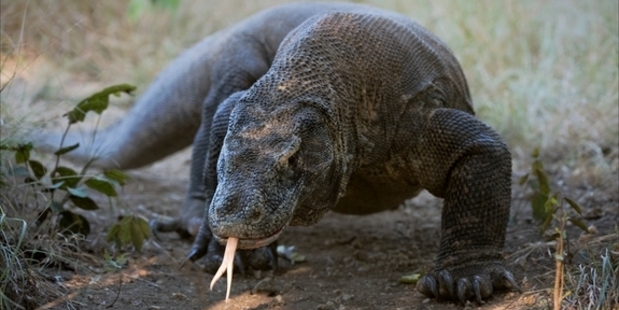 In a contest of strength, the TV magician Dynamo can apparently take on beefy bikers three-at-a-time.
But apparently blokes like him were two-a-penny in Ancient Britain, when builders unknown assembled that massive monument called Stonehenge, apparently using nothing more than block and tackle. And, according to pagan legend, when the forest was full of terrifying things which go bump in the night and the dragon menace was at its height.
Last week I suggested that since they're still seen from time to time, taniwha would make an excellent subject for a don't-go-there-type horror film. But in truth The Hobbit: The Desolation of Smaug will probably get this message across when released in December.
British dragons, nasty creatures that they were, and Maori taniwha seem to have been similar. At least according to a Ngapuhi elder quoted in Te Ara The Encyclopedia of New Zealand. Early last Century Nepia Pomare confided to his godson that the dragon depicted fighting St George on the British gold sovereign coin, was like a taniwha he'd once seen.
This taniwha, whose name he could not utter, (so tapu was it) had a body very like that of the dragon on the sovereign, albeit the wings and head were slightly different.
My view is that all such creatures are best left well alone - just in case they decide to make a comeback.
Winston Churchill knew a thing of two about dragons, both from a profound grasp of history and observation of komodo monitors. This apparently made Churchill unsentimental, even for the beloved Welsh emblem.
He described the famous red dragon badge of Henry VII as, "an odious design expressing nothing but spite, malice, ill-will and monstrosity."
But how how else would you describe the kind of monster which emerged from the Loch Ness to confront St Patrick.
Patrick, who was evangelising 5th Century Scotland at the time, famously stood his ground and commanded the beast to go back whence it came. Suitably cowed, Nessie turned tail and fled, seemingly frightened by the Saint's authority. One account adds that later monster-hunters were not quite as fortunate as Patrick. In 1527 Duncan Campbell and several other men went to the lochside early one summer morning and were set upon suddenly by the monster, who killed three of them with blows from its tail before returning to the water.
Many accounts of dragons are spurious - for example, St George almost certainly never slew a one. The Patron Saint of England was actually a Palestinian Christian who served as an officer in the Roman army during the Fourth Century.
In AD 302 he refused an order to sacrifice to the Roman gods and was tortured to death as a result. Christians and Palestinian Moslems still revere George for his courage but tales of him slaying a dragon early in his military career only date from about the 12th century.
"Dragon slayer" seemed to get added as an epithet to a hero's CV, often years following his death.
Of course, there's always an exception. In the 14th Century a French knight by the name of Dieudonné de Gozon apparently killed something nasty and reptilian which was troubling peasants on the Island of Rhodes.
This feat assisted Dieudonné to become Grand Master of the Knights Hospitaller in 1346.
The Hospitallers recorded the event as the only dragon slaying in their 700 year-plus history. These elite crusading monks, among the most formidable of all the European knights, had no real need to make up stories to improve the brand. Some historians say this dragon slaying was most likely based upon the disposal of a creature such as a large snake, or maybe a Nile crocodile.
Dragons which did the most damage were clearly supernatural - a pagan challenge to be overcome by God-fearing warriors, Beowulf being perhaps the most famous of these.
Their disappearance from Europe largely coincided with the arrival of Christianity, (just as the first Maori Christians largely saw off the taniwha) and in my view anyone who wants them back should think twice.
Ancient Britains feared a pantheon of mythical creatures - dragons, goblins, fairies and many others - and wasted too much time appeasing them.
One example would be that it was considered unlucky in ancient Britain to travel anticlockwise around an object, with possible penalty being to be kidnapped by the fairies. If you broke one of these many rules, rehabilitation was only possible by parting with something valuable. And I'll bet there was a chap like Dynamo on hand to take that off you. And in those days of prolific human sacrifice the magicians did a lot worse than merely putting people's mobiles inside bottles. But back to Celtic legend.
JRR Tolkien was once asked by he did not draw more upon Celtic fairies for his stories.
His reply was to the effect that the Celtic fairy stories were clearly unsavoury and "essentially insane". Yes, of course, he (Tolkien) crammed his works with mythical beings, but they're all clearly bad ones - there to be overcome by good.
Celtic fairy tales, on the other hand, are flavoured with fear, with a sub-text which in effect says: "the fairies are in control, they'll wreak terrible vengeance if you cross them and in any case resistance is futile".
So Tolkien was with Patrick on this one. And - to paraphrase Delmar - from the 2000 hit comedy O Brother Where Art Thou - "I'm with those fellas".