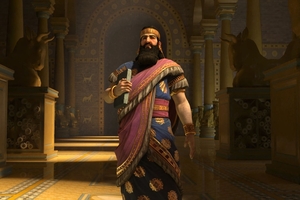 To call Civilisation the greatest strategy game ever is like saying Halo is the most popular first-person shooter in existence: you'd be stating the bleeding obvious.
With five separate versions released since 1991, Sid Meier's iconic PC series has succeeded in turning even the meekest among us into world-dominating warmongers - one turn at a time.
Brave New World is the second expansion pack for 2010's Civilisation 5 release, following 2012's Gods & Kings, but if you have time for only one of them, get this one.
It includes many of the upgraded elements from Gods & Kings, as well as introducing nine new civilisations, eight new world wonders (including Broadway, the Globe Theatre and the International Space Station) and dozens of new units.
If that's not enough for hardcore fans to tinker with, there's even the option to replay the American Civil War. Firaxis has tweaked certain aspects of gameplay, with inter-city trade routes easier to manage, while diplomats have been introduced to help sway key United Nations voting decisions your way.
The addition of bazooka units to military arsenals is a nice touch - but don't let them get caught out by the Giant Death Robot, which still remains the game's ultimate weapon.
And though the introduction of religion as a key element may irk gamers with an atheist viewpoint, Civilisation's core gaming experience remains intact: Building up cities, exploring the world, amassing armies and destroying other countries is still mega tons of fun.
Stars: 4/5
Platform: PC
Rated: PG
Follow @nzherald_ent on Twitter for all the latest entertainment news.
- TimeOut