The National's Matt Berninger talks to Lydia Jenkin about the new album, offbeat tour movie and hopes for a return to New Zealand.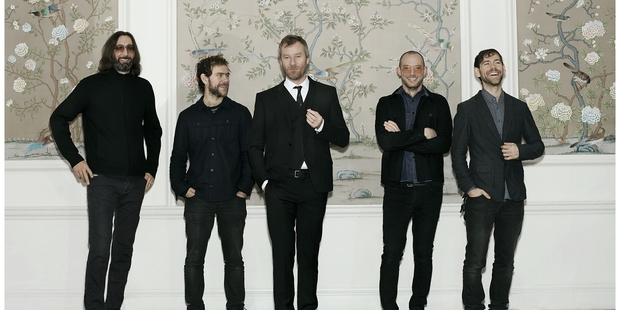 There's a scene in the recently released documentary Mistaken For Strangers, in which Tom Berninger, the documentary-maker, asks his older brother, Matt Berninger, the singer of New York alt-rockers the National, "How famous do you think you are?"
Matt replies "not very", while Tom points out that Matt's more famous than anyone else he knows.
Yes, their ascent to musical stardom may have been gradual, but the National are definitely famous, even if they remain entirely unassuming about it.
Their sixth album Trouble Will Find Me went to No 3 in the US charts when it was released in May, No 3 in Britain and No 2 in New Zealand. They've played sold-out shows in just about every corner of Europe and North America, and critics almost universally agree they've somehow got better with every album.
But Matt Berninger still happily agrees to make time for an interview with TimeOut while he's on a rare family holiday and shows no sign of having a success-inflated ego.
His on-stage antics could only be described as rock star (New Zealand will get to experience them once again when they return on a promised forthcoming tour), but any man who'd give his younger brother the kind of unrestricted access necessary to create a documentary as honest, uncensored and good-humoured as Mistaken For Strangers, has a lot of humility.
The documentary process began when Matt invited his brother to be an assistant tour manager on their High Violet tour.
"Tom is nine years younger than I am. He wasn't even 10 years old when I left home, moved away and went to college - and that was more than 20 years ago, so I felt a little bit of a desire to have him around and reconnect. The other guys in the band [Aaron and Bryce Dessner, Scott and Bryan Devendorf] get to have their brothers around all day, every day and there was a part of me that wanted to have a little bit of that myself.
"The other side was that he'd graduated from film school and he was working at various different jobs in Cincinnati but he was living at my parents' house. He was in a bit of a rut, just about to hit 30, and he kinda needed a kick in the ass."
Tom brought along his camera for the eight-month stint, in the hope of creating some sort of tour documentary or material for the band's website, but what emerged, with the help of Matt's wife, Carin Besser, goes far beyond your usual rockumentary. It gives very little away to say that Tom was fired from his position before the tour ended and the film ends up being as much about the brothers' relationship and Tom's own tribulations, as it is about the tour.
"The movie is extremely truthful. In fact I would say it's a more truthful portrait of us as people, including him, than any sort of in-depth journalistic documentary profile ever could've been I think."
Tom ended up living with Matt and Besser while the film was being constructed and edited and, given that Matt was also simultaneously working on and writing lyrics for Trouble Will Find Me, it's easy to see how Mistaken For Strangers had an impact on the album - and the band as a whole.
"I was seeing Tom put a lot of unflattering stuff about himself into the movie, and it was inspiring for sure. I think it helped me to let my guard down a lot while I was writing the lyrics.
"And then, more specifically, the first song on the record, I Should Live in Salt, is about my brother. It's me thinking through some guilty feelings about having left my brother and gone off to college at a point in his life when maybe he needed an older brother, going into his teenage years.
"And it changed some of the chemistry and the band dynamics for all of us in the band too. I think my brother, because he's so different to all of us, made us all respect how hard it is to do something and get attention for it, and how lucky we are to be in a rock band that people care about."
Matt also admits that writing Trouble Will Find Me was one of the most enjoyable album experiences he's had.
"The process wasn't as contentious, and it wasn't filled with as much stress and anxiety for some reason. I think I kind of made peace with the way we make records, and the way I write. I guess I had a certain amount of confidence while I was writing it too, I was no longer obsessing about 'what will people think of our band?'
"I was just following the songs. I was definitely in a different mood."
That's not to say Berninger's trademark rich baritone isn't reeling in listeners with heartbreak, bewilderment, and questions. But there's also hope, irony, and knowing levity. They're not a depressed, or depressing band, though they've reconciled themselves with being described as such.
"I do love writing songs about melodrama and romance and personal anxieties and insecurities and sadness, the dark sides of our hearts and heads. But I also think I find those songs to be very cathartic, often funny, and joyous in a sort of celebration of my own flaws and neuroses.
"There's a respect for human weakness and sloppiness, and I love those things. So I actually find the songs to be uplifting, I don't find us to be a depressing band at all," he laughs. "I feel really good after writing a song like Sorrow."
"But I do understand those descriptions and it doesn't make me at all angry or frustrated. In some ways, with this record, I wasn't trying to fight against that, and I went into some even darker places. I was thinking about mortality but I was enjoying it. And people seem to like it."
Yes they do. Fourteen years ago, the National had simple ambitions - to play at the Mercury Lounge in New York and make some records together.
"This was round the time when the Strokes were releasing hits and we knew we weren't the Strokes. We knew we weren't the Yeah Yeah Yeahs or Interpol, so I think our idea was just like, maybe we could be a band like Pavement or Silver Jews or something, I don't know, kind of an indie rock side-note or something."
Of course, as their audience grew, they realised perhaps they had the potential to be a band with a legacy, a band that matters to people. But now they're older, with families, and kids of their own, the question of "what next?" has arisen.
"We're realising that living on a bus and being away from our families is not the way to be a good father or good husband, so now we're trying to figure out how to be a successful band while still being good people, maybe without spending so much time touring. We're not Motley Crue. So we're at a strange crossroads, figuring out what comes next, because we're in such a good place as a band. But we're very excited to be coming back to New Zealand."
Who: Matt Berninger, lead singer of The National
What: Sixth album Trouble Will Find Me, and documentary film Mistaken For Strangers
Where and when: Tour dates for New Zealand to be announced soon. Mistaken For Strangers is screening tonight as part of the NZ International Film Festival at Event Cinemas, Queen St, at 8.30pm; in Wellington on Sunday, Jul 28 at 8.30pm at Embassy Deluxe; Monday, Jul 29 at 1.30pm and 6.45pm at Paramount; and Saturday, Aug 3, at 8.30pm at Embassy Deluxe.
Follow @nzherald_ent on Twitter for all the latest entertainment news.
- TimeOut