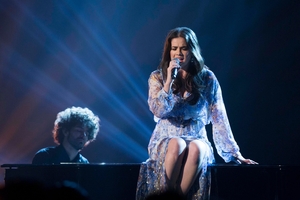 Jackie Thomas has won The X Factor, beating Whenua Patuwai - but it wasn't always smooth sailing for the 22-year-old Greymouth resident.
Thomas was the top contestant for seven out of 10 weeks of the hit TV3 reality show - but she had been eliminated after the show's boot camp round, and was only returned after public outcry sparked a social media campaign.
"There's no measurement for how happy I am. Madness. I can't even think," Thomas said after being crowned the winner during the live TV3 finale.
"I'm just happy, I'm proud, I'm everything."
The final was not smooth sailing, as fans struggled to register their votes for their favourite contestant.
Viewers reacted angrily, prompting TV3 to apologise via the show's Twitter page.
"Sorry. We have had an unprecedented response and are now experiencing a few technical difficulties."
The final was decided entirely by fan vote.
After her win, Thomas said she has become a "completely different person" since being eliminated early on in the show, when nerves had gotten the better of her.
"I don't even like to think about that. After that first live show, that's when I thought 'Okay, I can do this'."
Her mentor, judge Daniel Bedingfield, said Thomas won because she was a "soulful singer".
"She sounds incredible, her voice is amazing ... you believe it when she sings."
TimeOut music critic Scott Kara said she had "the most consistently good voice of the remaining three".
"She may come across as a shy girl from Greymouth, but you sense she's one strong chick beneath it all," he said.
Fellow critic Lydia Jenkin said she could become the country's next Brooke Fraser.
"She's not really a sassy, sexy pop artist, but she's very family-friendly," she said.
Thomas' self-titled debut album will be released on August 9, with her first single It's Worth It out now.
Benny Tipene, 23, a Palmerston North singer/songwriter, left the show first, after receiving the lowest share of the vote.
That left Thomas and Christchurch teenager Patuwai to sing off for the title of X Factor champion.
The pair performed singles written for them to release should they win.
Earlier, the show opened with all 13 finalists returning to the stage to perform a rendition of Daft Punk's Get Lucky.
Thomas, Tipene and Patuwai then delivered versions of the audition songs that won them their first "yes" votes from judges.
Patuwai received a particularly rapturous ovation for his rendition of soul classic A Change is Gonna Come.
Australian pop star Guy Sebastian performed his new single Get Along before the eliminations began.
Thomas had a rocky road to the final. She impressed judges with her version of Bon Iver's Skinny Love in the auditions but was dumped from the show after a poor performance in the Bootcamp phase of the competition.
Mentor Daniel Bedingfield made a special request for her to return to the competition after a public outcry over her eviction.
She never faced elimination again.
Patuwai and Tipene both braved elimination on their way to the final.
Tipene was saved by judges after being dropped into the bottom two with Tom Batchelor midway through the competition.
He went on to become the only act to perform an original song on the show.
Patuwai was lucky to stay in the competition after judges sent his elimination contest with Christchurch 14-year-old Cassie Henderson to deadlock.
He won out with a bigger share of the fan vote.
X Factor
Began: April 21
Ratings: An average of 434,200 viewers aged 5 plus per episode
Finalists: 13
First to go: Eden Roberts
Most controversial elimination: Taye Williams over L.O.V.E.
Winner: Jackie Thomas
Read more:
Review: X Factor NZ, long but slick
Contest's over, hard work begins
Follow @nzherald_ent on Twitter for up-to-the-minute entertainment news, videos and reviews.