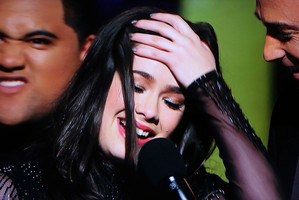 It's been three long months on our screens and at last X Factor let off its final fireworks with Jackie Thomas, a long-time audience favourite as it turned out, winning the inaugural title.

And while the finale had its gremlins - votes not getting through, the winner's name flashing up on screen momentarily before it was read out, the live broadcast anarchy that reigned as other contestants and family invaded the stage to congratulate Thomas as she was encoring her made-to-measure dreary debut single - it must be said X Factor NZ has been a really good show.

As a piece of music-show-translated-to-television (always a tricky feat), it was a complete success. It looked great, sounded good, it was visually mixed and edited with panache, even with an occasional excess of backing dancers. Out front MC Dominic Bowden was teflon slickness himself, and the whole production felt a very long way from the higher-rating town hall homeliness of its TVNZ rival, NZ's Got Talent.

Sure, it padded out proceedings with sponsor-product plugs that made you wish for the relative sales pitch subtlety of the ad breaks. Sure it went on way too long - a final 10 finalists rather than a final 13 might have kept us saner through the middle stages of the season and last night's two hour grand finale was just cruel for everyone. And not just because of guest Guy Sebastian's song possibly titled Why Can't We All Just Get Along? to which the only response is: Because singlet-wearing pop stars make a constant mockery of geo-political realities. Or something like that.

And sure, those judges - the astute Ruby Frost excepted - could have been subliminally advertising the vehicle sponsor's SUV with their own ability to drive us up with the wall with their commentary.

But X Factor was really good.
Engaging, dramatic, emotional, superficial, and a heap of fun. It might have just been the latest of a long line of imported singing-show franchises. But it was the best yet and with possibly the best winner too.
"All I can smell is fireworks," cried Thomas has she was enveloped in a group hug at the end. Smells like victory, that does.
Follow @nzherald_ent on Twitter for up-to-the-minute entertainment news, videos and reviews.
- NZ Herald