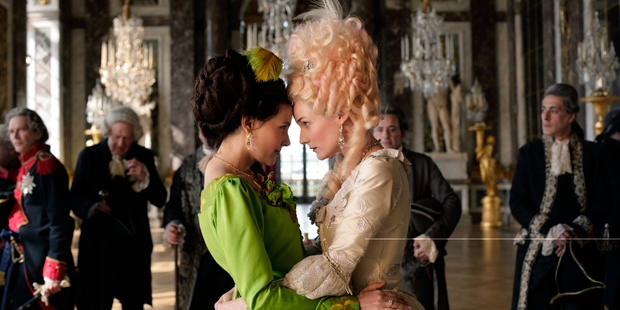 As an actress, Diane Kruger has come a long way since playing Helen of Troy almost 10 years ago. She certainly looked like a face who could launch a thousand ships. But she didn't have much of a screen presence. Since then she may have gone from playing one historical beauty to another - as Marie Antoinette in her latest film, Farewell My Queen - but in the intervening years, she has actually turned into a versatile actress.
Kruger has appeared in blockbusters such as National Treasure, a number of foreign language films, including French thriller Anything For Her and Joyeux Noel, and done a star turn as German film star Bridget von Hammersmark in Inglourious Basterds.
She's riveting as the troubled and love-sick Queen of France, Marie Antoinette. The French-language drama is set almost exclusively inside the walls and grounds of the Palace of Versailles over three days as the start of the French Revolution, in July, 1789, plays out.
"It's definitely a very grown-up part for me," says Kruger. "I'm not sure I would have been able to have the insight into Marie Antoinette five years ago.
But every once in a while in your career a role comes along that is pretty scary, and you have to use the tools that you have learned through your experience, and that's a wonderful feeling."
She's also recently taken another new, more mature career step by scoring her first lead role in a TV series, as Detective Sonya Cross in crime drama The Bridge.
Based on the Danish/Swedish TV series of the same name, the American version is set in No Country For Old Men territory, and follows Cross and Mexican detective Marco Ruizher (Demian Bichir) on the trail of a serial killer.
The first series began in the US last week and is likely to screen here later this year - although a local network is yet to secure the rights to the show.
"Cable [television] in the US is truly in a golden era, and it's an exciting opportunity to get involved," says the 37-year-old.
"The material is amazing, and the character development is amazing. In The Bridge, I play a woman who has Asperger's, which meant I did months and months of training and research. And I've got 13 episodes to really feel the colours of a character, which you don't really get the time to do in a movie."
Still, the part of Marie Antoinette was a dream role.
"It's a wonderful film. I'm very proud of it, and it really was the part of a lifetime," says Kruger, who divides her time between Vancouver and Paris, where she also lived in the 90s when she was a model, then drama school student.
Farewell My Queen director Benoit Jacquot has said the role of the controversial, provocative French queen was made for Kruger. On the phone from Lake Tahoe, where she is on a hiking weekend with partner, actor Joshua Jackson (Dawson's Creek, Fringe), she's not so sure about that bold claim, though she admits she has much in common with the queen.
"It just so happens I was the exact same age as Marie Antoinette when the story takes place. And the film takes place on July 13, 14, 15, and I was born on July 15, and my Mum's name is Maria-Theresa, so there is a weird coincidence."
Farewell My Queen is told through the eyes of the queen's reader, the young, beautiful Sidonie Laborde (played brilliantly by Palme d'Or-winning French actress Lea Seydoux) whose loyalty to the queen - and the monarchy - verges on infatuation.
It's a stripped-back production, but still manages to look grand and beautiful, with the glamorous gowns of the court ladies ("some of the dresses were so big I couldn't bend over," laughs Kruger) a stark contrast to the servants' drab elegance.
The film offers a refreshing take on Marie Antoinette. Unlike past portrayals, director Jacquot and writer Chantal Thomas, whose 2002 book the film is based on, make no definitive political statements about the queen's role in France's revolution and unrest.
For Kruger, too, her portrayal of the character was based on not judging her.
"I live in France, so you read and hear a lot about her. She is one of the most enigmatic figures in France and around Europe. But I didn't want to judge her, one way or the other, and I think that's where a lot of other films that have been made about her fall short a little. Because clearly the filmmaker, or the actresses portraying her, want to get across that she was unjustly demonised or that she was the devil," she says with a little chuckle.
"So I think my main concern was to just feel her emotions on a personal level, because I can't possibly imagine what it must have been really like to be the Queen of France and live in those times."
The film's most striking suggestion is that Marie Antoinette was in a lesbian relationship with her "favourite", Gabrielle de Polastron, the Duchesse de Polignac (played by Virginie Ledoyen, The Beach). However, with the revolution in full swing, the queen plans the duchess' escape - but it means they will never see each other again.
Kruger is diplomatic about the two women's relationship: "I know that de Polignac was definitely the queen's best friend and whether or not they had a physical relationship is, in a way, not relevant. Because I think what I really relate to is her being isolated in a big palace and the need to have one person who is your true friend.
"I mean, they met at a masked ball in Paris so the duchess didn't know she was Marie Antoinette. So they had this initial attraction to one another, but whether that was friendship or more intimate I'm not sure. So I really relate to that feeling of hers that, 'She is my only friend, my love and the thought of losing her is unbearable'."
This predicament drives the queen to pathological self-absorption with Sidonie bearing the brunt of her increasingly erratic "let them eat cake" moments.
"It's a scary part, and even to this day I'm not sure I really fully understood her, because she is literally borderline schizophrenic, which meant no scene had the tone of the one before; so I just tried to lose myself in the part.
"But one of the things I could really relate to, on an emotional level, was the betrayal and the daunting feeling that something is coming to an end and nothing will ever be the same. That helped me relate to her on a woman-to-woman level."
Who: Diane Kruger
What: Farewell My Queen, in cinemas July 25
Past roles: Troy (2004); National Treasure (2004); Joyeux Noel (2005); National Treasure: Book of Secrets (2007); Anything For Her (2008) Inglourious Basterds (2009); The Host (2013)
Follow @nzherald_ent on Twitter for all the latest entertainment news.
- TimeOut