Five TV shows that will keep couch potatoes glued to their seats over the coming week.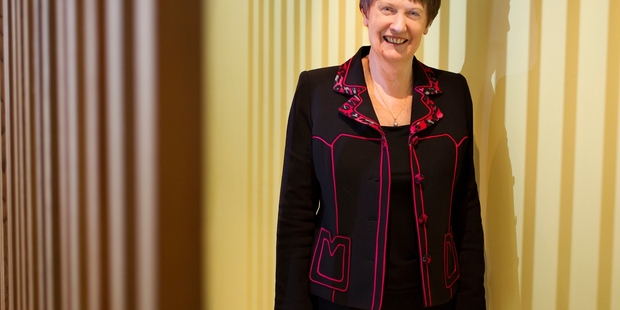 Pick of the Week: Helen Clark: Road to Power
The main question about this two-part documentary about the life and times of our 37th prime-minister, arriving just as her successor comes up to his fifth year in the job, is one of timing. Like why now? True it's the sort of doco you probably couldn't play in an election year, being something of a mild-mannered hagiography which has even some of Helen Clark's old opponents saying nice, admiring things about her.
And though past Labour prime ministers like Mickey Savage, Norman Kirk, and David Lange can generate rosette-tinted memories of the good old days among the party faithful, Clark's three terms between 1999 and 2008 are really too recent for nostalgia to kick in. Unless, that is you are a Labour-ite pondering the latest polls.
But this also comes after the death of Margaret Thatcher and the dumping of Julia Gillard. So it serves as something of a reminder of how New Zealand's formidable first elected woman prime minister got the top job. Recounted here, that was through a combination of stickability - she was in Parliament for 18 years before becoming Prime Minister, six of those as Leader of the Opposition - as well as that steely intelligence and sheer political ruthlessness.
The first half of the two parts takes us from Waikato farmer's daughter - her dad George had been National Party president in the province - through to her student radical days and first political forays, ending on that victorious election night in 1999. The second looks at her years in power.
Both come with insights from her family as well as a roll-call of politicians past and present and political commentators of various stripes, including her biographer and onetime media trainer Dr Brian Edwards.
Both episodes also feature Clark filmed at work in her current role as the head of the United Nations Development Programme, a position which in Forbes' assessment makes her the 21st most powerful woman in the world. Though as it is depicted here it looks like a highly bureaucratic job which at least comes with a office with a very nice view. It also makes her, arguably, the only modern New Zealand prime minister to make good on his or her previous employment.
The most fascinating part of the first instalment is a look at Clark's own good old days. It follows her political blooding when she first stood in the safe National seat of her Waikato home electorate of Piako before becoming MP for Mt Albert in 1981.
It follows the compromises she had to make as the Labour Party split over Rogernomics and how she bided her time as Deputy Leader of the Opposition to Geoffrey Palmer (interviewed here) and briefly Mike Moore (tellingly, a non-participant) before taking over the party leadership in the wake of Labour's 1993 election defeat and staying there until the post-MMP 1999 election win, having "stared down" any challengers to her position.
When: Wednesday, 9.30pm
Where: TV3
What: From humble beginnings to global player, via the Beehive
Drama pick: Call the Midwife
The popular BBC series returns for a second season this week, delving back into the lives of the midwives at Nonnatus House, as they do their best to care for their poor community of mothers, babies, and families in the late 1950s. The season opens with a rare trip to the cinema to celebrate Jenny's birthday, but it's not long before Cynthia, Trixie, Chummy, and Jenny are dealing with all the problems Poplar can throw at them. There's the pregnant woman with the abusive husband, the pregnant daughter of the captain of a Swedish cargo ship, an abandoned baby at Christmas, and the introduction of the latest new painkiller. Plus, despite being happily married, Chummy wonders what will become of her dreams to pursue missionary work in Africa, and Jimmy soon stumbles back into Jenny's life.
When: Sunday, 8.30pm
Where: TV One
What: Women at work.
Talk show pick: Best Bits
TV One is adding to the Friday night comedy line up with this new series created by The Downlow Concept (who were behind 7Days), in which host Te Radar takes a look at the week that's unfolded on our TV screens, and tells us about the best bits. It will be in three sections. Radar will spend some time playing the best clips from the week, with amusing commentary - they could be local or international, fictional or current affairs, reality TV or regional programming. They might be news bloopers, or clips of amazing sheep herding. Anything is fair game. Next up he'll be getting a couple of guests along to dicuss a particular topic - a TV genre, or a current event, and there could be larrikin gags and stunts. And finally, in the third part, a fresh guest will be invited on to chat about their TV experiences, and be lightly roasted.
When: Friday, 9pm
Where: TV One
What: Uncovering the best bits on TV
Mini-series pick: The Town
This three-part mini series set in the small town of Renton sees Mark (played by Andrew Scott who is perhaps best known as villain Moriarty in Sherlock) return to his hometown under tragic family circumstances. While he plans to return to his own life in the city, he has to first go about taking care of his family, including his grandmother who is now living in his old bedroom and his wayward sister, Jodie. But he soon discovers that Renton is one of those towns where all is not as it seems, and a place where everyone knows everybody elses business. Then there's troubled, alcoholic mayor, Len Robson (played by Martin Clunes pictured), who lurches from one public relations disaster to the next, and is hiding a sinister secret.
When: Tuesday, 9.30pm
Where: Vibe
What: All is not what it seems
Drama pick: The Newsroom
Many will be suprised that given its first season numbers and how it polarised reviewers and viewers, The Newsroom actually made it to a second season. But here comes the return of Aaron's Sorkin's show-about-a-news-show, starring Jeff Daniels. Screening here just a week after its stateside broadcast, series two promises more plots inspired by the recent past - Occupy Wall Street, the 2012 Republican primary campaign trail both figure early up. And there is also a storyline about involving a lawyer (Marcia Gay Harden) desposing News Night staff over a lawsuit about a report on American troops using chemical weapons in the Middle East which has echoes of the CNN and Time magazine joint report on Operation Tailwind, a story which ended in retractions from both news organisations.
When: Sunday, 8.30pm
Where: SoHo
What: Sorkin's back in the news
Follow @nzherald_ent on Twitter for all the latest entertainment news.
- TimeOut