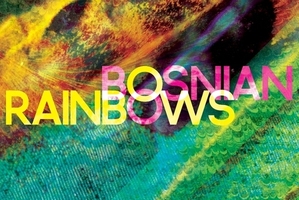 The new band from Omar Rodriguez-Lopez - guitarist and co-leader of arty prog metallers The Mars Volta - ditches the berserk squalls and frenzied outbursts of his old band in favour of a more solid, more structured sound. So whereas The Mars Volta had a penchant for treating their fans like rag dolls, tossing them round the room, dropping them for a rest, and then laying back into them, Bosnian Rainbows goes for a more intoxicating, alluring mood.
Yet Rodriguez-Lopez still has an uncompromising musical outlook, even if it is slightly more subdued, with The Eye Fell In Love moving from horror-film-score scariness, to ska pop. And there is a lovely unease between Teri Suarez' gothic soul vocals and the unhinged nature and grandeur of the music on tracks such as stirring opener Eli, the galactic 80s-influenced Dig Right In Me, and sprawling, schizophrenic last track, Mother, Father, Set Us Free.
It sometimes recalls a weirder, wackier, more dissonant post-punk Garbage, and because of Suarez there are similarities to everyone from Kate Bush to Karen O of the Yeah Yeah Yeahs.
It's not as exciting as The Mars Volta, but you can hardly blame Lopez for just wanting to play some songs rather than twirling himself round on the spot as he conjures up wild prog metal anthems.
Stars: 3/5
Follow @nzherald_ent on Twitter for all the latest entertainment news.
- TimeOut