The final four acts in X Factor will be world famous in New Zealand for just one more week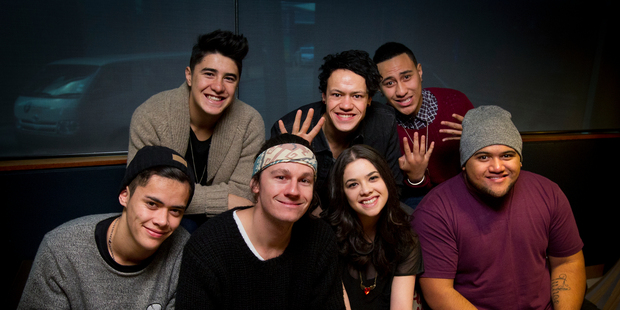 But right now, it's just gone 8am in the X Factory. TimeOut sits at the head of a boardroom table and the four acts - Benny Tipene, Jackie Thomas, Whenua Patuwai and boy-band Moorhouse - have to be called to order because they're all fixated on their phones.
Last week they were part of the famous five. However, on the night before we meet, 14-year-old Cassie Henderson was sent home in controversial style since she was clearly the better performer in her showdown with Patuwai.
So now four acts remain as they head into tomorrow night's semifinal.
Moorhouse - that's Jason Aileone, Brock Ashby, Rory McKenna and Marley Sola Wilcox-Nanai - are, as fans of the show might expect, the loudest and most vocal as they reflect upon everything from missing "little Christchurch" to judge Daniel Bedingfield ("he's a bit random, eh?").
In contrast, Jackie Thomas, the 22-year-old Greymouth girl with the big, sweet voice, is quiet, perhaps a little shy, or possibly a touch sleepy after the emotional elimination episode the night before.
Then there's bandanna-wearing Tipene, who's also chatty, sharing his thoughts about his beloved guitar ("I'm not much of a singer. I'm more of a singer-songwriter, so I depend on my guitar a lot") and how he's pining for his cat.
And you can tell by his body language that Patuwai - the big, burly 18-year-old from Christchurch - is feeling lucky to still be in the competition.
Whenua, you dodged a bullet - because, it's fair to say, Cassie did the better performances.
Whenua: It was horrible, man. I don't even want to think about it. I was disappointed with myself on Sunday and last night, and it was the first time I was in the bottom two. I was freaking out and I just had to keep calm. I got through in the end and it gives you a bit of a kick up the arse. I have the drive and the hunger now, and in a way I'm glad I was in the bottom two.
Let's play a little bit of name association. Rosita Vai.
Benny: Idol.
Marley: She did an Instagram post about us. She dissed us.
Rory: "Moorhouse makes me want to vomit."
Brock: We thought she was cool. We didn't have anything against her.
Marley: She still is cool, she just doesn't know us.
Clara van Wel?
There are blank faces all round, a few mutters of uncertainty, and none of them can recall the NZ's Got Talent winner from last year.
I guess the point is, winning this competition is the easy bit. It's what you do to capitalise on it that's the hard part.
Benny: Absolutely. And I'm going to work as hard as a [expletive]. I already know what I'm going to do. I'm going to tour, and do something that's not so glossy, and do a series of small gigs and try and build a solid base in New Zealand. That's win or lose. If I go home this week I would do the same thing. You've just got to go out there and keep going, because you're getting such good exposure from the show that you do have to strike while the iron is hot.
Rory: You've also got to find something unique in the market. It's all very well being able to sing, but you've got to have something different. But it's all exciting and you've just got to work hard.
Brock: And Stan said to us the TV show, Idol, that he did was a breeze compared to what he's doing now. You have to survive on no sleep, put on a happy face even if you're not happy and in the real world you don't have someone looking after you doing your makeup and doing your wardrobe. You've got to look after yourself.
How do you cope with what the public say about you because while they are supportive they can also be brutal?
Rory: Comments can get pretty bad but I think you've just got to ignore them. It's the New Zealand mentality - not everyone - but it's there, to cut people down when they are trying to do something. Fletcher [the wild card entry] got it real bad. He was such a good kid but he got murdered.
Benny: And straight after the show last night there were people messaging Whenua all this horrible stuff.
Whenua: People were making up fake [Facebook] pages so they could talk. And I showed Benny, and I was just saying, 'thank you' [to all the comments], and he was saying, 'Bro, don't even say that, don't let them know they've got your attention'.
Benny: You just have to take everything with a grain of salt, even the good comments, otherwise everything gets too much for you and you're not going to be able to focus.
And how do you handle the judges' feedback? Has it got easier? Because Daniel Bedingfield made a pretty harsh comment about you guys [Moorhouse] needing autotune.
Brock: It was hard to figure out on stage because I didn't really understand what he meant by it.
Marley: He's a bit random, eh. It's hard to know what to believe. But I respect him as an artist, because he's got one of the best voices I know, so you've got to take little bits from him.
Rory: Because Stan's in a position where he can tell the truth, because he hasn't got any acts left, I listen to him more. And he says to us, "Don't listen to Daniel. He's just saying that for his and his own acts' benefit".
So Jackie, what is Daniel like?
Jackie: He's very creative and he's so good at helping with tracks and arrangements. That is one of his strengths. But sometimes he's a bit everywhere and what you see on TV is pretty much what you get. It's madness, but good madness.
Where does your drive and passion to perform come from?
Benny: It makes me happy and it's a career possibility. Every time I play the guitar it's therapeutic. I just get happy.
Rory: From where we've come from, and our humble beginnings, it's really cool to be here and this is an escape from the lives that we have. To be singing in front of New Zealand, I love it and the boys love it.
Jackie: I kind of didn't even know I could sing before I did X Factor - so I didn't even know what I was doing. I didn't really have any plans, so it was a shock when I did that audition and it went really well. So it's kind of cool to know I've got a gift that I didn't even know I had and now it's a career path that I could take.
Whenua: My family play a big part in what I do, and growing up my family has always been there for me and my music, so I do it for them and myself. I love music.
Do you miss home?
Benny: For sure. I miss my cat, and being able to open windows [they are staying at SkyCity]. Every day I'm at the window and I'm like ... [he paws at an imaginary window].
Brock: This is the longest I've been away from home. Sometimes you miss grass as well, because there's just so much concrete around.
Marley: I miss little Christchurch. I don't like this big concrete jungle. But it's mean being up here, a mean experience, and I appreciate it heaps. But I want to go home soon.
Jackie: It is special when family get to come up here. Like last night my parents were there and I think that was motivation for me.
Rory: The thing we miss heaps is the kitchen. In the hotel room there's no microwave, or stove ...
Whenua: The fridge is like a little box. You can't fit much in it.
Rory: I really miss making my bed [laughs]. Honestly, every day they make our beds.
Brock: But they make it too tight, you can't get into it.
Jason: But yeah, we're still so blessed and thankful that we're living here.
Who inspires and influences you?
Whenua: Benny inspires me. The first time I heard Benny sing he made me appreciate different sorts of music. I wouldn't be listening to the type of music I listen to now if it wasn't for him.
Benny: I've learned a lot from Stan, and he's a couple of months younger than me. He's just such a good person to be around. He just commands a presence in the room and he's got a lot of wisdom because he's been through a similar sort of show and he's had to deal with a lot in his life.
Whenua: He's such an egg. Honestly, he's such a cool guy that he can be a dick all the time, which is awesome, because you can be yourself around him.
Brock: Stan took us all to Korowai Manaaki Youth Facility, a youth prison in Manurewa, and it was a great example of what you can do with your fame and your standing. He shared his testimony of his whole life and he told them to talk about their problems, and he inspired them so much their faces lit up.
Jason: It was awesome. I come from a rough background myself, and I've never really shared my story, and I'm not confident with talking about it with other people, but after hearing Stan it inspired me and I sat down and shared it with one of the kids in youth prison. It felt good.
Benny: Ruby inspires me too. With Whenua and me, she just wants us to be ourselves.
Rory: She surprised everyone. Her critiques are really, really good. She's smart.
So how are you going to win this competition?
Rory: I think we've just got to continue to be ourselves, keep working hard, and it comes down to whatever New Zealand likes, I guess.
Benny: So just get rid of Moorhouse this week ... [laughs]
Brock: We might try and break Benny's leg.
Marley: Or his fingers so he can't play guitar.
Jackie: But then he gets the sympathy vote.
Benny: I think being yourself is a big thing for everybody.
Jackie: I'm going to use girl power.
Rory: We're like a family now, so whatever happens I don't think anyone will be too dark about it.
What: The X Factor NZ semifinals and final
When: Semifinal Sunday, 7pm, TV3. The four acts perform two songs each in a Love and Heartbreak and Best of Rock special. On Monday's results show there will be performances by Stan Walker and Ginny Blackmore. The finals are Sunday, July 21 and Monday, July 22.
Follow @nzherald_ent on Twitter for all the latest entertainment news.
- TimeOut