Persistence has paid off with a divine role for actor Ben Barrington, writes Alan Perrott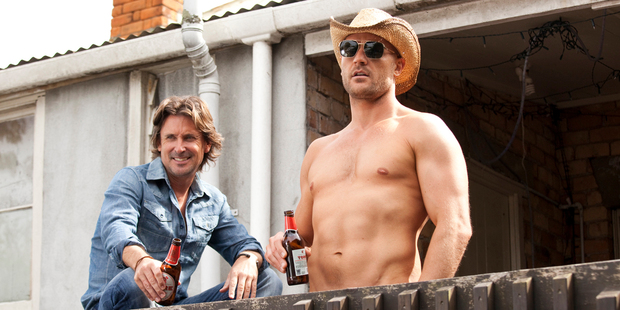 Ben Barrington is so comfortable in his skin, he's earning a reputation for wearing little else.
It seems to be part of the the dream he's living, possibly the one where you get to work and realise you forgot to get dressed, but it certainly contributes to an infectious joie de vivre.
Which may explain the 36-year-old's bafflement whenever people decide not to play along with his good times.
Take Shortland Street. Is there an actor left in New Zealand who hasn't at least played dead in a car crash? Why yes, that'd be Barrington, whose every approach to the creators of the long-running soap has been met with a "yeah, nah". Which is fine, he's even turned their rejections into a running gag, but it's doubtful he'll ever get his head around his failed Spartacus auditions. "I mean, why not ... ?"
Yet it could have been worse. For the longest time it seemed like The Almighty Johnsons would become the latest TV party he couldn't crash.
His patience ended when it seemed that every male actor aged between 20 and 40 in the country had auditioned. Except for him.
After 10 years of slog as a jobbing actor, he called his agent and told him to find out why he'd been locked out of the show, which involves a family of ancient gods trying to get by in modern-day New Zealand.
"He came back to me and said: 'The thing is, it's kind of bittersweet. The [show's] brief specifically says they don't want anyone who looks like Ben Barrington.'
"They wanted normal-looking guys and I was obviously too godlike (cue extended laughter) ... which I guess is quite a compliment in a way, but I was a bit pissed off about it."
Luckily for him, the show's producers were struggling to find someone to play Olaf, the latest embodiment of the Norse god Baldr. Having exhausted all other avenues, they finally gave Barrington his chance.
As a kid growing up in Hamilton, the idea of becoming a full-time actor didn't even occur to Barrington. But he loved movies dearly.
Without anyone to share his enthusiasm, he would trot off to see the latest blockbuster alone, then head home to recreate the action with his toys.
"Yeah, I know all the usual stereotypes about Hamilton but I was never into sport or anything like that. I was more of an arty-farty, a geek, I knew the names of the directors and the actors, and I remember seeing Empire Strikes Back and Krull. I was just spellbound by the special effects and that's what I thought I'd like to do. I liked the "making-of" documentaries as much as the movies."
He found little encouragement at school. St Paul's Collegiate was a straight-down-the-line rugby school and he ended up turning his ambivalence for the sport into a badge of honour. It was an attitude that only hardened as he entered his teens.
"I turned 14 the year [Nirvana's] Nevermind and [Red Hot Chili Peppers'] Blood Sugar Sex Magik came out - the perfect age for them. I was a grunge kid and teens are supposed to be angsty and misunderstood, so I was never part of the cool crowd like the 1st XV guys. They got all the pretty girls but I thought they were douche bags and I was a bit of a smart-arse with it, so I got picked on and pushed around."
They were aimless years. While Barrington was enjoying himself, he had no idea where he was going, a situation that didn't thrill his school teacher mother and car salesman father.
Once school was over he took himself off to the University of Waikato to enjoy a few more years without any real pressure to grow up and get a proper job. An arts degree in film and television fitted the bill perfectly. It came as a shock when he realised he'd finally found his people.
"All I'd really known was the rugby-playing rural blokes at a fairly straight high school - now I realised Hamilton had an arts scene. Not just people sitting around talking about it, they were doing theatre, they created things. It had never occurred to me that there might be a professional arts scene going on around me."
He even discovered one of his teachers was Rawiri Paratene - he'd grown up watching him on Play School and that made him "a person off the telly".
But it wasn't until his final year that he plucked up the courage to have a go himself. At the end of an American theatre lecture, his class was reminded of upcoming auditions for Caryl Churchill's Cloud Nine. Barrington went along and surprised himself by getting the role of Joshua, the manservant.
"I thought it'd be a bit of fun, a bit am-dram, you know? Then I went out to perform, and the seats were full and everyone clapped at the end ... okay, this is fun."
Then his classmates began asking him to perform in their plays and before you know it, someone was suggesting he should apply to the New Zealand Drama School, Toi Whakaari. He'd applied and auditioned before finding out how sought-after places are: "I'd never even heard of it."
In hindsight, the lack of pressure may have been his saviour - after all he was a total novice, and he ended up as one of the 18 selected from 300 applicants. In 2002, a year after graduating, he won the most promising newcomer award in the Chapman Tripp Theatre awards and scored a tiny part in The Lord Of The Rings.
But his celebrations were tempered by a fundamental truth of acting.
"It's entirely subjective, the whole industry. I eventually found out that some of [the school's] staff were like, they never wanted me to be there, and they didn't change their minds. Even now.
"Then, afterwards, well, life is something of a struggle for a young actor. You're always being rejected and it's cutting, it really is. I wouldn't go through all that again for anything ... bitterness is too strong a word, it's resentfulness.
"The rejections do have an impact because you leave school like 'wow, I'm trained, I've got a degree' or something, had glowing praise for the graduation show, maybe even a mention in the paper. Then it's 'no, no, no' and later on you're thinking 'you mean they gave [the part] to that guy?"'
It didn't help that he was bald by 24, "just like Patrick Stewart, except I was babyfaced, big and weird".
Any thoughts of playing "the son" were over and he was left competing for characters in their 30s. The problem was all the other actors who were actually in their 30s.
But Barrington kept trying, kept reassuring his parents that he was on track, and in 2003 scored a core part in The Insider's Guide To Happiness, a show he still looks back on with pride. It also earned him two acting award nominations.
All the same, his next meaty role didn't come until 2006 when he got he part of gang leader Tyson in the second series of Outrageous Fortune. "That show was a game-changer, everything turned around for New Zealand television. In fact I'd say there's really television before Outrageous Fortune and after."
When shooting ended he wanted a break, so he and his girlfriend took off to England for three years and house-sat for former SAS officer Richard Bethell, the 6th Baron of Westbury, who had taken off to Cyprus in a huff over anti-smoking regulations.
Aside from the odd fruitless audition, Barrington got by as a personal trainer. He did return briefly for the third series of Outrageous Fortune, only to find his character was to be crippled, pushed over in his wheelchair and then written out. But the visit left him terribly homesick when he returned to London and he was back in New Zealand a year later.
An added bonus to being back among friends was the odd cachet you gain from having been overseas. For whatever reason, work seemed easier to find.
Until it came to The Almighty Johnsons, of course - that took six months of badgering. The show's writer and creator (and Canvas columnist), James Griffin, says casting Olaf was tricky because they wanted someone with physical presence who could put some heft behind his stoner gibberish. Then, after sifting through umpteen candidates and some lengthy debates, Barrington was the last man standing.
"And now he's definitely living his dream," says Griffin, "and he's so great at it. He gets invited everywhere, I keep track of him through the pictures in the social pages, he probably hasn't paid for a drink in two years. I'm quite envious really, I don't get invited anywhere. But then he does tell a great yarn - some of them might even be true."
So yes, his ongoing turn as the scene-stealing, hedonistic, elder statesman of the Johnson clan has been a boon. It's paid for a home in Grey Lynn (although flatmates help cover the mortgage) that he's filling courtesy of his growing TradeMe purchases - there's the retro furniture, motorbike, Les Paul guitar and Marshall stack along with sundry pop culture toys and artworks.
He gives every impression of a guy planning on surfing the wave up the beach and into the clubhouse.
It helps that he'd be a Johnsons' fan even if he wasn't in it. He watches it at home so he can catch up on the scenes he wasn't involved with: "I'll be watching and getting quite into it, then I'll suddenly walk in ... that's weird and I'm pretty self-critical as well, so I always think I've stuffed something up."
The Almighty Johnsons almost ended after the second series, largely due to changes at Mediaworks, but there was also an element of the show losing its way.
Feedback from its legion of international fantasy fans (swelled by Dean O'Gorman's role in The Hobbit) had nudged the focus more on to all the god botheration and away from the blokey nonsense they kicked off with. This seems to have been remedied for the third series.
Still, Barrington is already planning his next move. He's paired up with fellow actor Will Hall (from Nothing Trivial) to write their own show, tentatively titled All My Friends Have Stopped Drinking. If nothing else, it helps fill in the time between shoots and auditions and stops him tweeting about his guilty pleasure, The X Factor.
"It's just something I want to try. From the start I decided I'd rather be poor all the time and love what I was doing rather than just live for Friday nights. You know what I mean?
"That's what makes life worthwhile, and I love being in this environment. The sets, the equipment, all the people doing their particular job, asking some guy about the camera he's using, it's all the stuff I loved when I was a kid. I think it's amazing and I just feel very privileged."