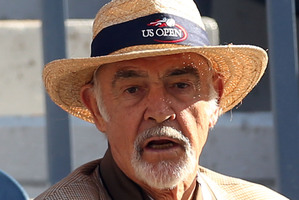 Sir Sean Connery and his wife have been threatened with arrest if they do not appear before a judge in Spain by the end of the year in relation to an ongoing money-laundering and property fraud investigation.
The 82-year-old former James Bond and his wife Micheline became embroiled in the long-running probe after selling off their beachfront mansion near Marbella in 1998.
They made US$5.4 million (A$5.94 million) after offloading the property to redevelopers, but reportedly failed to pay £1.29 million in tax on the sale of development rights to the land.
Their estate was knocked down and replaced with a complex of 72 apartments, yielding a £48.4 million profit - but it subsequently emerged that these were built illegally, as local laws dictated that only five homes could be constructed on the site.
Those involved in the bad deal, including former Marbella Mayor Julian Munoz and the city's former chief of urban planning, Juan Antonio Roca, were all arrested over the illegal rezoning.
Connery and his wife, who have denied allegations of money laundering, have repeatedly snubbed summons to testify in the property scandal due to the actor's ailing health, but now a judge has had enough of the delay and has vowed to issue warrants for their arrest if they ignore the prosecution's latest demand to give evidence, reports Spanish news agency EFE.
The Connerys, who have since taken up residence in the Bahamas, were first linked to the investigation in May, 2010.
- WENN
Follow @nzherald_ent on Twitter for all the latest entertainment news.