Sandra Bullock revels in returning to the big screen in female budy movie The Heat, finds Michele Manelis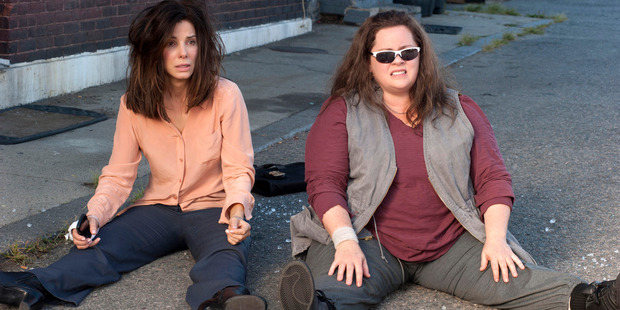 Sandra Bullock returns to the big screen in the buddy movie The Heat, in which she plays a straight-laced FBI agent opposite Melissa McCarthy (Bridesmaids) as a foul-mouthed, bumbling local cop. Together, their odd-couple chemistry works, and against-the-odds, they take down the bad guys.
Off-screen, Bullock is a single mum who has been devoting her time of late to raising her 3-year-old adopted son, Louis. She says, "I was happy being at home not working. And then I was sent a script called The Untitled Female Buddy Cop Movie. I thought, 'This title is so bad, it's genius.' I laughed out loud from beginning to end. I loved that it was a two-hander female buddy movie.
"I knew Melissa was reading it and I'd wanted to work with her. She knew I was reading it and we called each other after we'd read it, never having met. Two weeks later, I was at a table-read with her and Paul. It was literally that fast."
Written by Katie Dippold (Parks and Recreation), The Heat is directed by Paul Feig, who shot to success with Bridesmaids.
Clearly, he has a natural affinity for women. He says, "I love funny women. My whole life, my friends have always been girls. I find the humour of women to be fun; it's not as aggressive as men. I'm not big on sitting around and insulting each other or punching each other."
Evidently, the success of Bridesmaids enabled more female comedies to be produced in Hollywood. Says Bullock, "I'm over 40 and I'm shocked that I'm offered more roles than ever before in my career. I'm not going to question it but I do think the landscape is changing, and that's because of people like Kristen Wiig and Paul Feig."
McCarthy adds, "I think funny is funny. Over the next five years, you're going to see more movies where women are the lead because, hopefully, that crazy idea that women can't be funny is finally quashed."
Bullock and McCarthy are conducting interviews at the Ritz Carlton in Manhattan.
Watching them together, their camaraderie seems genuine. Bullock says, "For this film, I was basically playing Melissa and she was playing the way I am in real life, which is not something I'm proud of," she jokes.
"I have a tendency to lose it a little bit, and I have the mouth of a truck driver, although now with a child I don't bring it into the home. But I like people who aren't worried about the rest of the pack liking them, and that's what makes Melissa's character so fun to watch."
McCarthy returns the compliment, "We hit it off right away from the first phone call. We have a similar sense of humour. We both have children around the same age and we kind of think alike. We got along so well that I felt okay to say horrible things to her, if that makes any sense."
The last time we saw Bullock on screen was in the drama Extremely Loud & Incredibly Close, in 2011. She made a conscious decision to remain out of the public eye after Louis arrived in January 2010, two months shy of her Oscar win for The Blind Side. She says, "I dream things and they happen. I want to make sure Louis grows up dreaming, being excited and unafraid of life."
At the onset of motherhood, Bullock endured a nasty break-up with her husband of five years, motorcycle builder, Jesse James, after a series of scandals broke out concerning his infidelities. Their divorce was finalised in June 2010. She has kept a low profile romantically since.
"My cute slinky nightgowns don't have a place right now. They're in a nice drawer gathering dust," she laughs. "Instead, I wear terribly oversized men's flannel cheetah pyjamas to bed. My son thinks it's brilliant because I look like a large cheetah entering the room. Sad but true."
Bullock lives a quiet life in Austin, Texas with her son away from the glamour of Hollywood.
"It's not that I feel like an outcast in Hollywood because I'm always welcomed back into the work world. And with electronics these days, you can live anywhere if you've been lucky enough to establish yourself. I love the world I'm in. And I don't think people live in Hollywood unless they're not working; if they're constantly going to parties, they're definitely not working," she laughs.
Bullock is often touted as Hollywood's highest earning actress. As of 2009, her films grossed more than US$3.1 billion.
"My biggest achievement is that not only do I work in movies at age 48, but I get to share my life with the most beautiful human being I've ever met," she says.
For now, there is no room for another man in her life. "No, my little man is still very much the centre of my universe. Things could change one day, but right now we have a busy schedule of swim classes and eating. Just feeding him can take hours."
Like most parents, she smiles when she speaks of her son. "He's just started going to sleep at an hour that's not ungodly, so I have two hours for myself and I don't know what to do with the time," she confesses. "I panic a little because I feel I should be doing something productive other than laundry. But I'm learning," she says.
"I'm very aware that there's going to be a day when he doesn't want to have me around constantly. Then I'll have a lot of time," she laughs. "But for now, I'm happy to do what I'm doing until that day comes."
The Heat opens in cinemas on Thursday.
Follow @nzherald_ent on Twitter for all the latest entertainment news.