The sixth season of Anna Paquin's True Blood returns just as creator Alan Ball bows out of running the show.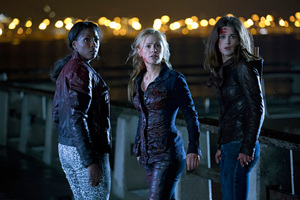 There was a time long ago when the sexy, gory series True Blood was about the uneasy co-existence of humans and vampires.
Okay, maybe there were one or two other supernatural elements thrown in to add a little spice to the dish - the occasional mind-reader, the odd shape-shifter - but mostly it was all about the bloodsuckers.
Not anymore, it would appear. As the sixth season of the series prepares to get under way on Prime tonight, viewers have been treated to an ever-expanding circle of mystical, monstrous characters, including witches, werewolves and fairies.
All the while, the show has walked a fine line between heightened melodrama and social analogy, using its fantastical elements to explore real-world issues such as religion, racism, drug addiction and the struggle for equal rights by marginalised sections of society.
Oh, and there's also a lot of good-looking, well-built people in various stages of undress. Which isn't without its appeal, right?
The end of True Blood's previous season resolved a few storylines but also set many more in motion, especially with the vampiric Bill (Stephen Moyer, who also directs the sixth season's first episode) draining every last drop of blood from the powerful Lilith (Jessica Clark), only to be reduced to a crimson puddle and reborn as some kind of terrible hybrid (which fans of the show have already cleverly nicknamed "Billith").
Series creator Alan Ball was sensibly keeping hush-hush about what this development may entail for the character or his relationship with Sookie (Anna Paquin).
"Who's to say what Lilith really is?" he said. "Bill is still Bill but he is something different ... a transformed Bill.
"Is he going to be evil? What does he want? What is he going to do? That's for future seasons. The implication, certainly, is he is more ferocious."
That Alan Ball, such a tease. One thing he would confirm, however, was that the course of true love - or anything, really - in the Louisiana town of Bon Temps isn't set to run smoothly any time soon.
"Well, here's the thing with relationships on True Blood," he said.
"Once they happen then you have to throw a monkey-wrench into them because to have people be happy is not that exciting."
And another certainty is Ball himself won't be playing as big a role in True Blood's ongoing storylines.
He decided to step away from his showrunner duties at the end of the show's fifth season, handing over to long-time colleague Mark Hudis.
"It's bittersweet," Ball admits.
"It's been such a big part of my life for so long; of course it's hard to step away. But running that show is such a huge job and I've been doing it for five years. I just don't think I have another season left in me. I need to recharge."
He says he's now looking for a different creative challenge.
"As a writer, it's fun to create," he said.
"And once you get into a long-running show with very established characters and a very established tone and format, after a while it's a really great job.
"But that's what it is - a job. I want to try something completely different."
Tv preview
What: True Blood, series six
When and where: Prime tonight from 9.30pm.
- AAP
Follow @nzherald_ent on Twitter for all the latest entertainment news.