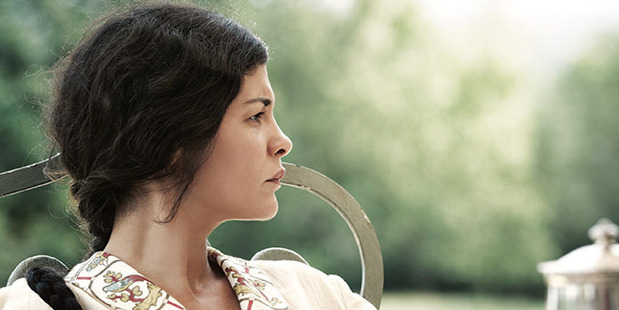 Based on the 1927 literary classic by Francois Mauriac, Therese Desqueyroux is the final film from veteran French director Claude Miller, who passed away last year, aged 70. It's a solid, sombre and pretty period drama set in in the picturesque Landes area in southwest France during the 1920s.
Audrey Tautou is Therese, an unhappily married woman struggling to conform as an ideal country wife and to fit into her husband Bernard's (Lellouche) oppressive family.
Therese is a free-spirited, thoughtful young woman - a proto-feminist if you like - and yet she married Bernard because combining both families' pine tree estates made good business sense. When sister-in-law Anne (Demoustier) falls passionately in love with a handsome young local, Therese realises what her marriage and life is missing and begins looking for a way to regain her independence.
Therese is far from the first woman in literature or film to marry for convenience, but she may well be the sulkiest about it. Audrey Tautou spends the majority of her screen time pouting and terse, barely able to control her contempt for her new family and her role in it.
It's an ambiguous performance; there are times you know there is more going on behind the blank stare, but it's so deeply internalised you're left wondering what it could be.
It makes for a very unsympathetic character; in fact, it's not until she has slipped into a severe depression in the third act we feel anything for her. Unfortunately, just as her marriage sucks the life out of her, Therese and her depressed state of mind suck the life out of the film. It's a shame; Tautou's stern performance casts a dark shadow over this otherwise confident, well-crafted and understated drama.
Stars: 2.5/5
Cast: Audrey Tautou, Gilles Lellouche, Anais Demoustier
Director: Claude Miller
Running Time: 110 mins
Rating: M (Sex scenes)
Verdict: Audrey Tautou's stern performance casts a dark shadow over this otherwise robust film.
- TimeOut