The new Lone Ranger talks to Russell Baillie about riding tall in the saddle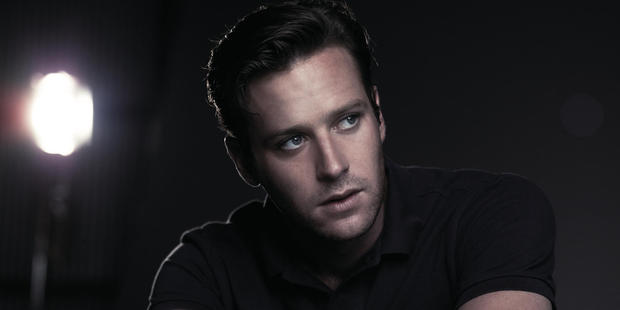 Armie Hammer, all square-jawed 1.95m of him, sits in a Sydney waterfront hotel lounge, looking very much the all-American guy. He's been one in quite a few movies now - he played Wasp wonderboys Cameron and Tyler Winklevoss in The Social Network. He was J. Edgar Hoover's right-hand man Clyde Tolson in Clint Eastwood's biopic of the FBI boss - who was played by Leonardo DiCaprio and a bucket of latex.
Heck, he even played America's most famous evangelist, Billy Graham, in the little-seen Billy: The Early Years. Oh, and he was last in Australia in 2007 preparing to play Bruce Wayne/Batman in a scrapped Justice League movie to be directed by George Miller. But he's gone and got himself another famous pop culture hero mask instead.
Hammer is, like the Winklevi - as Mark Zuckerberg called them - a man of some means, his father Michael having ties to Occidental Petroleum, the oil company founded in the 1920s by Armie's great-grandpa and still pumping strong.
But young Armand, raised in Los Angeles, Dallas and the Cayman Islands, decided to get into acting instead.
Now, he has a franchise to call his own. As the Lone Ranger - and John Reid, the frontier lawyer he was pre-mask - he's playing the straight man to Johnny Depp's oddball Tonto.
Yes, the movie is an odd-buddy action-comedy from the folks behind Pirates of the Caribbean.
Still, the Lone Ranger is quite a mantle Hammer is assuming. Heroes don't come any more all-American that this. But this isn't your grandad's Lone Ranger, says Hammer. No, think of it like a car ...
So he's a 19th century hero created in the mid-20th century. How do you make that work in the 21st?
The analogy I use is, it's like making a car. The cars built in the 50s were great cars. They were stylish; they had flair. They had big fender flares and they were solid and bulky and cumbersome and they were great. But you can't build a car now like you did in the 50s. It will still have four wheels, a steering wheel, engine block, suspension and chassis - everything you need to build a car. But you would do it differently.
We take the elements from the original car we like - the mask, the hat, the silver bullets, the horse, Tonto, the Lone Ranger, Hi Ho Silver - and and we just refurbish it and put it into a package that is applicable to those people who like those 50s cars and also the younger generations who have never been exposed to them before.
So your Lone Ranger is a ... hybrid?
Yeah, with a big-ass V8. I feel like ours is so different to the original TV show - he was closer to a superhero than our character of the Lone Ranger, who is a hero. There wasn't a large human element to the original Lone Ranger. The character itself is just a little bit two-dimensional. So in this one you see the human version, who is a hero who sometimes struggles with his decisions and has to weigh the ramifications of what he does. So you see him struggle, you see him make decisions, you see him make compromises with his values here and there.
Assuming the film does well, this is going to be you for quite a while ...
Hopefully not as long as it was for Clayton Moore [the original TV star].
Yes, he formed an almost unhealthy attachment to the role.
They finally had to sue him to stop wearing the mask.
There's a lesson in that for you I'm sure. So, when you put on the mask for the first time ...
I wish it was something like [makes heavenly choir noise], like something magical In reality it was "Good, this one fits. Let's use this one."
So where you shot were places they shot a lot of old westerns?
We were shooting in places that sometimes had names like John Ford Pt. And then you would be with location scouts and they would be, "that is were they would dig their latrines when they used to film up here". Great, I am going to go piss over there. If it's good enough for the Duke it's good enough for me.
You are the Lone Ranger but it's an odd buddy movie with Johnny Depp. Does that mean less pressure on you and more on him?
Probably. If this movie bombs it's not going to hurt me as much as it might hurt other people.
Westerns are always risky.
Westerns can be risky if you are going the western route. But this is such an amalgamation of so many different things. It's hard to call it just a western.
Well it certainly ain't got no respect for the laws of physics.
You have to suspend your disbelief.
You are six foot what?
Five.
There's that scene where you are riding a horse through the middle of a train carriage.
Yeah, yeah.
That has to be the tallest train carriage ever.
That was special. The insides were tall but the doorways would be normal size. It would be "and action ... bang bang bang bang bang. Duck! Bang bang bang bang bang. Duck! If you forgot to duck it was lights out.
What was your best injury from the shoot?
My right elbow acts up when it's about to snow or it gets cold. That one was from jumping off a building on to a running horse and missing and landing on my elbow.
They have these people called stuntmen, you know?
Yeah. I like to keep my stuntman Jeremy nice and bored. He's got one of those mirror things and he's catching a tan. But everyone knows when you see a big action sequence and it cuts to the back of the actor's head, that's not him. They didn't want to do that. They want to see him; they want to make it relatable for the audience.
The movie opens in this part of the world on the fourth of July and in the US the day before for the July 4 holiday. Got any theories on what bringing back such an old-fashioned American hero like the Lone Ranger means?
Here's what I think is. The original radio series came out around the Depression when people needed a hero. Then in 1950s you had the Korean War conflict which was very challenging for America and so they came out with the TV show because they had to have a hero. Now, obviously the world hasn't got any less crazy. People haven't got any less crazy. We've just been exposed to so much more of it. Sometimes it's just good to sit down and watch a guy make the right decision not because he is forced to but because it is the right decision to make.
It's very comforting to see a man make a decision and decide "I am going to follow this all the way through, no matter what adversities pop up, no matter who rides against me." There is a really great Texas Ranger quote that says "No man on the side of wrong stands a chance against a man who has got right on his side and just keeps on coming." It's just one of those things. It's good to have a hero. It's good to see a guy be a good guy, especially in a world so chock-full of bad guys.
- TimeOut