Ghost Wave's latest release traces the genealogy of rhythm and melody back to African roots, writes Lydia Jenkin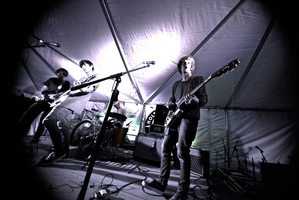 For a local band who've played at American indie festivals SXSW and CMJ, have an American management team (Plus One Music, who also look after bands like White Lies, the Kooks, Basement Jaxx) and have a sponsorship arrangement with beer label Becks - all before they've released their debut album, one might add - Ghost Wave are remarkably modest and unassuming. Or at least, guitarist and vocalist Matt Paul is.
There's no rock 'n' roll swagger or sense of self-importance, and he's punctual, polite and agreeable when it comes to being interviewed - even perhaps a little on the shy side - which makes their exuberant, rollicking, grooving live sound all the more striking.
The four-piece started out when Paul and drummer Eamonn Logan met, and decided that, aside from their electronic projects, they'd quite like to play in a band, too.
"I think we felt like, let's get back to what we were raised on, and I guess for me that was guitar-based. [I'd started working electronically because] I was able to use a lot of samples and I was able to achieve a lot more sonically while working by myself.
"But then I wanted to be able to put that against a band backdrop, too, because you always get gear breaking, and if it came to the worst I wanted to be sure I could always just pick up an acoustic guitar and perform."
They released their self-titled EP through Arch Hill Recordings in 2012, having recorded it by themselves, and caught the attention of label head Ben Howe. It was a seven-track collection of tight, urgent rhythms, swirling guitars and trippy vocals, which got them strong reviews and had Plus One Music asking if they wanted to sign up. It was also a great precursor to Ages, which keeps their strong melodic sensibility while heading in a slightly more bluesy, rocking direction.
"With the album, we wanted to take things back, strip them down. We recorded the album live as a band, which we didn't do for the EP, in order to get closer to the heart of the songs. The material is newer, but it was a bit of a calculated step back in time, in a way, so that we could learn more about song structure and so on.
"I guess the title relates to a time thing - we wanted to do a really guitary, old-sounding album, but not a vintage-retro style recording, so I guess it's about music existing through the ages and us having our little spot for a moment."
When it comes to describing the album's influences, Paul notes they're more inclined to let the songs simply write themselves than try to give them a specific direction. But the sound they create is, in some part, a result of "thinking about how anything that we're doing came from Africa - rock 'n' roll, blues music, slave songs, it all came from Africa. And then you get these white dudes in the 60s doing it, and it becomes something else, and then ever since then people have been turning it into something else again.
"So it's about music that has that common thread through time. For Ages, it was a lot of blues stuff, late 50s, early 60s. Bob Dylan, the Velvets, Jesus and Mary Chain, all that amphetamine kind of stuff, for want of a better term."
They tracked the rhythm sections at Roundhead Studios before moving down to Rick Bryant's rather atmospheric studio in Newton to finish the album.
"It's crazy, actually, what's in there, because from the outside it just looks like a wall and a door, but inside you're surrounded by books - walls of books. It was awesome, we'd definitely like to record there again."
Of course, finishing the album artwork and releasing it became a different story when Becks came knocking, wanting to partner with the band in a promotion called the Becks Record Label Project, which had six artists creating potential album artwork for the band, which would also feature on hundreds of thousands of Becks beer bottles.
"If you want to be making music in New Zealand with a guitar and a few friends, then there's not a whole lot of money in it usually," Paul smiles. "We're generally very cautious about stuff like this, but we decided to meet up with Becks, and give them a bit of a hard time, and go, 'What's the actual deal here?' Once we were satisfied that the Becks logo wasn't going to be on our cover or anything like that, and that they were willing to take a bit more of a backseat and just facilitate stuff for us, it ended up seeming like the right thing to do. We wouldn't have been able to go overseas without their help."
Though the band weren't pressured to use any of the project artwork for their album, in the end they really liked the design of a German artist called Markus Hofko and thought it fit well with their work.
"It wasn't really anything like we'd envisioned, we'd been thinking of a sort of jazz-style record sleeve, but he came back with this sort of pop art design theme and that seemed to resonate with us - that sort of 70s thing, black and white."
The quartet are already working on their next album, recording tracks as they think they're ready.
"We're doing it all ourselves so it's not like we're setting dates and tasks. It's a bit more fluid and chilled out. We pretty much go, 'Okay, let's do this on Thursday."'
They've clearly got a strong work ethic when it comes to the band, despite all four of them also holding down other jobs, but Paul is typically modest about their efforts.
"We wouldn't do it if we didn't like doing it. We'd have to give Ben a call," he says with a grin.
"The idea of being successful in music means different things to everybody, but for us it's all about experience. So long as we can make it pay for itself, we're good."
Who: Ghost Wave
What: Debut album Ages, released tomorrow
Where and when: Performing at the Kings Arms tonight
- TimeOut