Yes, Prime Minister sees TV's beloved PM Jim Hacker and his wily adviser, Sir Humphrey Appleby, take to the stage. Greg Dixon reports.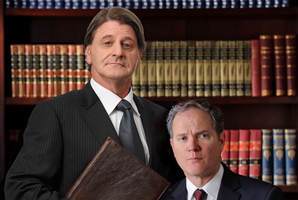 The Prime Minister is in a flap. In the drawing room of Chequers, his retreat in the British countryside, it's becoming clear there's no way out of a particularly bonkers diplomatic dilemma and, should the press get hold of it, the PM, a coward, could become a dead political duck.
In dismay, the PM bellows and roars, then deals with the situation like the "courageous" statesman he is. As his cabinet secretary Sir Humphrey Appleby, his principal private secretary Bernard Woolley and his special policy adviser Claire Sutton look on, Jim Hacker falls to his knees and crawls under his drawing room desk to hide.
The Sydney Opera House's drama theatre erupts in laughter and applause. This sort of mad, spiralling silliness is why the audience have come to see Yes, Prime Minister, a stage play based on the television sitcom that, though created more than 30 years ago by Antony Jay, a former BBC news producer, and actor-director Jonathan Lynn, is still much loved. Watching a Hacker meltdown is something like finding a beloved old friend has returned quite unexpectedly from beyond the grave. For us - that is, people of a certain age - the unholy trinity of Hacker, Sir Humphrey and Bernard are comedy gods.
So it is no wonder that although this stage version's plot - involving a coalition government and an oil-rich central Asian country bailing out a bankrupt Europe - is based in the present, pretty much everything else about this Australian production is a homage to an ancient comedy masterpiece.
Actor Mark Owen-Taylor's Hacker is as indecisive, blundering, publicity-hungry and hopeless as ever; Robert Grubb's Sir Humphrey is just as smooth, manipulative, Machiavellian and verbose as always; and Russell Fletcher's Bernard Woolley is still, well, as woolly and pedantic.
If this production, which opens in Auckland next month, has one major difference from the original television series - apart from policy advisor Claire Sutton (played by Underbelly's Caroline Craig) - it is that it plays more as slapstick farce than as farcical satire.
Still, the Jay and Lynn script is everything it ought to be.
"It's the cleverness of the language," says Owen-Taylor, who is playing Hacker for a second time after a successful Australian season last year. "It's kind of like being in a Restoration comedy because of the thoughts spinning on a dime. It's that sort of witty language we don't often get [in scripts] now. Theatre has moved on to a different sort of style. The pedigree [of Yes, Prime Minister] is situation comedy and yet the result is a very clever sort of script and very wordy. It is an unusual beast."
So too were the original shows. Yes Minister, which ran for three seasons between 1980-82, and its sequel Yes, Prime Minister, which went for two series between 1986-88, were unlike any sitcom before them - they were often topical satire based on inside information.
Indeed, without Yes, Prime Minister, it would be hard to imagine something like The Thick of It, British writer Armando Iannucci's wonderfully nasty political sitcom, or its award-winning film spin-off In the Loop (or, for that matter, Iannucci's US sitcom hit Veep) being made.
Audiences accustomed to the terrific, expletive-laden rants and Olympic-class cynicism of The Thick of It may find Yes, Prime Minister's drawing room farce a little too gentle by comparison. However, if the former finds its humour in the dystopia of modern politics,
Yes, Prime Minister is still a witty and wordy meditation on the way we (in the West, anyway) are governed. "We don't think we're cynics," Lynn told the Sydney Morning Herald. "We just talk about what's happening. I would say I'm a bit like Jim Hacker: a disappointed idealist. I'd prefer it if the world was honest. I just can't imagine it."
What is odd, you'd have to say, is that Jay, who is 83, and Lynn, 70, decided only three years ago to revive a show that ended its TV run a quarter of century ago. Jay told the Sydney Morning Herald they had always fancied doing a play, but they only returned to the idea because they had been asked if they would adapt some old episodes for the stage. "And we thought, 'Oh well, can't we do better than that?"' They wrote the bulk of the stage version in 10 days.
The show premiered in the West End in 2010 (Lynn directed it) to good notices, so it was only a matter of time before the hit came out to the colonies. (However, the play is also responsible for Yes, Prime Minister being revived on British television with the original West End cast, a decision which, if the reviews are any measure, was the wrong one.)
The play arrived Downunder with a weight of expectation that isn't just generated by Jay and Lynn's timeless TV scripts, but by the fine actors who originally played and defined the roles of Hacker and Sir Humphrey: Paul Eddington and Sir Nigel Hawthorne. Owen-Taylor who, along with the rest of the Australian production's cast, speaks in an English accent, admits the stage production has inherent baggage that he deals with the only way an actor really can: "Well, you just sort of ignore [the baggage] because it is folly to try and imitate those guys. But having said that, the situation the characters found themselves in 30 years ago is completely different now. The characters have changed quite a bit and there is the media cycle and the minority government. I think the dynamics of the characters are the same - the servant-master thing. That's always fun: to see who is going to outwit the other - and of course Sir Humphrey always does.
"I think [audiences] forget about their expectations in about five minutes [of the play beginning] and get swept away by what is happening now."
Besides, as Grubb says, the roles are actually a rare opportunity. "Not many people get the chance to play Sir Humphrey, and there aren't a huge number who could, to be honest!" he says, then laughs. "The audience are coming along for the flavour of the original show. They're going to see actors trying to give them the flavour of the original."

Performance
What: Yes, Prime Minister
Where and when: Civic Theatre, July 9-13