Photographer Allan McDonald records vulnerable old buildings before they disappear. Auckland has an appalling record, he tells Jonathan Ganley.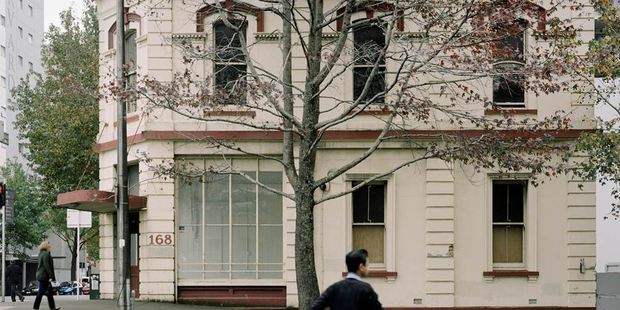 Photographer Allan McDonald pauses when asked what his exhibition, Walking in the City, is about. On the surface, the exhibition portrays masonry buildings of the Victorian and Edwardian era, typically found in many New Zealand cities and towns. McDonald thinks about his answer carefully before replying.
"It's a response to Christchurch, to what happened with the earthquakes, but it's not really centred around Christchurch. There are a number of images in the exhibition and most of them are taken outside of Christchurch."
McDonald is careful to distance himself from suggestions or implications that any of the buildings he has photographed for his archive, or portrayed in his exhibition, are at risk from earthquakes. He wants to communicate that earthquakes aren't the only danger to older buildings. He is also concerned about the forces of economics, town planning and social change on the urban landscape.
Walking in the City is, he concludes, "a documentation of a layer of New Zealand architectural heritage that is vulnerable".
Locating and photographing buildings before they disappear or are changed beyond recognition has been a constant theme in McDonald's work. Previous subjects included displaced and relocated housing, and disappearing secondhand book and thrift shops. McDonald enjoys seeking out the parts of cities where rents are lower, and art and commerce can meet and sometimes flourish.
"Some of the things that happen in those pre-gentrified zones are quite interesting. You often get marginal cultural or economic activities that come from the grass roots, the local population. These activities add to the tapestry of the city and provide a richness that is valuable."
This focus on overlooked areas has continued with Walking in the City, in which buildings with these coded signs of life have caught his attention. "K Rd, in Auckland, was such an area, a bit rough around the edges, where fringe cultural activities could take place, but it's becoming more gentrified. And there's a lot of vulnerable architecture there."
McDonald believes the removal of old buildings for any reason lessens the sense of place and character that makes cities unique. He sees this process and its consequences on a large scale in Auckland, a city that in the past "has not identified so much with its buildings. There's not a lot left from the Victorian and Edwardian period. K Rd, Symonds St and Ponsonby Rd are all vulnerable. Look what happened to Upper Symonds St when one side of the street was removed. It became this weird zone, an incongruous mix of Victorian architecture and motorway aesthetics."
He contrasts this with the way other New Zealand cities strongly identify with their heritage buildings. "Auckland has an appalling record in preserving architectural heritage, and doesn't seem aware of the instability of the current situation. If you go to Dunedin, it's a hot topic. Dunedin has a high proportion of heritage buildings and they regard themselves as a Victorian city, which they are fiercely protective of."
The title, Walking In the City, suggests the idea of a pedestrian criss-crossing the city, the kind of random drifting that can result in unexpected connections and events. McDonald likes this but points out that although the images have come about through his footwork and exploration, there is still a lot of planning and thought required before he sets up his tripod and view camera, which is hardly a point-and-shoot affair.
"What I've been doing for the last couple of years is walking around a city using a digital camera first. I'll go through the hundreds of images at night. You see quite clearly what is going to work, and I go back the next day and shoot one or two images with the 4" x 5" film camera."
McDonald is interested in the role of photography as an archival tool, and believes it is important for photographers to chronicle their specific time and place. This idea "goes back to photographers like Eugene Atget, a Parisian photographer of the late 19th and early 20th century. He was the model of a particular type of photographer who records and documents things about to disappear because of the forces of change. I align myself with that role and feel a part of that tradition."
He has long been interested in the cultural as well as the technical aspects of photography. His photographic beginnings were modest, working with basic equipment and taking over the washhouse at home as a darkroom. "I was 14 when I processed my first film. I had a primitive camera, a box Brownie. I was fascinated by the idea of developing film. It was a success and it inspired me to do more."
Film continues to be his medium of choice. Though the process from exposure to print is laborious and expensive, he believes the result is worthwhile. "There's a richness of information with film that doesn't exist with digital. I love the freedom of digital but, for quality, film has got it."
Although McDonald is happy to continue using a large format camera and film, most people connect with photography through digital images. With so many possibilities for creating and sharing images, is it difficult now for a photographer to stand out and make their mark?
"I think it is harder. There are a lot of photographers out there, and a lot of the traditional roles of photography have changed or have been eroded."
In spite of these challenges, McDonald is confident photography will continue to be central to the way we view the world. As a practising photographer and a photographic lecturer at Unitec, he is in an ideal position to examine the past and see the way ahead.
"The Bauhaus photographer, Moholy-Nagy, said in the 1930s, 'The illiterate of the future will be the person ignorant of the use of the camera as well as the pen.' When I first read that, it was long before digital cameras, and I thought it was an exaggeration. I didn't think photography was that ubiquitous - but it is now."


Auckland Festival of Photography
What: Allan McDonald: Walking in the City
Where and when: Anna Miles Gallery, 4J, 47 High St, until June 15
What: Talking Culture Symposium: Response
Where and when: Auckland Art Gallery Auditorium, 11am-4pm.
June 1: Artist Kit Wise, photographers Fofoga Setoga Tuala, Michel Varisco, Andrew Quilty
June 2: Photographers Allan McDonald, Richard Mahoney, Giles Crook