If you know actress Anna Jullienne only as Shortland Street's lesbian nurse, Maia, she's working hard to change that, she tells Greg Dixon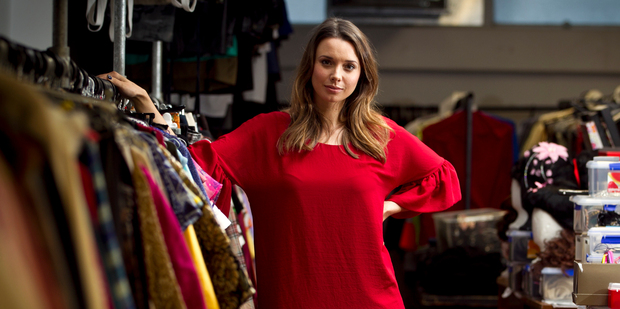 For a woman about to play a Protestant martyr, the Catholic charm is a little incongruous.
Auckland actress Anna Jullienne is soon to be Anne Boleyn, wife of Henry VIII and the woman who sparked a reformation then lost her head. But as Jullienne sits on a lumpy old couch in the Auckland Theatre Company's main rehearsal room talking about her newest role, she can't stop fiddling with a very beautiful and very Catholic gold pendant of Mary, mother of Jesus and the Roman Church's most venerated saint.
"My husband, James, gave it to me on our wedding day," the ex-Shortland Street star says when I ask. "We got engaged in Europe and I'd seen these pendants in Spain and really wanted one - but I was too fussy and hadn't found one I liked.
"So before our wedding, James got a friend's mum, who is Spanish, to buy me one. Mary is the patron saint of miracles and I think she's lovely. It makes me look like I am really religious," she says as she touches it again, "but I'm not."
Not being a devout cradle Catholic is probably just well if you're soon to play a Protestant martyr on stage six days a week along side local acting luminaries Raymond Hawthorne, George Henare and Ken Blackburn. And this is how the play, written by long-time British playwright Howard Brenton, represents Boleyn. Eschewing the conventional (and diametrically opposed) readings of her - the innocent victim or the scheming bitch - Brenton's play, which premiered in Britain three years ago, defies the received wisdom by portraying her as a stoic, deeply religious woman who became a "conspirator for Christ", according to the Guardian's esteemed theatre critic, Michael Billington. He said, in reviewing London's Globe Theatre production, that Brenton's was a radically revisionist work that argues Boleyn was more martyr than sexual predator. So it's no mock-Tudor costume drama.
"We discover," Billington writes, "how Anne used her sexual stranglehold over Henry VIII to pursue of the idea of religious reform." That reform, of course, saw England break from the Roman Church so that Henry VIII might annul his marriage to Spain's Catherine of Aragon and wed young Anne, Catherine's maid of honour.
Anne's rise and fall is richly historic and powerfully dramatic stuff and has of course been subjected to many fictional readings, not least by Hilary Mantel in her recent Man Booker-winning novels, Wolf Hall and its sequel, Bring Up The Bodies. Jullienne has read the latter, and is soon to read the former as part of her preparation for the role. She has also sought out proper histories of the ill-fated queen. The danger of course is she could end up with too much of that history in her head.
"And [the historians are] sort of filling in the gaps [about Boleyn's life] as well. When you read the history books, that's when you get really foggy headed because they can't say anything [about Anne] for certain.
"I was talking with the other actors about whether the character being historical changes the way you prepare for a role ... I haven't watched a lot of actresses playing Anne. That wasn't really on purpose. But I know a lot of actors intentionally don't watch a lot of other people's portrayals of their characters. In the end you do all your research, but then you've got to find the real person in all the history - the woman, I guess."
Finding the human being inside the epic tragedy of a Tudor queen who was beheaded nearly 500 years ago is yet another step in Jullienne's ongoing but low-key campaign to free herself of Shortland Street and of Maia, the lesbian nurse she played on the soap for seven years.
Jullienne's two most recent television roles were chosen, at least partly, for the same reason. The 30-year-old was recently seen alongside Antonia Prebble and Siobhan Marshall in quirky TV3 crime drama The Blue Rose. She can also be seen in this week's episode of another TV3 crime show, the much-praised Harry, which stars Oscar Kightley as a melancholy South Auckland copper. In the former show Jullienne played a bitchy legal secretary called Krystle. In the latter, she has a two-episode story arc as Jenny, a victim of a crime. And last year she had her first major stage role in the ATC's production of In the Next Room, a play concerning itself with the early history of the vibrator, and she'd been in the ATC's The Twits the year before.
"I've been pretty lucky really since I left Shortland Street in 2010," she says. "I have had a lot of small roles which I think, after Shortland Street and playing the same character for such a long time, is probably the best thing for me. Apart from theatre, obviously, which is also another great thing to go into. The more diverse, different roles that aren't my Shortland Street character that I can do, the better it is for me, especially if it means people recognise me again as an actress rather than as a nurse on Shortland Street - which I have been to so many people. The Blue Rose [was important for that because] it was the first series I've done in its entirety."
Just to be clear, Jullienne obviously has tremendous affection for Shortland Street and for Maia, a role she earned and a soap she joined when she was just 21. However, she is also pretty candid about why she left the show.
"I loved it there and I learned a lot. The opportunity ... I was 21 and I was working five days a week acting, which you can't really do on anything else [in New Zealand]. But I think when it is so familiar, I think the risk you run is getting a bit, maybe, lazy and you need a new challenge. And I definitely felt like I needed a new challenge."
So the freshness had gone?
"Yeah. Six or seven years in any job is a pretty decent time. I loved it there ... and the people are great and it's like a family. On a day-to-day basis it is a wonderful job because you go and have fun with your friends. But yeah I wanted to do something else."
Although Maia was not the first lesbian character on the Street, she was definitely the one who worked there longest. And the character was genuinely loved by the audience, gay and straight.
"I only ever had positive feedback and all the letters I got were always positive. I think because my character ... she wasn't sort of an evil lesbian, she had a little bit of bad patch for a while, but she was a nice, normal girl who was lesbian. She did kill someone once but we won't go into it, because who doesn't on a soap? But ... I didn't have any awfulness at all. If anything I had lovely letters from young women who were gay saying 'yay, you're on TV'. Everyone was very accepting. I thought that was pretty cool for New Zealand."
If leaving Shortland Street sounds like it was a wee bit of a relief, she is quite clear that no actor leaves the country's only full-time television acting gig without pausing to consider the financial consequences.
"I did buy a house. I think it was [former Street actor] Claire Chitham who said 'make sure you leave here with something better than a great wardrobe' - and that is good advice!"
Acting was always her thing, Jullienne says. But when I ask whether she comes from an artistic family, she hoots at full volume and screams "no!"
Her family life was, well, unconventional. Jullienne's mother, Mary, was just 19 when she had her, and the young mother and baby lived with Mary's mother in Meadowbank.
"We lived with my grandma and my great-grandma (also Mary). So it was four generations of women in one house. Lots of women can equal quite a lot of crazy." She laughs. "But it was good. Strong. I've only ever had really strong women my life as role models I guess. Not a lot blokes in my house, when I was growing up at least!"
As a child she saw more of her father, who now lives in Australia, but he wasn't really influential in her upbringing.
"My grandmother was my other parent basically. And she is a really strong woman, she's the matriarch of my family. She's always worked. She's done so many different things.
She has owned businesses and been a nurse and been a real estate agent and been a school teacher. She owns a cattery. She still works. She's 80. She's a real character. She's always held the family [together] and that's been her role."
Young Jullienne was a confident child and, when her mother - who is in public relations - and grandmother decided on sending her to the private girls' school, Corran, in Remuera, she responded by excelling.
"I was a goody-good. I was a head girl. I loved it. I loved school. It was a lovely little family at school too, and I thrived in that."
She began acting in school productions - the musical Anything Goes! was the first - and competing in regional performing arts and speech competitions. In 1999 she won the New Zealand Young Performer of the Year contest and, the same year, the Auckland National Independent Schools Speech Competition and first prize at the Auckland Drama Championship at the North Shore Performing Arts Festival.
You'd have thought drama school would have followed. But instead, after a gap year working a highbrow English boarding school, Jullienne returned to New Zealand and began a Bachelor of Arts degree, a "moveable feast" of English, film, television and media, at the University of Auckland.
And she finally got an agent - something her mother and grandmother said she could do only once she'd left school. "I was always pleased I got my schooling. I saw, while working on Shortland Street, that there are a lot of young cast members who were still at school while they were doing it and [Shorty] gives you a false sense that 'oh great, I don't need school because this is what I am going to do'. And that's what you would think, that's natural. 'Why am I learning maths when I want to be an actor and I am being an actor professionally?' I guess I'm pleased I haven't been put in that situation."
But if she did finish school, she didn't complete university. In 2004, halfway into her degree, she got the call from Shortland Street.
Hollywood isn't of remote interest as Jullienne approaches the beginning of her second decade as a professional actress. Ask what she wants out of her career post-Shortland Street and she says more of the same, please.
"I don't think Hollywood myself. I have friends who are trying to get over there. I know that it is really hard work and that's fine. But I think you've got to want it so, so, so, so bad, you've got to want to do it and make it because there are so many knockbacks over there. I just think that I don't want to be over there."
Besides, her mother, grandmother and husband James Kermode, a commercial leasing executive she married three years ago but whom she met in her early 20s, are all here.
"I wouldn't mind working within Australia as well as New Zealand. The Kiwis do do pretty well over there. But I've been pretty lucky so far."
The other thing she wants of course, is to say goodbye to Maia.
"It is something to do with a soap opera that people really do think you are that person. Like they're not silly, people, but they find it really hard to gauge the difference between you as an actor and you as that character. I have noticed the difference since I have done more on TV of people calling me Anna or saying 'are you the actress who is in?' rather than 'are you Maia?' It's a slight change but it makes a big difference."
So it is important that people have seen you move on?
"That's right. One of my best moments ever was when I was in a cafe at Whangamata and this guy came up to me and said 'excuse me' - because that's how it always starts - and I thought it was going to be a Shortland Street thing and he said 'did you play the Roly Poly Bird in The Twits?' And I was! He recognised me as the Roly Poly Bird! It as the happiest day of my life." She laughs.
"And it was like 'yes, I was the Roly Poly Bird!' It was great, it's fun when that happens."


• Harry screens on TV3, Wednesdays, 9.30pm. Anne Boleyn opens at the Q Theatre, Queen St, Auckland, on June 13.