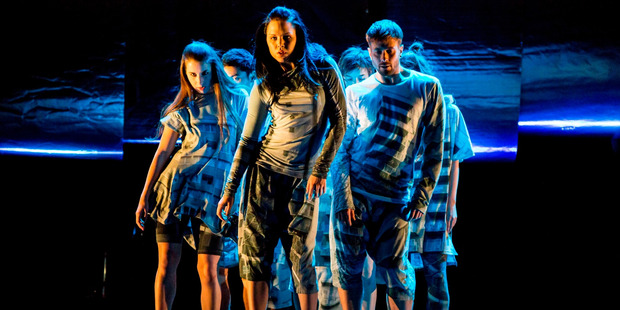 It's been nine months since the New Zealand Dance Company's highly successful debut of Language of Living at Auckland's Aotea Centre. During last August's season, the applause was rich and the reviews full of praise for the polish and professionalism of the company's talented dancers, the sophistication and diversity of the choreography, the boldly inspirational stage design by Sue Gallagher, the subtle lighting by Matthew Marshall and the cleverly designed costumes by Andreas Mikellis.
The company's programme of short works featured beautifully flowing lyrical interchanges in Michael Parmenter's duet Tenerezza, danced by Craig Bary and Justin Haiu, and set to Bach played live on piano by David Guerin; contrasting with strong ensemble work in Sarah Foster-Sproull's Human Human God, driven along by the beats in Eden Mulholland's evocative score.
Gareth Farr's Mondo Rondo played live by the NZTrio provided the setting for quirky movement conversations in Shona McCullagh's Trees, Birds, then People, which differed from the moods and styles of two disparate solos: a meditative movement study danced by Ursula Robb, and a street dance-inspired day-in-the-life-of-a-robot choreographed and danced by Haiu to live electronica from the Electric Boutique.
If you missed Language of Living last year, there's one more opportunity to see it here in Auckland before the company goes on tour, heading north to Warkworth, Whangarei and Orewa, then south to Hastings and Wellington.
There's one change in repertoire from last year's show: a new solo for senior dancer Robb, which will be seen only in Auckland and Wellington. Choreographed by Anne Teresa de Keersmaeker (in whose company, Rosas, Robb danced for many years), this dance, Prélude a l'aprs-midi d'un faune, is a homage to the original Faune solo by Nijinsky, set to Debussy's famous score.
"The dance is quite virtuosic, not in the sense of spectacular tricks, but in the sense of being designed for a mature performer with a 'less is more' approach," says Robb. "It's very detailed, and articulate and also animalistic, and though it is essentially a male solo, it feels gorgeous to dance a piece like this.
In Warkworth, Whangarei and Orewa, Robb's solo will be replaced by a fast-paced group work, Without Eve, choreographed by Unitec student Ashleigh Coward and danced by four Unitec classmates.
Rejoining the company for this tour are recent New Zealand School of Dance graduates Pamela Sidhu and Gareth Okan, who were understudies with the company last year, and 2012 apprentice Lucy Lynch, now a company dancer.
The company was established with the goal of being a full-time contemporary dance company that would employ the best and brightest New Zealand dancers pursuing international careers. But with our best and brightest having to make commitments two and three years ahead, there was always going to be an issue of availability, and the company's schedule has been affected by that.
"This year," says artistic director Shona McCullagh, "we had a window of opportunity when Craig and Ursula were available, and we are happy to be offering dancers four months of employment on projects very close together in our timeline. After the Language of Living tour, there's a short break before we begin rehearsal for our mainbill work, Rotunda. Next year we plan to increase the period of employment, and again the following year."
Craig Bary has returned to dance and provide rehearsal direction work for the company after performances in Europe and Australia. When the season ends he will return to Australia to a string of performance and choreographic projects. Robb is dancing with the company between teaching engagements in New Zealand, and will soon be moving to Denmark to take up the position of contemporary dance subject specialist at the Danish National School of Contemporary Dance.
Like their international counterparts, the company's younger dancers are juggling commitments around their New Zealand Dance Company periods. Tupua Tigafua is dancing between blocks of teaching at Unitec and with Pacific Dance New Zealand, and developing his own choreography; Haiu is a member of the White Face Crew, and is a key cast member in Red Leap Theatre's Paper Sky. Hannah Tasker-Poland is much in demand as a body paint and photographic model, and a film, TV and burlesque performer; while Gareth Okan heads to Berlin after the Rotunda season to dance with Salted:Singlet.
The company's next performance season will present Rotunda, due to premiere at Q Theatre in August. Made in collaboration with composer Don McGlashan and the North Shore Brass, and featuring iconic brass arrangements along with some McGlashan gems, this mainbill work will see the company performing on stage amid the musicians.


Performance
What: The New Zealand Dance Company - Language of Living
Where and when: Aotea Centre, May 25; Mahurangi College Hall, Warkworth, May 28; Forum North, Whangarei, June 1; Orewa Arts & Events Centre, June 4; Hawke's Bay Opera House, Hastings, June 7; Opera House, Wellington, June 12.
All sessions start at 7.30pm