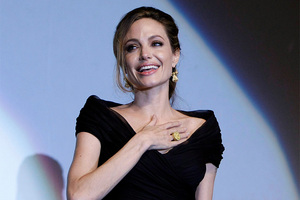 Hollywood superstar Angelina Jolie is planning to have surgery to remove her ovaries, a report says.
It comes just a day after the humanitarian activist and mother of six revealed that she had undergone a double mastectomy in a preventive surgery against breast cancer.
Jolie, 37, wrote in The New York Times that she decided to have the operation after learning that she had a "faulty" gene, BRCA1, which "sharply increases my risk of developing breast cancer and ovarian cancer".
"My chances of developing breast cancer have dropped from 87 per cent to under 5 per cent," Jolie wrote in the opinion-page article published earlier this week.
"I can tell my children that they don't need to fear they will lose me to breast cancer."
Even after the operation, however, Jolie still faces an estimated 50 per cent chance of contracting ovarian cancer.
Now, Jolie "is also planning to undergo surgery to remove her ovaries," an operation known as oophorectomy, according to People.
Jolie's mother, actress Marcheline Bertrand, died of ovarian cancer at the age of 56.
- DPA