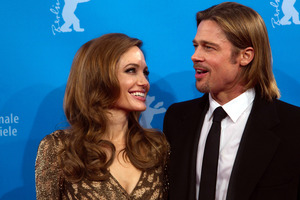 Angelina Jolie says she "proactively" underwent a double mastectomy to reduce her risk of developing cancer - a decision her partner Brad Pitt says he is proud of.
The 37-year-old Hollywood actress took the step because she carries a faulty gene that means she is much more likely to suffer from breast or ovarian cancer, she wrote in the New York Times.
Jolie, whose mother died aged 56 after fighting cancer for nearly a decade, said she was speaking out in the hope that other women could benefit from her experience.
She said her "loving and supportive" partner, actor Brad Pitt, had been by her side while she underwent three months of operations earlier this year to remove breast tissue and replace it with implants.
In a statement released to the Evening Standard newspaper, Pitt said: "Having witnessed this decision first hand, I find Angie's choice, as well as so many others like her, absolutely heroic.
I thank our medical team for their care and focus.
"All I want for is for her to have a long and healthy life, with myself and our children. This is a happy day for our family."
The Oscar-winning actress, who has six children with Pitt kids - Maddox, 11, Pax, nine, Zahara, eight, Shiloh, six, and four-year-old twins Knox and Vivienne - made the difficult decision to have surgery after doctors told her that her faulty gene, known as BRCA1, meant she had an 87 per cent risk of developing breast cancer and a 50 per cent risk of ovarian cancer.
She wrote: "Once I knew that this was my reality, I decided to be proactive and to minimise the risk as much as I could. I made a decision to have a preventive double mastectomy.
"I started with the breasts, as my risk of breast cancer is higher than my risk of ovarian cancer, and the surgery is more complex."
Jolie, whose movies include Lara Croft: Tomb Raider, Mr and Mrs Smith and The Changeling, said waking up after the major operation to remove the breast tissue felt like a "scene out of a science-fiction film".
"My own process began on February 2, with a procedure known as a 'nipple delay', which rules out disease in the breast ducts behind the nipple and draws extra blood flow to the area. This ... increases the chance of saving the nipple.
"Two weeks later I had the major surgery, where the breast tissue is removed and temporary fillers are put in place. The operation can take eight hours. You wake up with drain tubes and expanders in your breasts."
However, she said, the final results of surgery to reconstruct breasts with implants could be "beautiful". She completed her medical procedures on April 27.
She said: "I wanted to write this to tell other women that the decision to have a mastectomy was not easy.
"But it is one I am very happy that I made. My chances of developing breast cancer have dropped from 87 per cent to under 5 per cent.
"I can tell my children that they don't need to fear they will lose me to breast cancer.
"It is reassuring that they see nothing that makes them uncomfortable. They can see my small scars and that's it. Everything else is just mummy, the same as she always was. And they know that I love them and will do anything to be with them as long as I can.
"On a personal note, I do not feel any less of a woman. I feel empowered that I made a strong choice that in no way diminishes my femininity."
Jolie urged other women, in particular those with a family history of breast or ovarian cancer, to seek medical advice so they could make their own informed choice about what steps to take.
"I am writing about it now because I hope that other women can benefit from my experience. Cancer is still a word that strikes fear into people's hearts, producing a deep sense of powerlessness. But today it is possible to find out through a blood test whether you are highly susceptible to breast and ovarian cancer, and then take action."
"I am fortunate to have a partner, Brad Pitt, who is so loving and supportive. So to anyone who has a wife or girlfriend going through this, know that you are a very important part of the transition.
"Brad was at the Pink Lotus Breast Center, where I was treated, for every minute of the surgeries."
Jolie said breast cancer killed about 458,000 women each year.
"I choose not to keep my story private because there are many women who do not know that they might be living under the shadow of cancer."
The founder of the Pink Lotus Breast Center says she hopes the star's decision will save "countless lives" of women with cancer.
Speaking outside the Pink Lotus Breast Center in Beverly Hills, Dr Kristi Funk said the clinic "applauds Angelina Jolie's bold choices regarding her BRCA mutation".
"We hope that the awareness she is raising around the world will save countless lives," she said in a one-line statement, adding that further details would be released in due course.
On its website the clinic promised to reveal "behind the scenes" details about Jolie's decision to undergo a preventive double mastectomy.
Read more: Breast removal an easy decision for Christchurch woman
- Daily Telegraph UK with Bang! Showbiz, AP