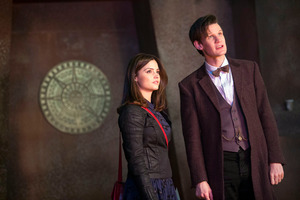 The 50th anniversary of Doctor Who will be celebrated with special screenings of two episodes at New Zealand cinemas.
The screenings will coincide with a 3D Doctor Who projection on the grand facade of Customs House at Circular Quay in Sydney.
The celebration of the BBC television series takes place on June 1, with screenings held simultaneously at 7pm New Zealand time and 5pm Sydney time.
Featured episodes are from Series Seven Part 1: Asylum of the Daleks and The Angels Take Manhattan, in which the Doctor confronts two of his most terrifying foes, the Daleks and the Weeping Angels, and says a heart-breaking farewell to his companions Amy and Rory Pond.
Ten Event cinemas in New Zealand are taking part: Albany, Queen St, Newmarket, St Lukes, Manukau and Westgate in Auckland, Chartwell in Hamilton, New Plymouth, and Wellington cinemas Queensgate and The Embassy.
The projection at Customs house in Sydney will feature a 7-metre high doctor travelling through space and time, pursued by some of his greatest enemies, and music from the show including 'I am the Doctor'.
The event is part of the 18-day festival Vivid Sydney, and is a collaboration between Destination New South Wales and BBC Worldwide Australia & New Zealand.
- APNZ