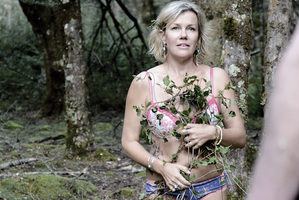 Girls creator Lena Dunham has expressed her love for Kiwi-made drama Top of the Lake in an online exchange with Robyn Malcolm.
Dunham, who won a Golden Globe for her work on Girls, said she was a fan of the six-part show in a post on Twitter last month.
"If you're not watching Top of the Lake you're at the bottom of the pond," she said.
Malcolm, who plays American commune member Anita in the show, tweeted back: "Thank You.. it rules huh? ( from the crazy monkey lady from "Top of the Lake")".
Dunham replied: "We here on the Girls set are FREAKING out that you've made contact."
Top of the Lake was filmed in Queenstown by Kiwi director Jane Campion.
The drama centres on the search for a 12-year-old girl who vanishes soon after it's discovered she's pregnant.
- nzherald.co.nz