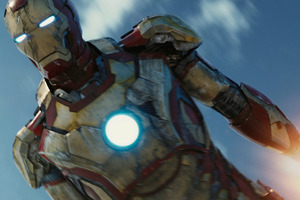 Everyone, it seems, loves a good sequel. I know this because Iron Man 3 grossed something like $700 million in its first week of worldwide release, and that is a hua of a lot of money to make in a week. And because of my many years of film industry experience, I can state, as fact, that this number isn't going to get any smaller over the next few weeks.
I also know, through my finely tuned industry nous, that when there is this amount of money for a film with the number 3 in the title, there is bound to be a number 4. In fact I'm sure if Robert Downey Jr should decide not to do Iron Man 4, he will be bundled from his mansion in the dead of night, with a bag over his head, and taken to the Hollywood equivalent of Guantanamo, where he will be tortured by the producers until he agrees to do the film.
But if, for some reason, Downey doesn't do Iron Man 4 - like if he dies during a water-boarding session - then at least there is a source of many potential Iron Man sequels right there, at the producer's fingertips, in the form of a little thing called the Periodic Table of Elements.
Yes, because iron (Fe) is both an element (#26) on the Periodic Table of Elements, and also the name of a superhero in an action picture franchise, it is entirely feasible (to me at least) that any element on the periodic table should be able to spawn a superhero.
Magnesium (Mg) Man, for example, would be an awesome and very visual superhero. He could fire flare-like balls of light from his fingertips. Of course, his tendency to self-combust when wet would make him a very dry-weather action hero and completely useless at fighting a submarine-based super-villain.
Uranium (U) Man would be one of those dark and troubled, misunderstood superheroes who everyone thinks is actually a villain (on account of how all who come in contact with him die from his radioactivity) while he secretly battles evil from his Cold War missile silo home. Maybe it takes Uranium Man teaming up with Lead (Pb) Man, the most boring of all the elemental superheroes, to form a proper superhero who doesn't indiscriminately kill the innocent along with the evil.
One of the most important things about today's action superheroes is that they sparkle at witty banter or that they have a manly voice that sounds great when they intone important catchphrases, like "I'm Batman".
For this reason alone Helium (the ironic He) Man could not be taken seriously as a superhero. He would, however, make an awesome sidekick, floating high above the city, alerting more masculine superheroes to the presence of wrong-doing in his funny comic voice.
And before there are accusations of sexism here, it should be pointed out that heaps of elements lend themselves perfectly to superheroes of a womanly persuasion. Ruthenium (Ru) Woman could pose as a mild-mannered librarian named Ruth during the day, then use her powers as a water-resistant coating for electrical components to fight evil at night. Selenium (Se) Woman, meanwhile, could not only fight evil but also dandruff at the same time.
From hydrogen (H) to ununoctium (Uuo); from metalloids to post-transitional metals, there are currently 118 elements out there, just crying out for their own action-movie franchise. Hell, there are even a bunch of elements called the Noble Gases, which sounds a lot to me like a crime-fighting mega-team, just waiting for their call-up to the silver screen.
Okay, not all of them are stable and some of them don't hang around to actually exist for what you'd call long - a matter of seconds in many cases. But that only adds to their dramatic complexity as characters - selflessly fighting crime even as they know their half-life is ticking away; now that is the sort of nobility true superhero action-movie characters are made of.
And if we needed any more convincing that the Periodic Table of Elements is also the Table of Awesome Superheroes, let us turn our eyes toward element #104 - the one with the symbol Rf. How could we, as a nation, not flock to the multiplexes of this land to see the crime-fighting exploits of Rutherfordium Man; the world's greatest superhero-also-named-after-a-New-Zealander?
So forget those hobbits and dwarves, New Zealand, because it is Rutherfordium Man, with his estimated melting point of 2100C, and his atomic radius of somewhere round 150, and his half-life of anywhere between 70 seconds and maybe even up to 10 hours depending on the isotope (and if Peter Jackson directs), we demand to see in a theatre near us.
Right after Iron Man 4, of course, because Iron Man 3 was awesome.