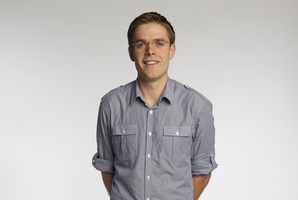 What sort of voice should we read your answers in?
Quentin Tarantino's Australian accent from Django Unchained.
Are you worried about how you'll come across in print?
Should I be worried? Are you threatening me?
Describe your show in 10 words or less:
Better than TV but not as good as the internet.
Is there somewhere we can see your work online? If not, why?
I've always been very sceptical of the internet. Is it a fad? Only time will tell? I am however very proud of my Twitter account (@guywilliamsguy) which I predominantly use for cyber-bullying Brian Tamaki.
I love Twitter, it's like texting but better because you don't have to have any friends to do it.
What does your mum think of what you do?
It doesn't matter what I do, my mum will always be super-proud of me.
Which is lucky because I'm an idiot, my third form science fair project was "Do cats really prefer Chef?" I could stab a man and be sentenced to 11 years in jail and my mum would probably say "You'll come out feeling like a new man!"
Eight minutes into your show, all going well, what should be happening?
It's a seven-minute show, so if all goes well I'll be in Burger King spending my show earnings.
Where are you usually when ideas or jokes come to you?
When I do my annual joke harvesting trip to Hamilton! I like to analyse the differences between the men and women working at airport security.
What's more important to have as a comedian, youth or wisdom? Discuss.
A wise person wouldn't pursue a career in comedy. Or youth! (A wiser man would probably say wisdom - I am but a young fool!)
Who's your comedy hero, and why?
My comedy hero is Stewart Lee. I think he's the best stand-up comedian performing at the moment. He's original and political which is a very difficult thing to achieve.
GUY WILLIAMS HAS WON AN AWARD (AND IS FINALLY GETTING THE RESPECT THAT HE NEVER REALLY DESERVED)
Where and when: Auckland Old Folks Association Hall, May 2-4
- TimeOut