Canadian comedian and talk show host Tom Green is bringing his distinctive brand of humour to New Zealand, writes Scott Kara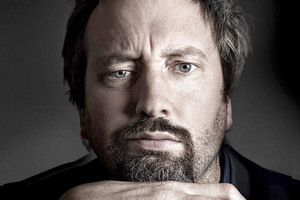 He sounds exactly like Tom Green should. A little bit friendly, slightly deadpan, and a hint of the unhinged about him. Just like "The Chad" from Charlie's Angels actually.
Although that part of the Canadian comedian's career are off limits because TimeOut has been asked to please not question him about his fleeting marriage to Drew Barrymore in the early 2000s. Which is fine, because Green is such a nice, forthcoming, engaging chap that you don't have the heart to get his back up.
Green was one of MTV's most notorious stars in the early 2000s with The Tom Green Show, where his shock humour and harebrained stunts provoked outrage as well as gaining him a fanatical following. Then there were films like the infamous Freddy Got Fingered and his turn as freaky college tour guide Barry in Road Trip. But it was stand-up where Green started out as a 15-year-old and that's what he's back doing these days.
"I've been through a lot in my life. I've survived [testicular] cancer and it changes your perspective on the world and it made me really passionate about getting up on stage and doing a spoken word, stand-up comedy show where I'm talking about life and society and trying to make some funny comments on the world that hopefully connect with people," he says on the phone from Winnipeg, Canada, where he is on tour ahead of his trip to New Zealand next week.
So why did you become a comedian?
I was a hyperactive kid and for as long as I can remember, from my earliest memory, all I really got enjoyment out of was acting up, getting a laugh from the other kids in class, and at a certain point I realised it was something that I enjoyed. And it was one of the things I was good at. I wasn't one of the cool kids, but all the cool kids laughed [at his jokes]. And as I got older I had this aversion to authority. I didn't like being told what to do and I wanted to find a way to do something for myself, meaning I wouldn't have to have a boss.
How has your comedy changed over the years? Have you grown up, just a little?
It's always changing and it's continued to change since the day I started doing comedy when I was 15 years old. One of the reasons for that is I have such a short attention span and I don't like doing the same thing over and over. And it's also changed because of technology changing, comedy in general changing, and I always like to stay a little bit ahead of what I find funny. So when I started doing stand-up comedy, getting up on stage at a coffee club, I was talking about stuff that a 15-year-old kid knows about. Then, in between that and my [public access TV] show being picked up by MTV, I did a rap group, and we toured round Canada doing a homage to the Beastie Boys-type rap group. It was silly and funny.
Tell us about The Tom Green Show that MTV picked up back in 1999.
It started in 1994 and it was the days before reality TV existed and we were doing one of the first shows where we would go out into the street with a hand-held camera doing guerilla type stuff and stunts. It was one of the first examples of the no rules, no-holds-barred comedy TV where we were able to make up the show on our own terms without any interference from a TV executive. When it got picked up by MTV no one had ever seen anything like it. It was outrageous, and crazy, and it shocked the TV world at the time and made the show a big hit.
What was it like getting back up on stage again - and how different was doing stand-up these days compared to when you started out?
First of all, I have to say, I have people who have been really passionate about my show, and my movies, like Freddy Got Fingered and Road Trip, so there is a cult-like fanatic following worldwide. So it helps having an enthusiastic and supportive crowd coming out to see me. I'm having more fun doing this than I've ever had in my life.
So why was it time to go back to the stage?
Well, I was doing my own internet television show - the first internet television talk show in history and one of the highest rating talk shows in history - and it was well watched around the world and I realised I had this worldwide audience. So it just occurred to me that it might be a good time to go on tour. It was just about interacting directly with people, and just getting out and seeing everybody.
You have been a pioneer when it comes using technology to get yourself out there, yet much of your stand-up show scorns it.
I like to talk about what I know about and what I understand. And when I started tomgreen.com in 1996, and I had the public access show on TV, it was probably the first TV show that had a website that worked in conjunction with one another. So I've been very used to the pitfalls of technology as well as using it to my advantage. But I'm also very aware of the privacy concerns and how people can know everything you do, and the online negativity that affects us as human beings. I cancelled my Facebook page because it really was getting on my nerves. When I was a kid, if you switched high schools there was something very romantic about saying goodbye to people, but that's changed. Anybody you've ever known can get hold of you instantly whether you want them to or not, no matter how big an arsehole they are. That for me is a huge problem.
Who: Tom Green
What: MTV star, film actor and stand-up
Where and when: SkyCity Theatre, May 1, 9pm
- TimeOut