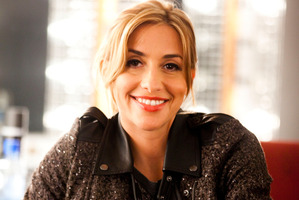 Melanie Blatt didn't intend to be seen as the mean judge on The X Factor, she just set out to be honest.
The former All Saints singer has uprooted her life in Ibiza and brought her sister, Jasmine, and teenage daughter, Lilyella, to live in New Zealand while she judges our singing talent.
So far, Blatt is impressed with the potential here and believes a few of the contestants could make it overseas if they get the right treatment from their record company.
Before people first auditioned in front of her, she didn't know what sort of judge she would be.
"My main thing was to just be me and whatever I thought, I was going to say, really. I've never done anything like this before and this is what I'm like in my everyday life. When I told my friends that I was perhaps the sterner of the judges, they were not surprised at all," she told the Herald.
Blatt is yet to go on her judge's retreat and pick her final three, but she's already got her eye on some contestants and is especially looking forward to mentoring.
She didn't want to say who her picks were to do well in the competition, but said she didn't see why some of them couldn't make it internationally if they have the opportunity.
"What you saw [on Sunday] is nothing compared to what you're going to see in the next few shows. I've been really impressed - I didn't know what to expect and I've been blown away a few times."
Before arriving in February to start filming the show, Blatt had only been to New Zealand once before - a whirlwind trip she barely remembers with All Saints 14 years ago when they were on tour.
Blatt remembers exactly how long ago it was because she'd just found out she was pregnant with her daughter.
So far, she's really enjoyed living here and while she hasn't had much time to explore, Blatt and her daughter have made it to Matamata to check out Hobbiton and out west to visit Bethells Beach.
They have been living in central Auckland and are here until August when the live shows finish.
Most watched shows on Sunday night
1. One News: 741,130 (TV One, 6-7pm)
2. Sunday: 681,280 (TV One, 7-7.30pm)
3. MasterChef New Zealand: 552,220 (TV One, 7.30-8.30pm)
4. The X Factor: 467,360 (TV3, 7-8.35pm)
5. Packed to the Rafters: 369,030 (TV One, 8.30-9.30pm).