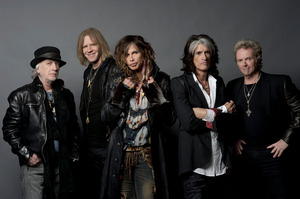 A jumbo jet containing the stage set for next Wednesday's Aerosmith concert at Forsyth Barr Stadium in Dunedin will arrive in Christchurch from the United States today.
The equipment will then be trucked to Dunedin in 11 semi-trailers.
"It will certainly be the biggest stage set-up ever seen in the South Island," production manager Robbie Barclay said from Auckland yesterday.
"I've worked on a lot of big concerts, like Dire Straits and U2, and there's been nothing like this here before. The stage thrusts out 40 feet [12m] into the audience with a stage at the end and big ramps at the back, with three screens at the side and rear of the stage. It's a big, big set."
A construction crew of 150, including 50 local crew, will start assembling the set from 7am tomorrow until Sunday.
It will be the first time one of the biggest-selling American rock bands has performed in New Zealand and promoters say up to 40,000 fans are expected, making it the biggest concert seen in the South Island.
Aerosmith, inducted into the Rock and Roll Hall of Fame in 2001, is fronted by American Idol judge Steven Tyler.
The six-hour concert is the third leg of Aerosmith's Global Warming Tour to promote the band's 15th studio album, Music From Another Dimension!, which was released in November.
Accommodation in Dunedin was booked out earlier this week, Otago Motel Association president Richard Hanning said yesterday.
"There's been a bit of a late rush and it's all booked out in the last few days. The stadium is starting to find its feet. People do want to come down here for concerts and it's proving to be a great asset."
The Dunedin City Council has extended liquor licences to allow bars to stay open until 1am on Anzac Day.