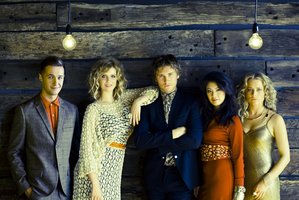 George Mason plays Ted Keegan
Ted is the show's new narrator who's the older brother of Bennie, works as a landscaper, thinks Candy is a witch, and is in love with his high school art teacher.
Mason has had multiple local television roles, most recently appearing on our screens as Jane's boyfriend in The Blue Rose.
Which previous character did you most relate to?
Kevin and Cody - the down-to-earth, truthful characters.
What are Ted's best qualities?
Ted's a good bloke, he's a worker and he cares about everyone. He will go out of his way to make sure his mates are all good.
His worst?
He's easily mislead through love and hate and he's over-protective, especially of his younger sister, Bennie.
What are his ambitions?
To win the woman he loves.
And what is the biggest hurdle he will face?
His love interest is married, she has a kid, and he's a lot younger than her... they're all pretty big hurdles.
Is Ted anything like you?
Yeah of course. I often find that I get cast as characters similar to myself but that's a good thing as I can relate to Ted. But there are some differences for sure - Ted comes from a pretty broken family, luckily I don't.
Do you think Ted's life is an accurate reflection of what it's like to be 25 in 2013?
It's a more dramatic reflection, but I think it is true that at 25 people hit a quarter century crisis.
You might have finished university or trained in a trade, you may settle down and get married, or travel the world not knowing exactly what it is you want to do, but there is a pressure at that age to figure it out. It's all pretty confusing if you ask me. You can define who you are going to become or you can cruise.
That's all sounding pretty Go Girls ... .maybe it is accurate.
J.J. Fong plays Alice Lee
Alice is the organised, enthusiastic good girl, whose life plan gets thrown out the window when her wedding goes pear-shaped. She works at an insurance company, and lives with her real estate agent aunty.
Fong has a strong background in dance and musical theatre, and has recently appeared in Miss Saigon and Man in a Suitcase, but Go Girls is her first major TV role.
Which previous character did you most relate to?
Amy was a little similar to Alice in that she always likes things to be orderly and she is positive and upbeat a lot of the time. She's a very loyal friend and quite chatty as well. I liked the way Amy was always trying to fix things and was completely unaware of Kevin's feelings.
What are Alice's best qualities?
Alice is a really loyal friend, and she is always there in times of need. She also likes to always see the positive side of the picture.
Her worst?
She can be quite innocent and a follower at times - I think she's a bit dense, but in a cute way.
What are her ambitions?
As the year goes on though, Alice begins to see that she wants to experience more in life, wants to be a bad girl, but it's all good fun.
And what is the biggest hurdle she will face?
Her aunty doesn't really understand why Alice has decided to go off the rails; she just sees her being irresponsible and moping around in life not achieving anything. This does make Alice stop and think a lot about her decisions.
Is she anything like you?
In some ways, yes - in terms of making lists and being organised, and her positive spirit.
Do you think her life is an accurate reflection of what it's like to be 25 in 2013?
Yes! The worries of trying to find a job in a recession, and the countless relationships and first world problems that go with that - they're all true. I think the writers really figured out the aspects of trying to be an adult while you're still in your 20s. You don't know what you're doing with your life, relationships or career.
Leon Wadham plays Levi Hirsh
Levi is the accomplished, fabulous event planner, whose life seems to be cruising along just nicely, until some of his workplace arrogance comes back to bite him. He lives with Ted and Bennie, and is almost like a brother to them.
Wadham has been appearing on TV since he was young and has a background in film (he starred in Under the Mountain) and theatre (recently appearing in Tribes).
Which previous character did you most relate to?
Probably pre-travel Brad - sweet, dorky, pale. My friends will find it hilarious that my character's this smooth-talking playboy type, not to mention that I have a tan.
What are Levi's best qualities?
Levi is loyal, focused, practical, intelligent, confident, fun and charming. He's a really good time.
His worst?
He can be arrogant, manipulative and outright mean (though he probably thinks he's being hilarious). To Levi, the end always justifies the means.
What are his ambitions?
Levi's got everything he ever wanted: great friends, good money and the perfect job. His only ambition is to keep things that way. When he's blindsided in a professional matter, losing everything he'd worked for, that all changes. He becomes determined to get his career back on track and destroy the person who tried to bring him down.
Is he anything like you?
We're both fast-paced people and have been known to make poorly-judged jokes. I'm more tactful, trusting and prone to worrying. He's more disciplined, adventurous and sartorially confident by a country mile.
Do you think his life is an accurate reflection of what it's like to be 25 in 2013?
I know people who live just like this. The view from their flat isn't quite as spectacular, but otherwise we're not far off the mark.
Tai Berdinner-Blades plays Bennie Keegan
Bennie is the hapless, happy-go-lucky sister of Ted, who's forever the victim of her own clumsiness and generosity, and can't seem to find a decent job. She's sick of being overlooked and exploited, but it's hard to change her trusting nature.
Berdinner-Blades has spent many years performing as part of a Wellington Theatre company, and has recently appeared in local film Home By Christmas, and web series Reservoir Hill.
Which previous character did you most relate to?
Probably Cody, I think. She's the most down-to-earth.
What are Bennie's best qualities?
Bennie is the eternal optimist; nothing seems to get her down for long. She is sweet and kind-hearted and genuinely cares for people. She is very loyal and once she commits to something she will stick to it until the end.
Her worst?
Because Bennie has all these good qualities it makes her vulnerable to people who might take advantage her. She is also quite gullible and can be rather naive.
What are her ambitions?
When we first meet Bennie she has been unemployed for too long.Her quest is to be her own boss. She is also hopelessly in love with Mitchell, and has been since she was 16.
And what is the biggest hurdle she will face?
Bennie has never run or owned her own business before and Mitchell only sees her as his mate's little sister
Is she anything like you?
I have "Bennie" moments all the time - where I trip over something or just generally do something foolish. I also think that any character I play is just another opportunity to explore a certain aspect of myself.
Do you think her life is an accurate reflection of what it's like to be 25 in 2013?
Generally, yes I think so. Obviously it is a heightened snapshot of a specific group of people but I do think there are certain qualities in the show that people, no matter what age they are or where they come from, will be able to relate to or at least recognise.
Shara Connolly plays Candy McMann
Candy is the conniving little sister of Britta, who appeared in season four, and is the one who gets the other four into the Go Girls quest tradition. She's actually inspired an "I Hate Candy" Facebook campaign with all her wicked ways, but soon realises that's nothing to be proud of.
Connolly has been acting since the age of 8, and has appeared in Shortland Street, Outrageous Fortune, and Hugh and Heke.
What are Candy's best qualities?
Candy is a very strong-willed person and isn't afraid to speak her mind. She's vivacious and definitely knows how to have a good time. Deep down, she's fiercely loyal and a devoted friend.
And her worst?
Candy's the bad girl so there are a few. She's manipulative and rude. She has a fairly lengthy criminal record. She's spent her life using people to get exactly what she wants without much care for the consequences.
What are her ambitions?
Candy has got to a point where she has burnt all her bridges and is hated by pretty much anyone who has ever met her, except maybe her Nan and mother. Candy's quest is to turn it all around and become a good person who is liked by everyone.
And what is the biggest hurdle she will face?
Probably old habits. Candy comes from a long line of badly behaved women and a lifetime of putting herself first. She'll have to change her ways dramatically if she wants to achieve her goal. She'll also have to prove herself to Ted, who's not sure she can change.
Is she anything like you?
We aren't too similar I think. Although I'm starting to use Candy-isms a lot more often which is a bit of a worry. We might have a similar sense of humour sometimes. But I often cringe at the nasty things she says. But that's fun for me, it's never boring to play her.
Do you think their life is an accurate reflection of what it's like to be 25 in 2013?
Yes - at 25 you are just trying to figure everything out and find your calling. I'm always amazed at the writers' ability to make the characters and stories so relatable.
-TimeOut